Certainly, positive vibes are something that we all seek in our home. What could be better than having some sacred wood wall decor to bring them in? Undoubtedly, while looking at the holy religious wood wall decor like mantras, verses, and even symbols, you get a peaceful feeling. So, let us introduce you to the positive wood wall decor ideas for your home that you can use to bring radiance, good vibes, peace all around you.
Ganesh Mantra
In Hinduism, Lord Ganesh is always prayed at the beginning of any new thing in our lives. The Ganesh Mantra
"Vakra Tunda Mahakaya,
Suryakoti Samaprabha,
Nirvighnam Karumedeva,
Sarvkaryeshu Sarvada|".
It's a way of saluting Lord Ganesh, he's the symbol of good luck in Hindu mythology. Also, he is the one who removes hurdles and hardships in our lives. When we start new chapters like new business, owning a new home, etc we pray to him.
Thus, this wood wall decor can actually be a perfect house warming and must be present at the entrance/inside your home. Also, with this holy decor you can place your customised designer nameplates. Presence of such beautiful wood wall decor in the house will surround you with positive energy all the time.
Gayatri Mantra
"Om Bhur Bhuva Swaha
Tatsaviturvarenyam
Bharago Devasya Dheemahi
Dhiyo yo nah Prachodayat "
Indeed, Gayatri Mantra has a very soothing effect when chanted. As it creates positive vibrations that align the chakras in our body allowing the flow of energy from the chakras. You can hang up Gayatri Mantra wood wall decor on the wall of Puja/Meditation room or maybe for your living room. Surely, it will be a great gift for your parents, or grandparents.
Om
Om signifies the essence of ultimate reality; it is known as the strongest sound.
The colours used in the piece in the form of chakra, starting from the lightest colour in the innermost circle, to the darkest colour in the outermost ring. They are illuminating, like radiating light.
Indeed, this wood wall décor is so very perfect for the meditation room, or to gift to your family and friends, especially your parents. Also, they will love it.
Buddha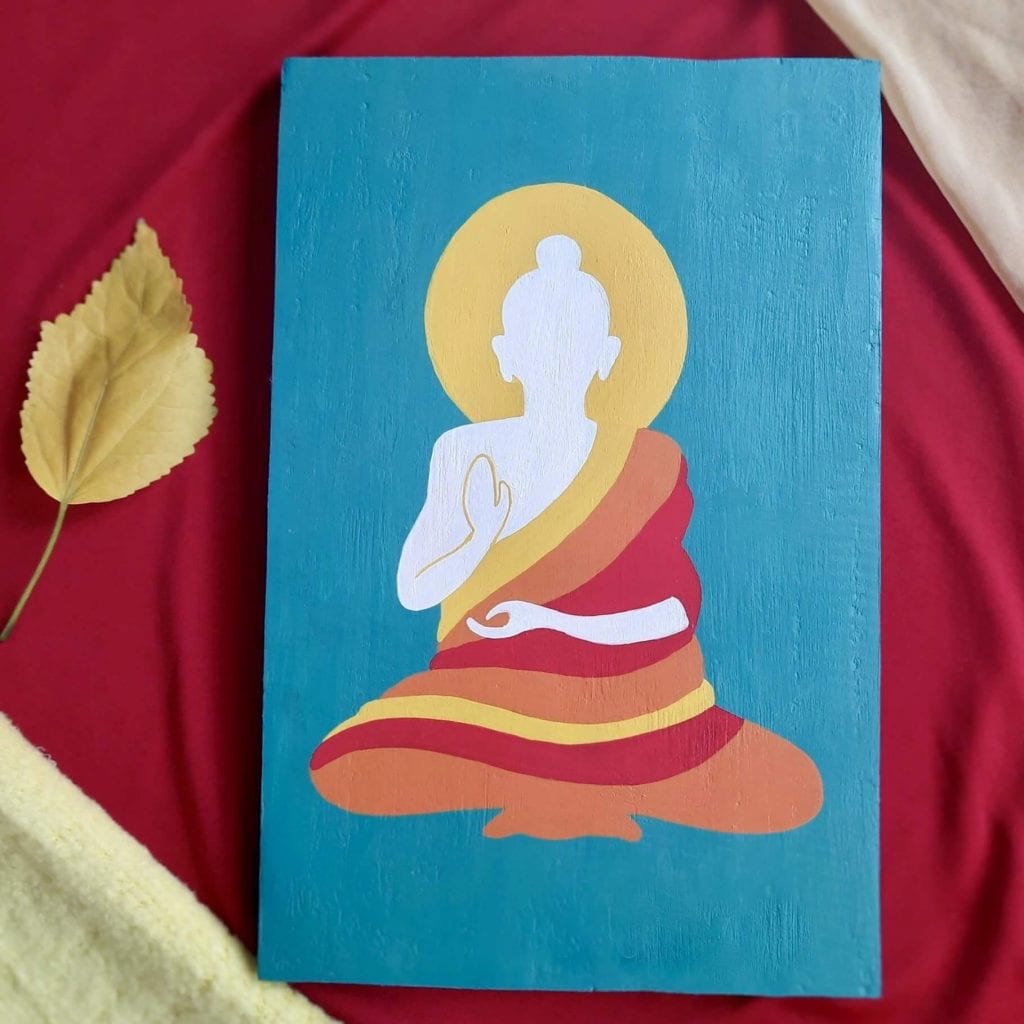 Buddha, the one who taught the whole world that wisdom, kindness, generosity, patience, and compassion are the core values of a human being.
In other words, this piece will keep your at peace no matter what the situation is. Also, the colours in the piece are so calming, soothing, and cohesive at the same time. The colours will perfectly suit the environment of a quirky space to a minimal space.
Thus, this wood wall decor will groom up the tabletop, shelves, or wall.
Final Words
To sum up, we are here to create your spiritual wood signs for you. And we have a lot many options to re-decor your home with some colourful wall hangings. Also, these are totally customizable as per you wish and your colour choices. We have a wide variety of spiritual positive art signs. So, to see more options to decorate your home and to look for creating customized gifts for your loved ones, keep coming back to more articles like this or you can connect with us on Facebook and Instagram.