Hi Everyone!
The product which I am going to review today is PEE WEE by Duenna and it is something that still needs an introduction. Pee Wee is related to intimate hygiene of females. Let me give you a brief first.
Duenna is one of the brands who has devoted themselves to spread awareness about female intimate hygiene. I must say, it's a great initiative by Duenna. One of my friends introduced me to this brand and its products.
I am personally using one of their products, named as PEE WEE. It's a pee cone device that has several benefits which I am going to reveal further in this article.
Firstly, imagine if I say the word 'VAGINA' while talking about some issues faced by a girl.
Sshhhhhhhhhh!!!
Don't say the word 'Vagina' and 'Intimate' loudly.
Many people even girls react like this when someone says these words directly in a conversation.
That's the point where the problem starts.
Points to be Notice
Many organisations are struggling to spread awareness about intimate hygiene for females, especially during mensuration. Still, there are a lot of villages where females are shy to talk about their mensuration problems. Either they start ignoring the problems or they start believing the myths.
One of the major problems for females is UTI (Urinary Tract Infection). Both men and women can get UTIs but women are more prone to UTI just because their vagina is the most sensitive part of the body. That's why women have to be extra careful about intimate hygiene.
Why I chose PEE WEE?
Usually, I try to avoid public toilets as much as I can, just because of displeasure and fear of getting a contagious infection. The dirty public toilets are like a nightmare that I had to experience in daylight. It was terrible but what to do, it has now become an easy task for most of the women to wipe up the toilet seat or to semi-squat and then pee. We are habitual now, doing the same wrong thing again and again and again.
I was also one of those females until I experience a non-contact comfortable peeing device, i.e. Pee-wee. I have been carrying out pee wee for several times. Believe me, every time I come out of a public toilet, I thank Duenna, for such an amazing device.
Excited?
Come with me I will show you what the product is?
Unboxing the Product
Packaging
Well, the product comes in a very compact and handy packaging. You can see all the related information like how to use, which situation it is ideal for? and other things as well.
Features
The pertinent tagline, "Repose your pee pose."
Compact packaging
Biodegradable
All the useful information is written on the box
Directions to use are also very clear and in simple language
The package is easy to carry and lightweight
What's in the box?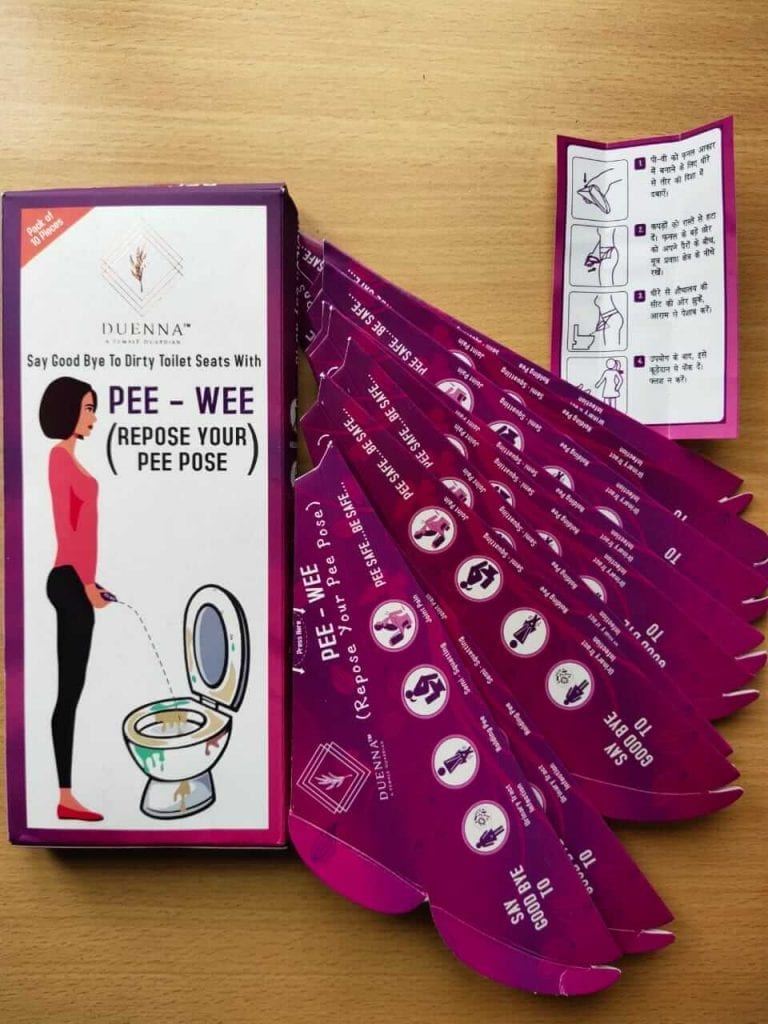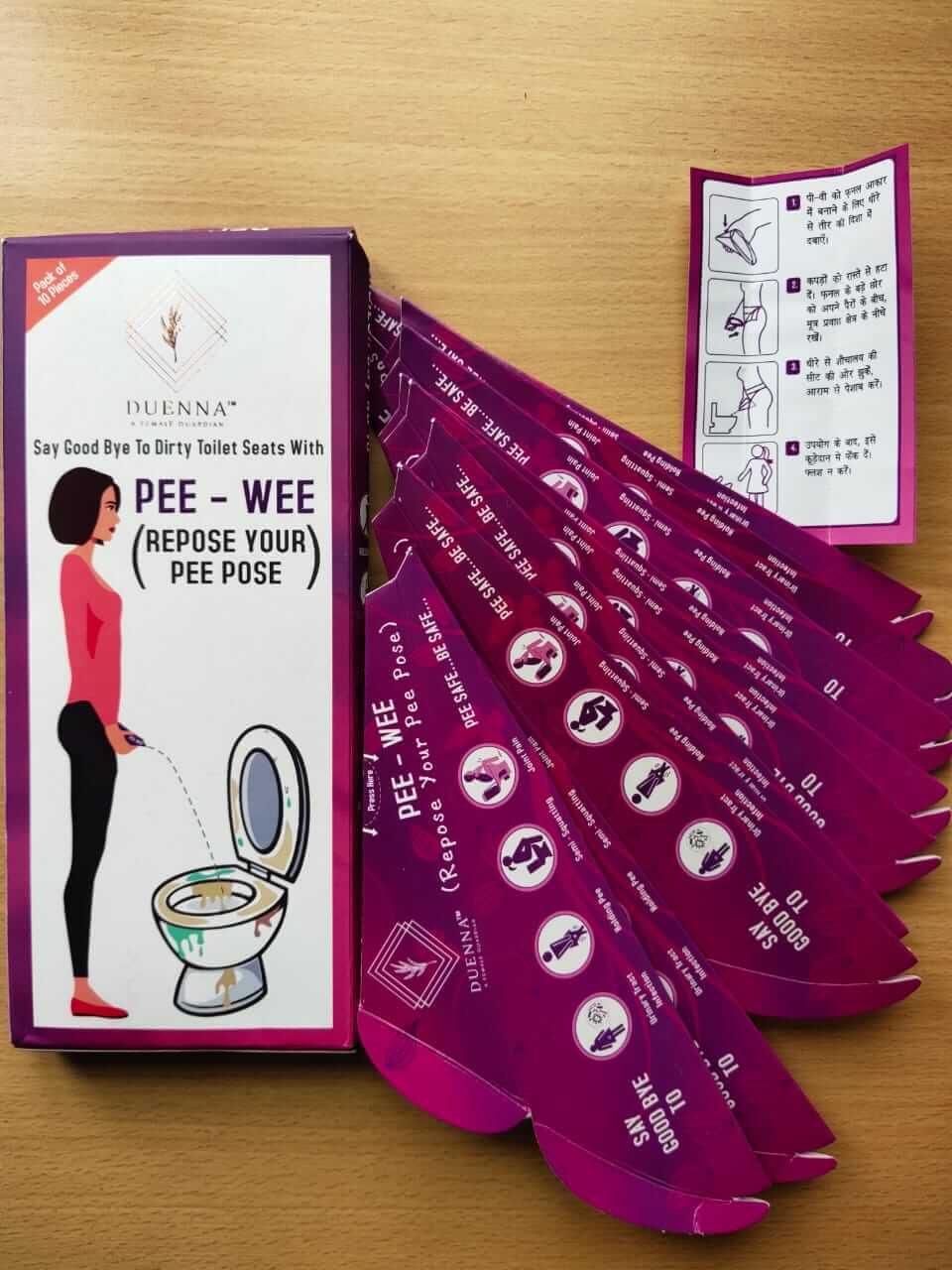 The box contains 10 pee cones and a user manual. On the pee cone, you can see clear instructions are written in a step by step manner on how to use it. Also, there is a pictorial presentation about why and in which situation it is ideal for.
Talking about user manual, instructions about how to use are well and clearly written in the Hindi language. So, by seeing the pee cone and user manual, anyone can easily understand in English and Hindi language that how to use the pee wee.
How to make Pee Wee ready for use?
Step 1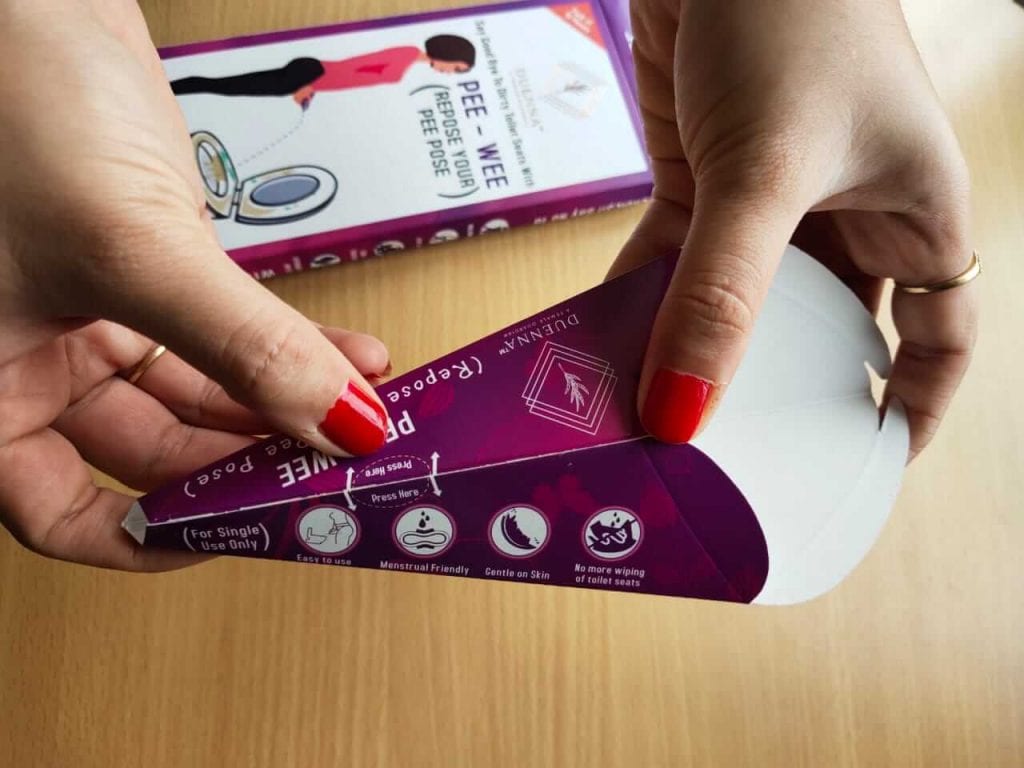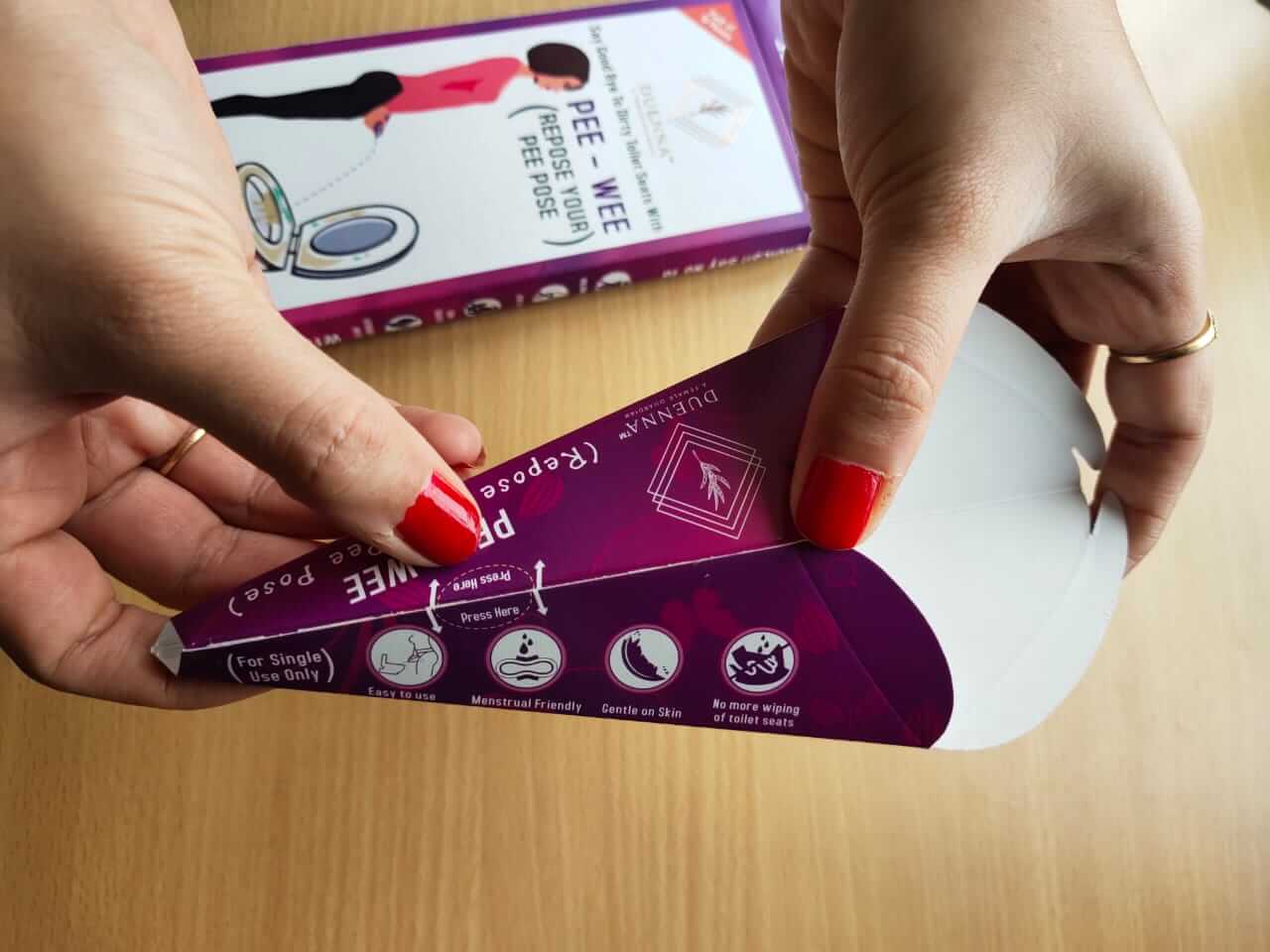 Take out a pee cone, you will see the text on the cone, "Press Here." Gently press it from that area. The pee cone will get open from both sides as you can see in the above picture. One edge is wider and another one is narrow.
Step 2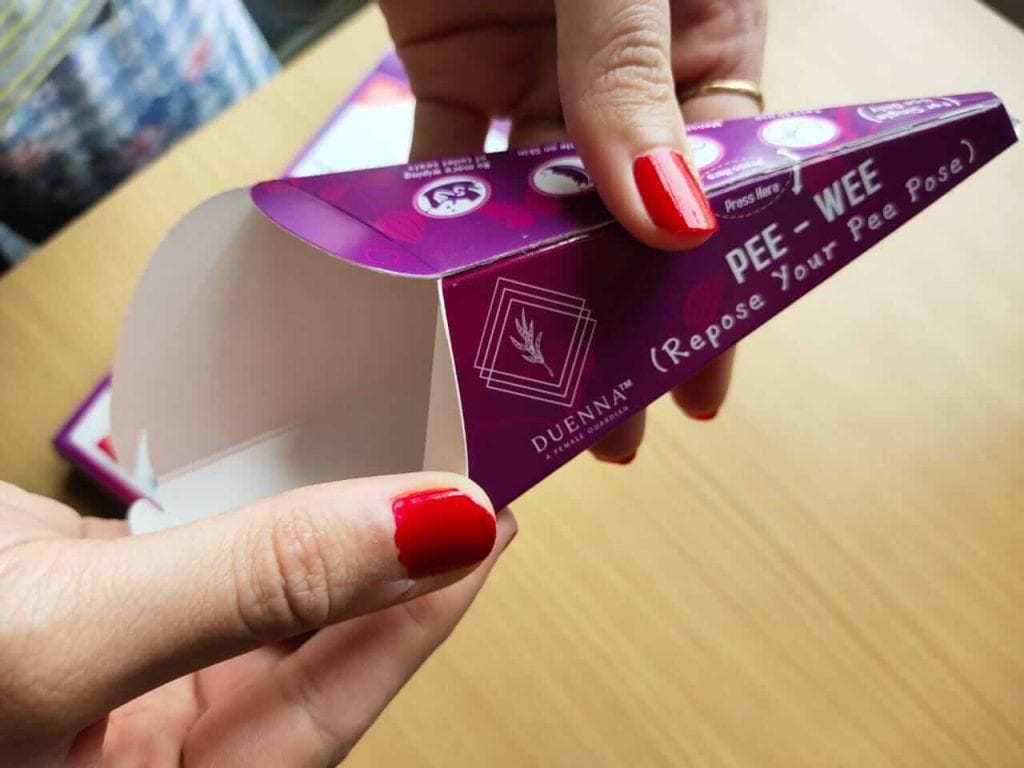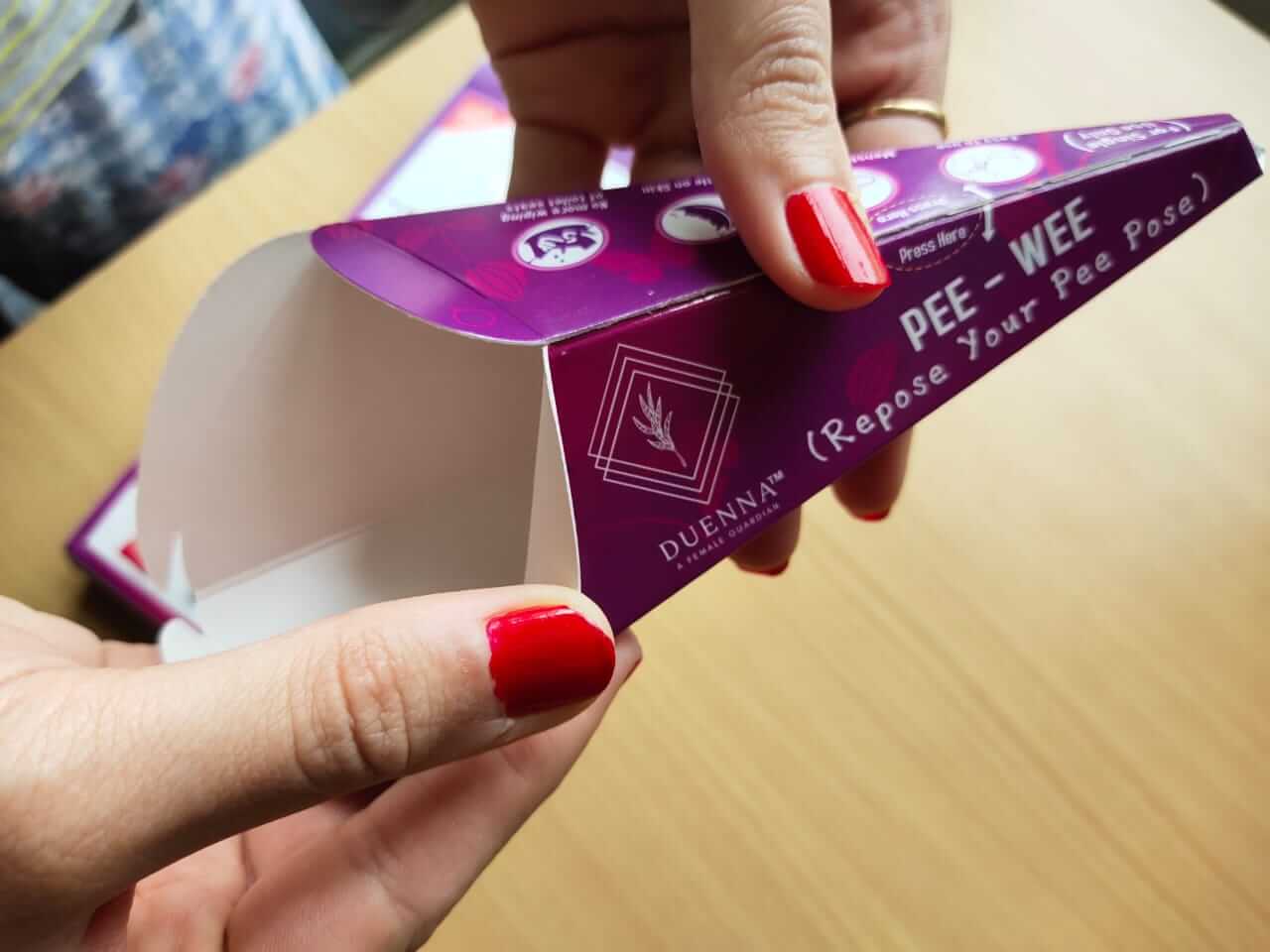 Gently fold the two small semicircle shaped edges one by one towards outer side.
Step 3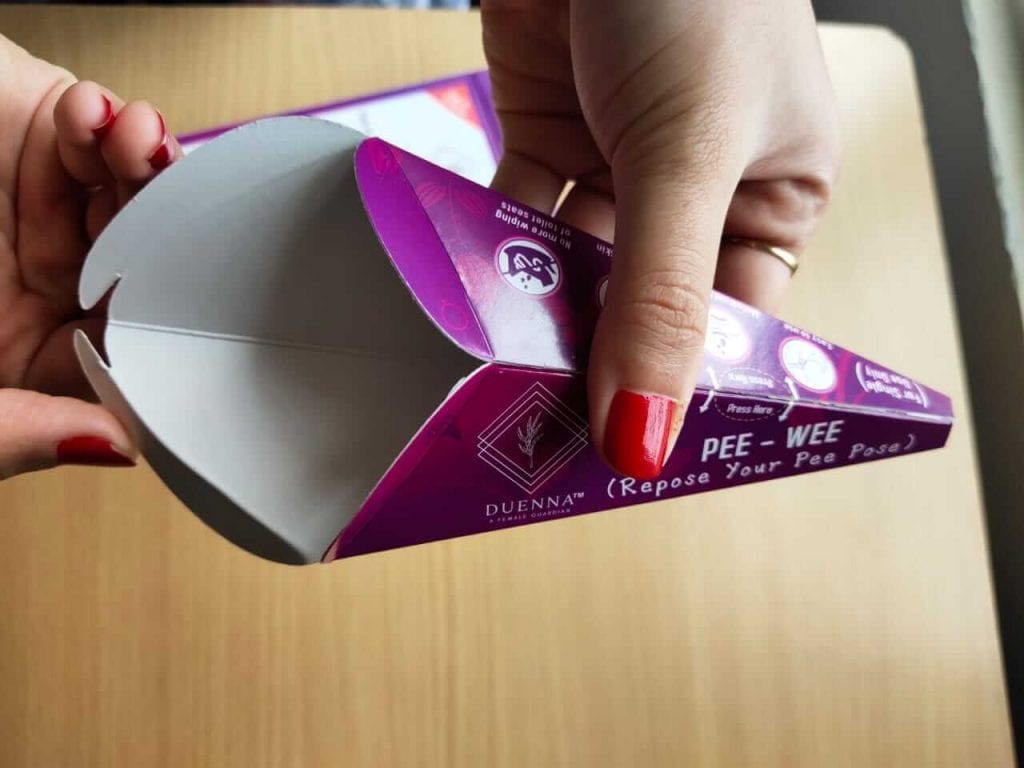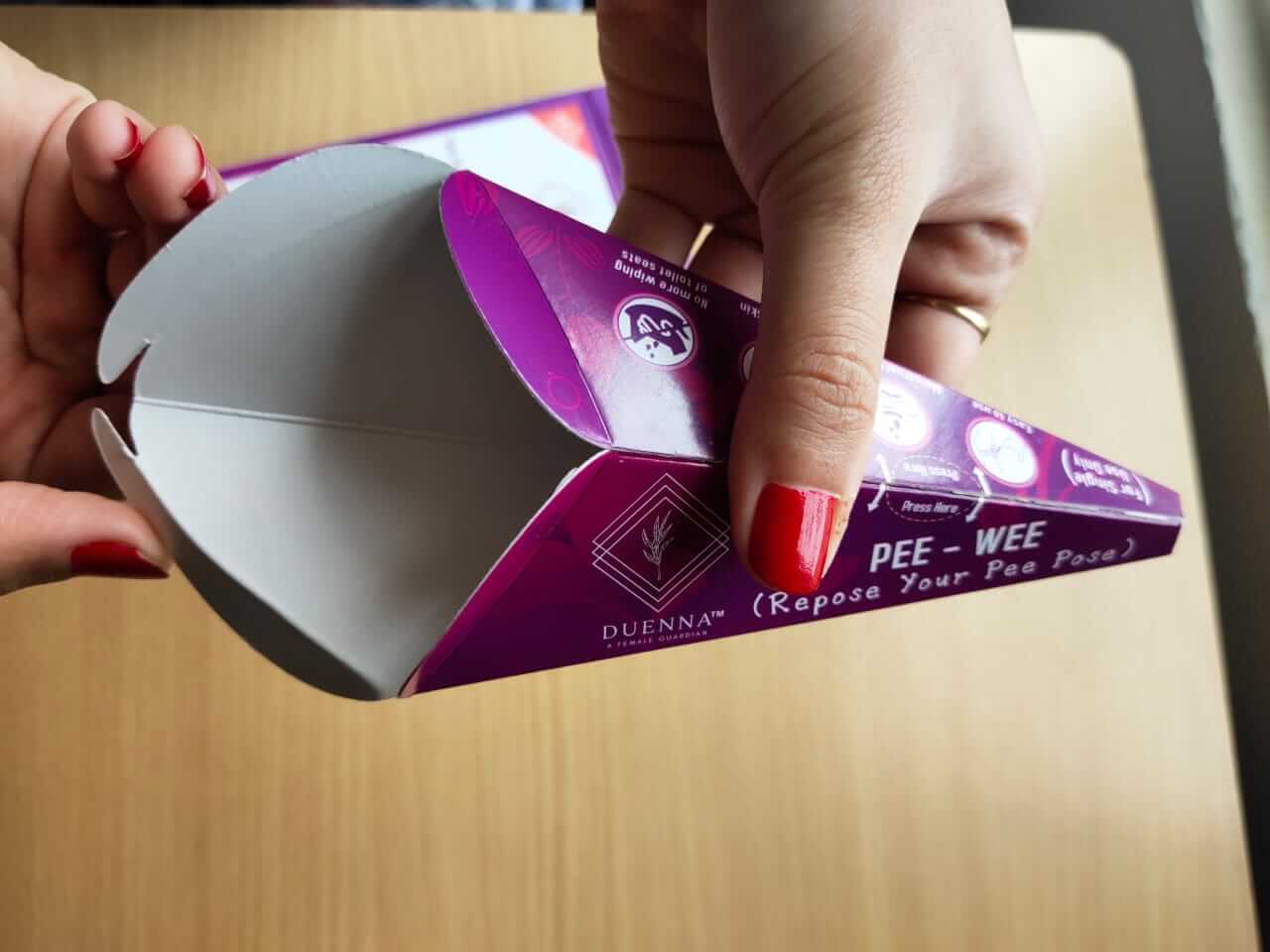 Similar to step 2, fold another two bigger wings one by one in outward direction.
Now all the 4 wings are folded in outward direction.
Step 4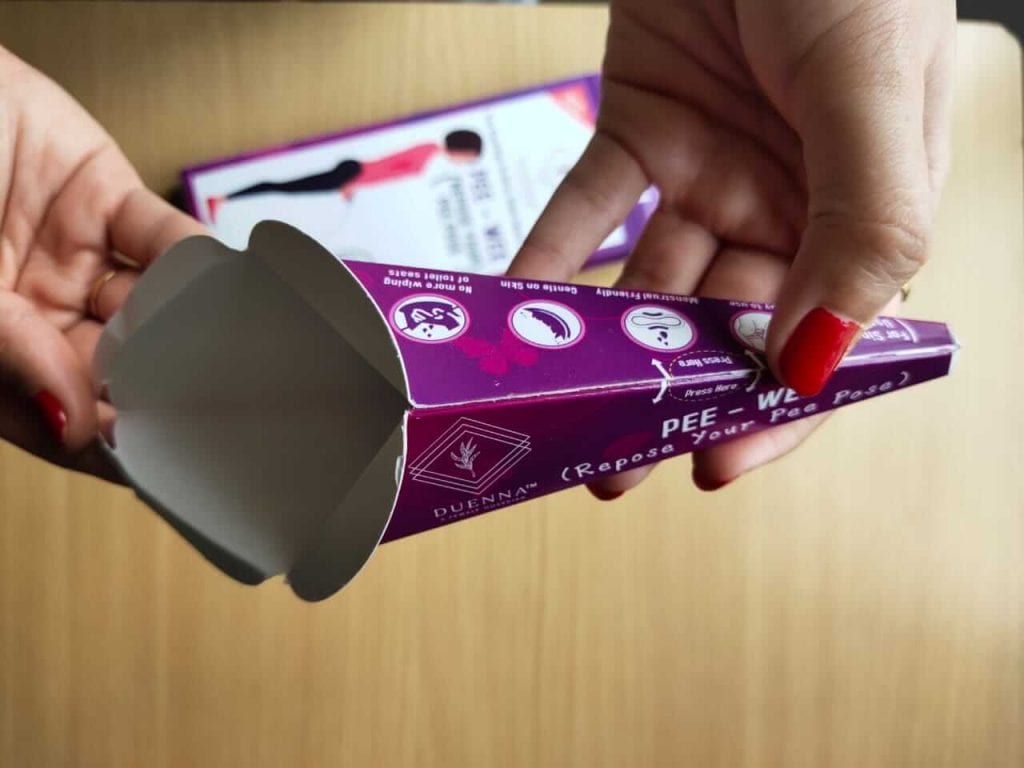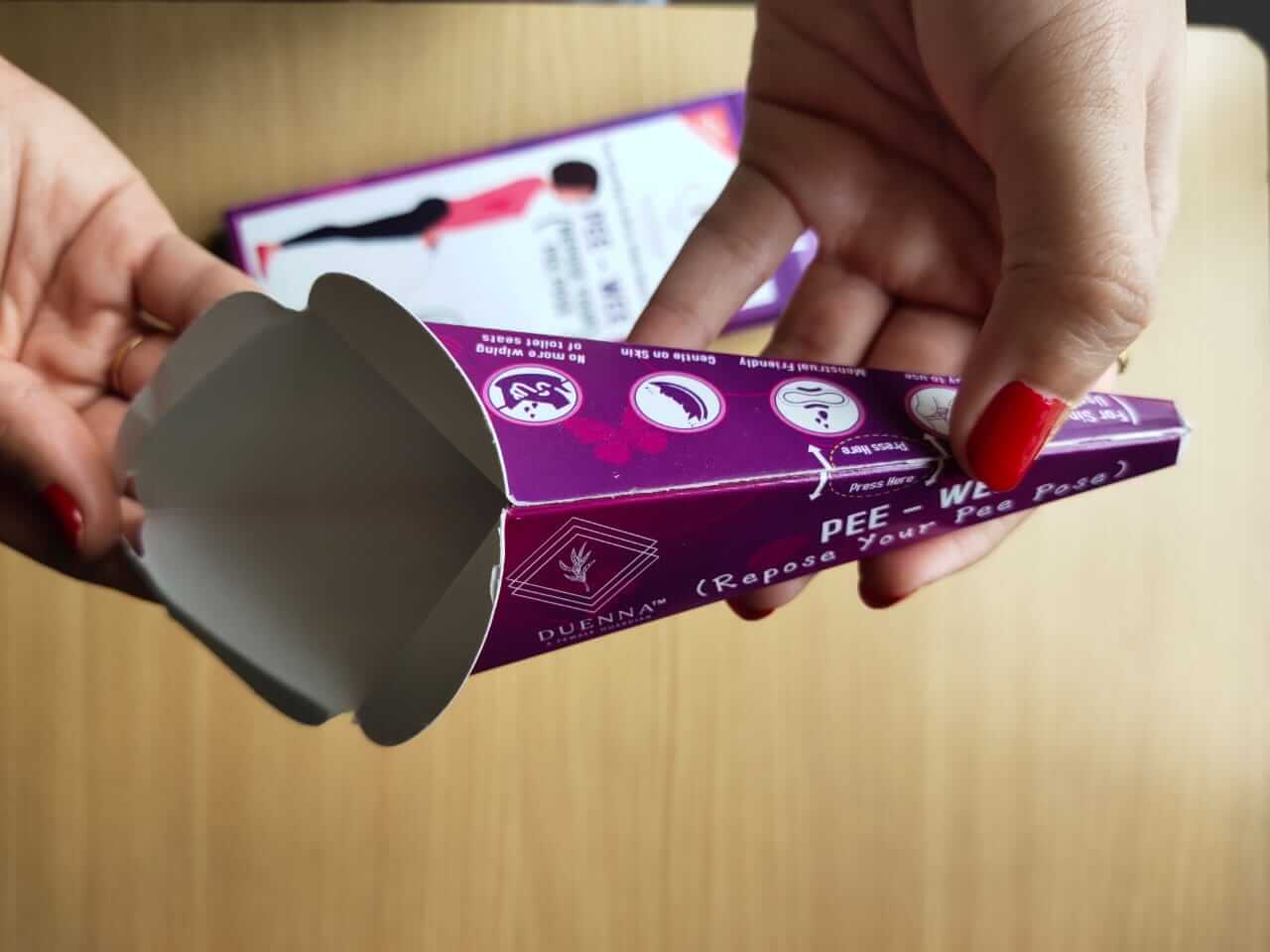 The device should look similar as shown in above pic. Now you are good to go!
The pee wee is ready for use.
Ideal situation to use Pee-Wee
According to me, following are the major situations in which a woman can use pee wee.
If you are involved in any outdoor activity where you have to opt for public toilets, then pee-wee will be your saviour.
If you are pregnant and not able to sit properly on the commode or if the public toilet is dirty, you can use pee-wee to get rid of both the situations.
In case, if you have a previous history of UTI, then I recommend you to use pee-wee in public toilets.
If you have any problems like rashes in between upper thighs, using dirty public toilets can increase the risk of infection. Pee-wee is highly recommended.
If you are an arthritis patient, do not able to bend your knees for a pee. Pee-wee can be used without any doubt.
If you are on a long road trip, pee-wee can be your saviour throughout the trip.
I really hate using toilets at airports although they are somewhat clean, still, I prefer to use pee-wee in that case also.
If you repeatedly doing semi squatting for a pee, pee-wee is the perfect solution.
These were some of the major situations however, pee-wee can be your saviour is many more situations where you have to deal with dirty public toilets.
I am sure now you are definitely going add this device in the list of things that you must carry in your purse. Aren't you?
Who should use Pee-Wee?
Women travelling far from home.
For elderly women suffering from any kind of knee pain or arthritis.
Pregnant women
For women suffering from UTIs
Pros and Cons
Pros
one of a kind product which helps women in several ways.
Easy to carry, handy and trendy
Simple to make it ready for use
Biodegradable cone
100% leak-proof and waterproof. You will not get contacted with a single urine drop in your hands
Cons
You have to practice to pee in it at home before using it outside
Somehow, I found it that I have to hold it very tight on my pee area
Maybe you will find difficulty in using it during periods.
Takeaway
Still ignoring intimate hygiene?
According to a study, it has been revealed that 'Women get UTIs up to 30 times more often than men do.' Also, as many as 4 in 10 women who get a UTI will get at least one more within six months.'
Women hygiene is very important, factors such as sweating, menstruation, vaginal discharge, etc. make personal hygiene more and more important. You should not neglect it.
That's what pee-wee offers you a safer way to prevent yourself from such a situation where the probability of getting an infection is higher. I hope this detailed review is enough to explain the significance of this device.
I would love to hear your experience and reviews about Pee-Wee.
As we believe, 'sharing is caring'; share your valuable feedback in the comment section below.
"Ya know what I do almost every day? I wash. Personal hygiene is part of the package with me." – Jim Carrey