If you got a chance to choose between the Friends outfits of Rachel, Monica, Phoebe, Joey, Chandler and Ross, who would you pick?
I would go for Phoebe. Well, the eccentricities aside, Phoebe had the kind of clothes I see myself wearing every day. Her wardrobe was a smorgasbord of prints, colours and textures that would brighten up my days. A true bohemian at heart, Phoebe never shied away from experimenting. Whether it was her collection of cruelty-free coats or those one-of-a-kinds, vintage pieces from a thrift store, Phoebe epitomized all things eclectic. In retrospect, I would compare her fashion to the iconic Wes Anderson movies – a class apart.
Earlier this week, HBO Max dropped one of the most-awaited teaser/trailers of the decade. A very familiar tune marked the opening of the FRIENDS Reunion teaser. We saw our favourite people – Jennifer Aniston, Courteney Cox, Lisa Kudrow, Matt LeBlanc, Matthew Perry and David Schwimmer walking into the twilight, arm in arm. Without missing a beat, we started singing, "I'll be There For You" by The Rembrandts in our heads.
And then dropped the bombshell. Actor Jennifer Aniston shared the trailer of FRIENDS Reunion. And then we just couldn't keep calm. The trailer was series after series of more nostalgic elements from the nineties' most-loved sitcoms. We spotted the famous orange couch, the cast discussed if Ross & Rachel were "On a Break" and revisited number 19 and 20 apartments all over again.
The trailer also brought back a flood of '90s nostalgia from the 10 seasons of FRIENDS. Apart from giving us some iconic catchphrases (PIVOT, I Know!, How You Doin'), the show also served some of the best looks on television. In honour of FRIENDS Reunion week, we present to you a list of our favourite friends outfits from every episode of this beloved '90s sitcom.
RACHEL
One of the most stylish characters on the sitcom FRIENDS, Rachel Greene's style was a lesson in minimalism. She wore the trendiest silhouettes in colours that would be fashionable even today. No wonder, she bagged that position at Ralph Lauren which entitled her to a 45% discount, while her sister Amy still had to pay retail. Here a few sartorial lessons that we can all learn from Jennifer Aniston's stylish character.
Season 1 Episode 2: The One with the Thumb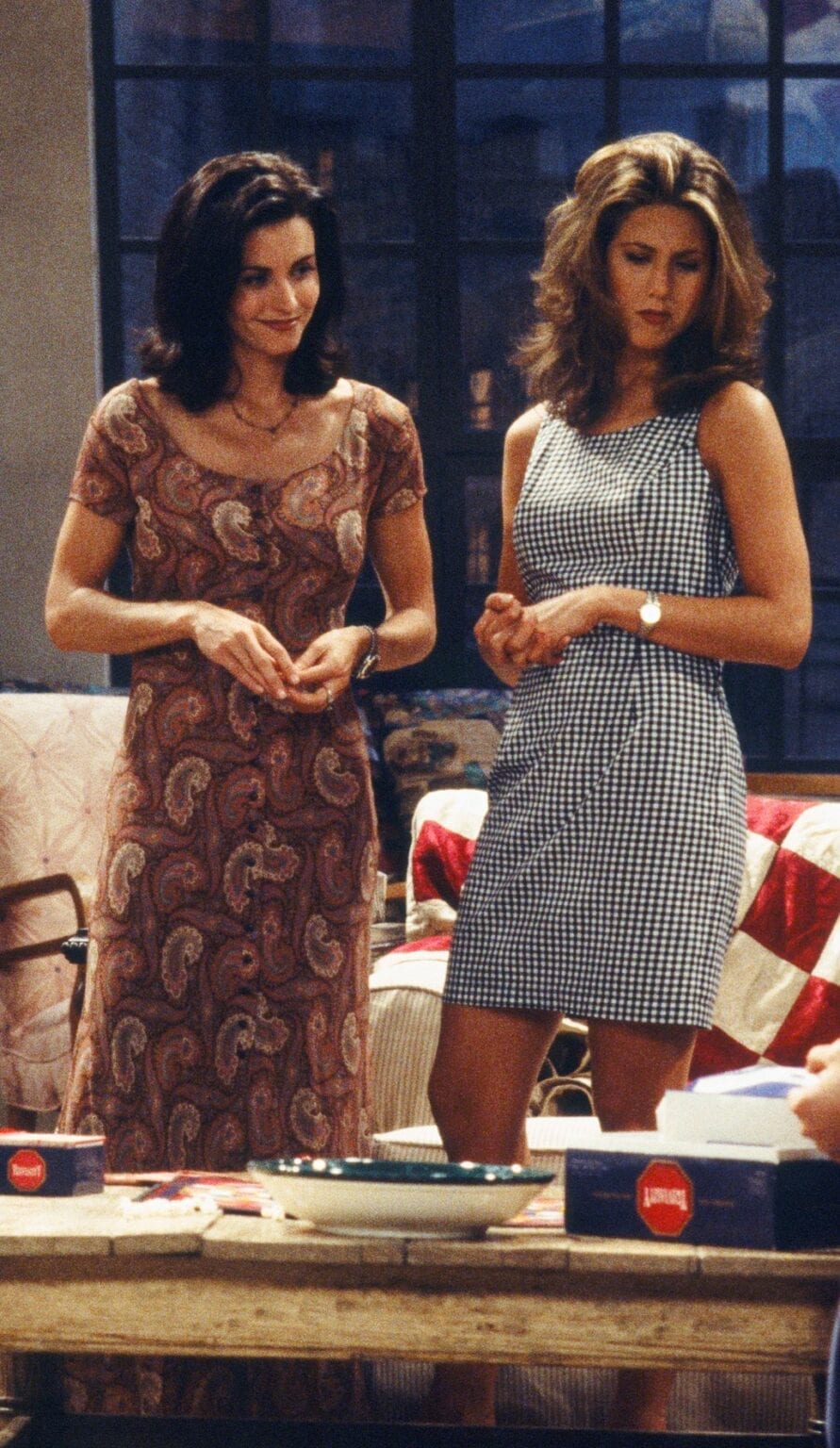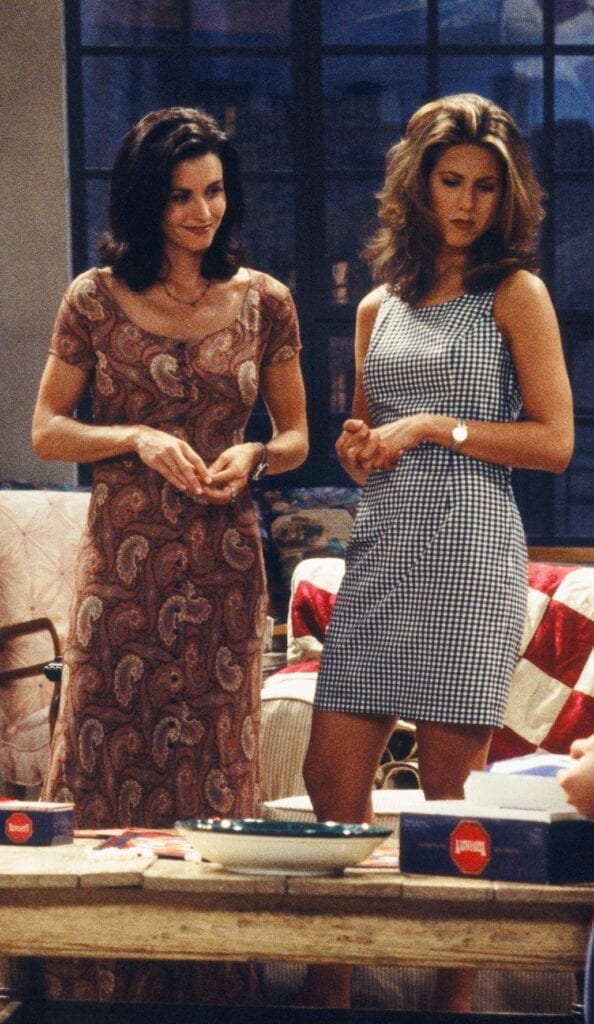 This micro-check dress looks equally chic 27 years after the first season of FRIENDS aired.
Season 2 Episode 2: The One with the Breast Milk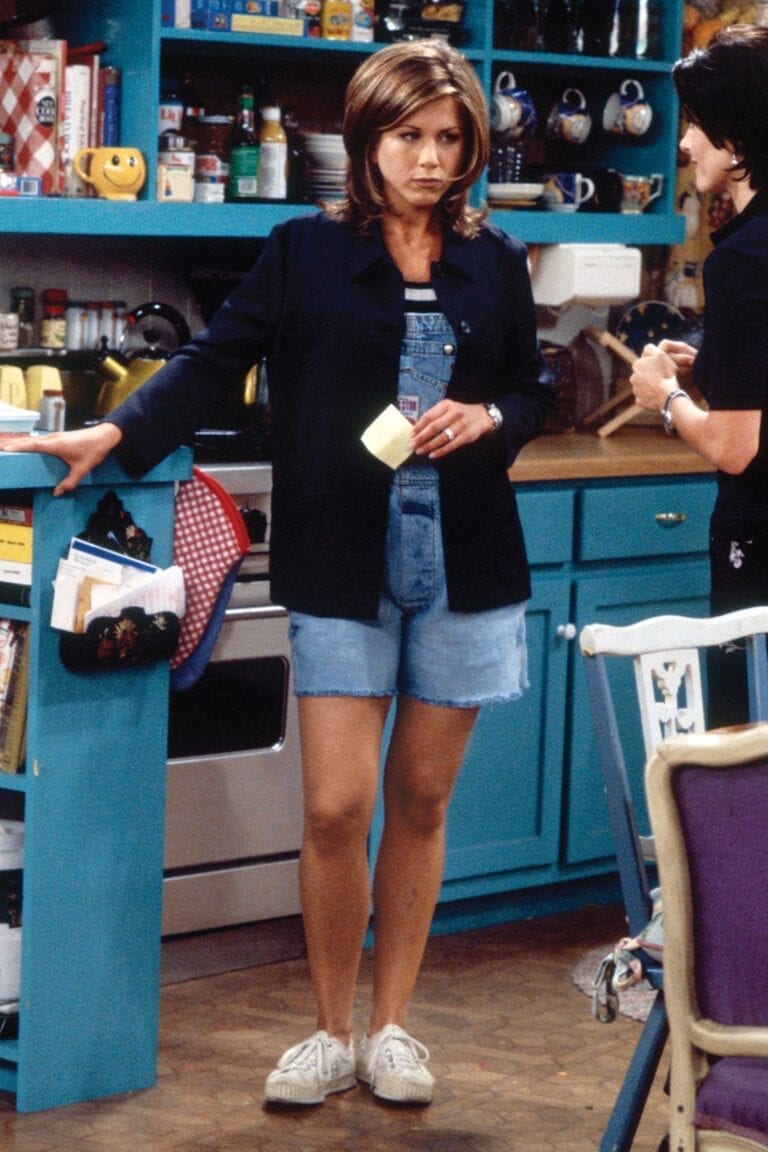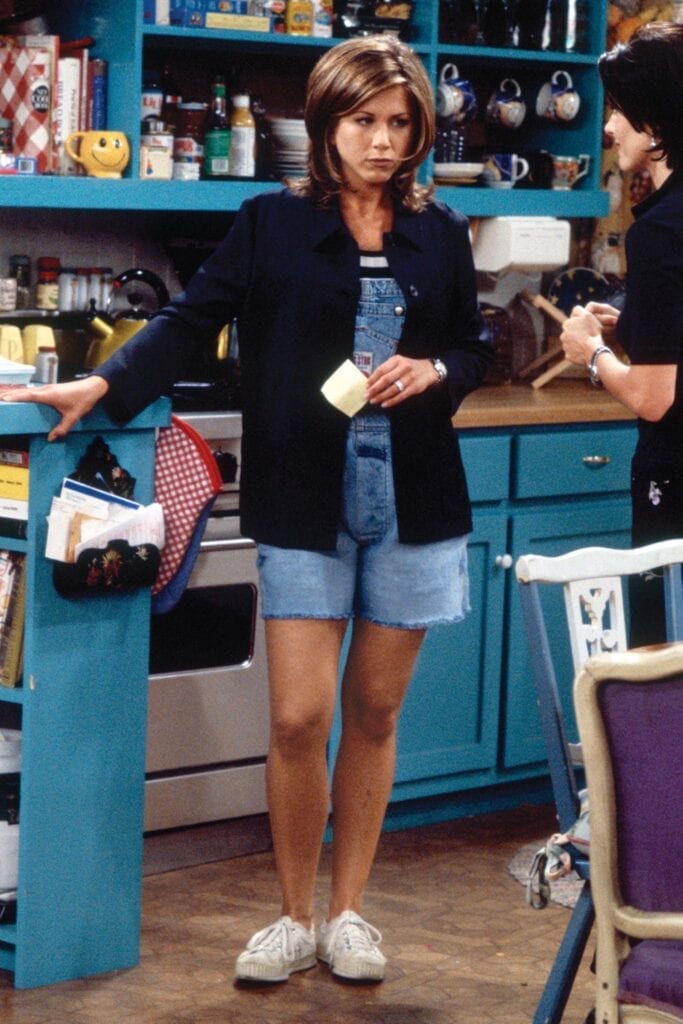 This friends outfit has its layering game on-point. Breton striped tee, denim dungarees and a straight-fitted jacket, what's not to like!
Season 3 Episode 2: The One Where No One's Ready
Is it just us or she wore all the best friends outfits in the second episodes! Well, this pistachio shade dress has a great neckline and a chicer slit. J'adore!
Season 4 Episode 1: The One with the Jellyfish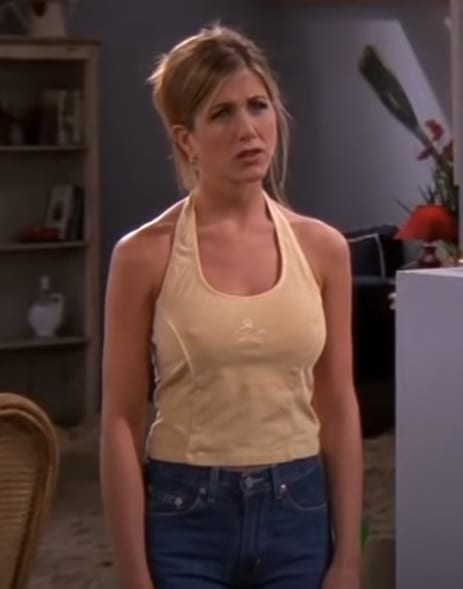 This is the one where Ross had to read 18 Pages, FRONT and BACK! And Rachel looked the best version of herself in this cute yellow halter top and blue jeans. A colour combination that we would totally bring back this summer.
Season 5 Episode 2: The One with All the Kissing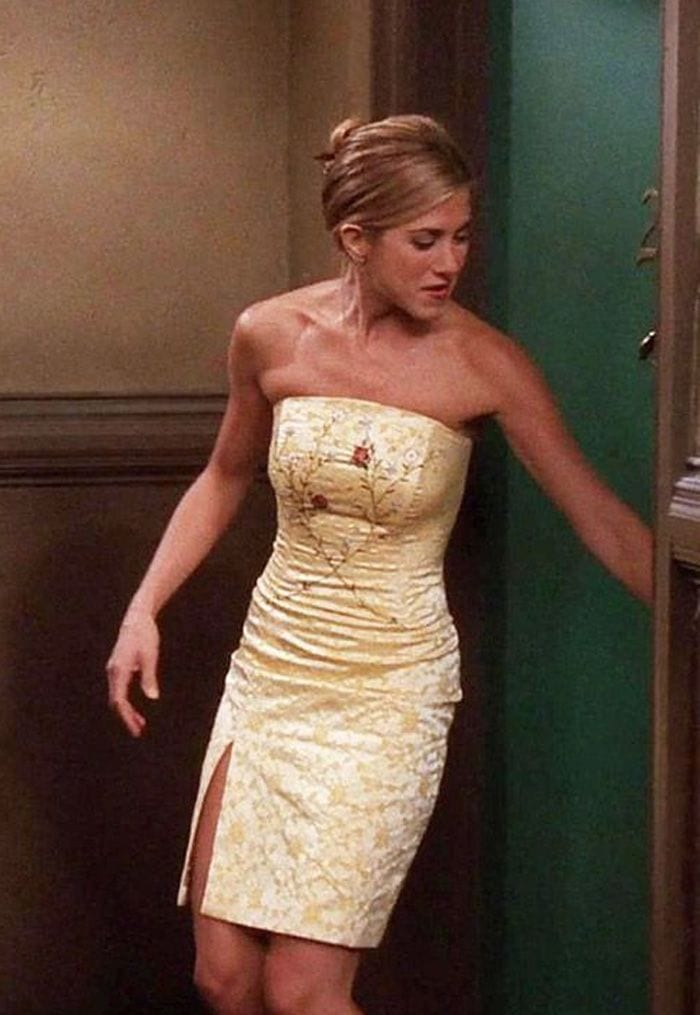 Another Episode 2, another great friends outfit. There's a reason why this outfit is so iconic even after all these years. It's because of that delicious yellow shade.
Season 6 Episode 16: The One That Could Have Been Part 2
This friends outfit is tricky to pull off. The contrasting shades of the purple family, the jarring textures and a look that could have worked brilliantly in the '80s. But our Rachel Greene does it perfectly.
Season 7 Episode 4: The One with Rachel's Assistant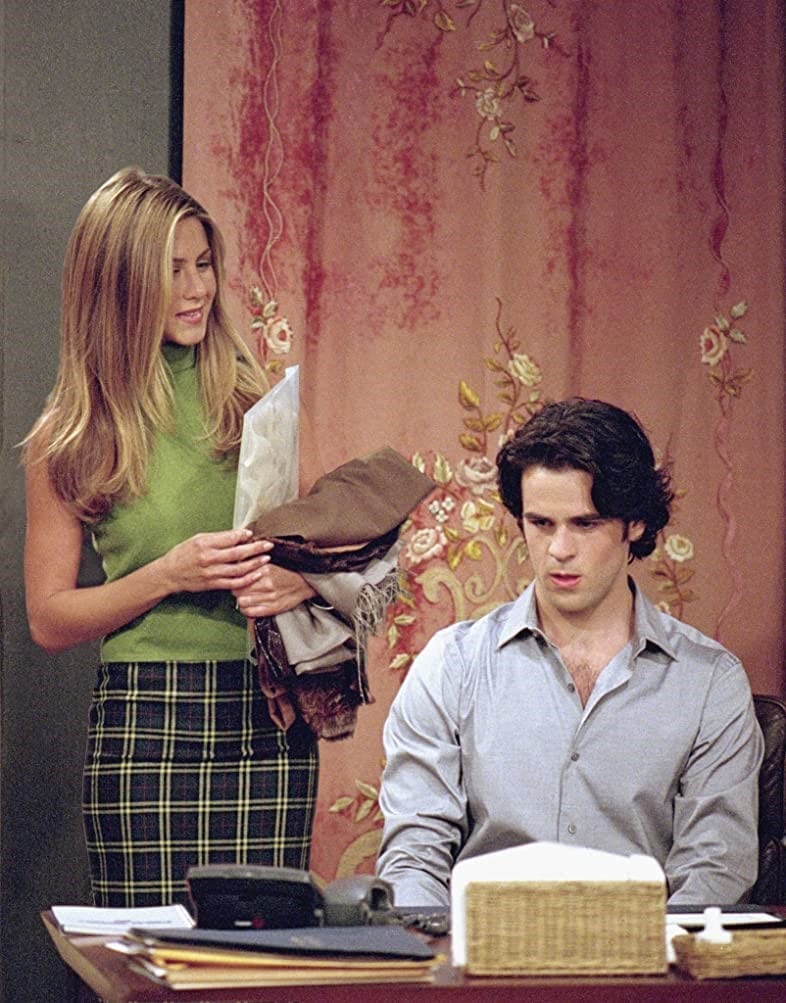 This is the work outfit that you'd want to wear if you've got dinner plans already made.
Season 8 Episode 1: The One After I Do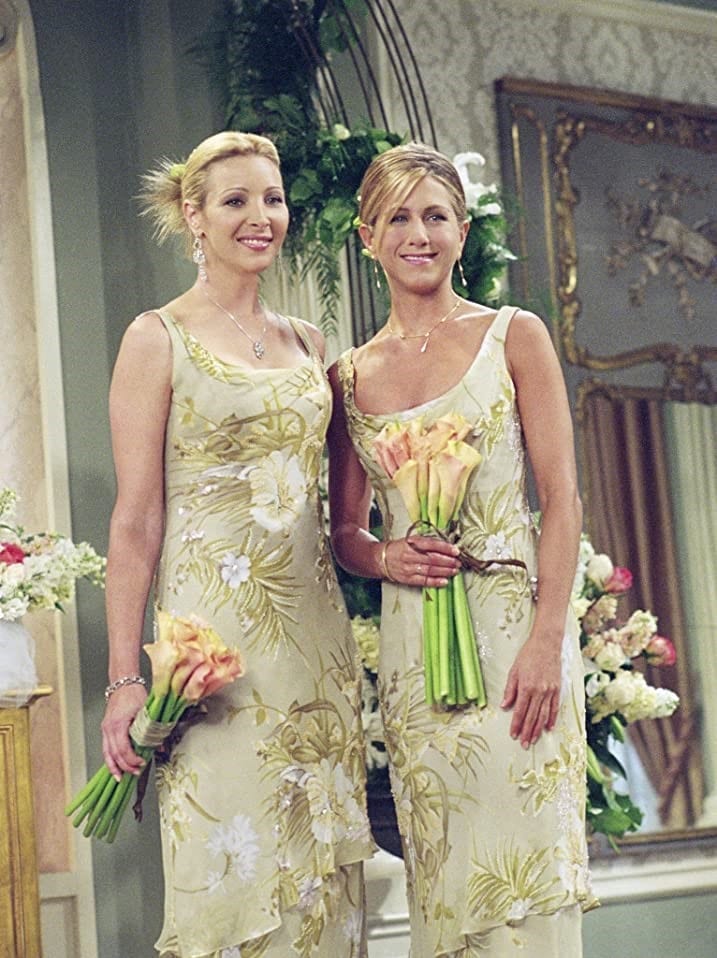 Well, Phoebe and Rachel did wear the exact same bridesmaids' dresses at Monica and Chandler's wedding, but there is something about the way it fits Rachel. The dress looks super-chic, the print is flattering, and the neckline just works so well for her.
Season 9 Episode 24: The One in Barbados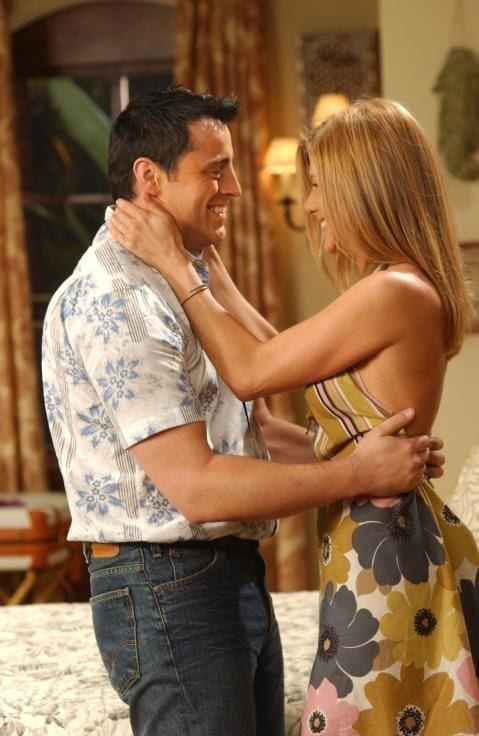 Another iconic dress. This is the kind of dress where the colour makes the big floral prints work. And the way it fit Rachel made all the difference.
Season 10 Episode 17: The Last One, Part 2
Five words: I Got Off The Plane.
Also, take cues from Rachel on how to make a mini skirt work in a grown-up's wardrobe.
MONICA
Monica's style was pretty much a classic one. Unless she was working at the Moondance diner, all her outfits comprised of elevated wardrobe basics. These are the pieces that wouldn't make you think twice before you pick them off-the-rack. Actor Courtney Cox played safe with her sartorial choices and it worked well for her. Just like her compulsive cleaning habits, her wardrobe was fuss-free and clean.
Season 1 Episode 10: The One with the Monkey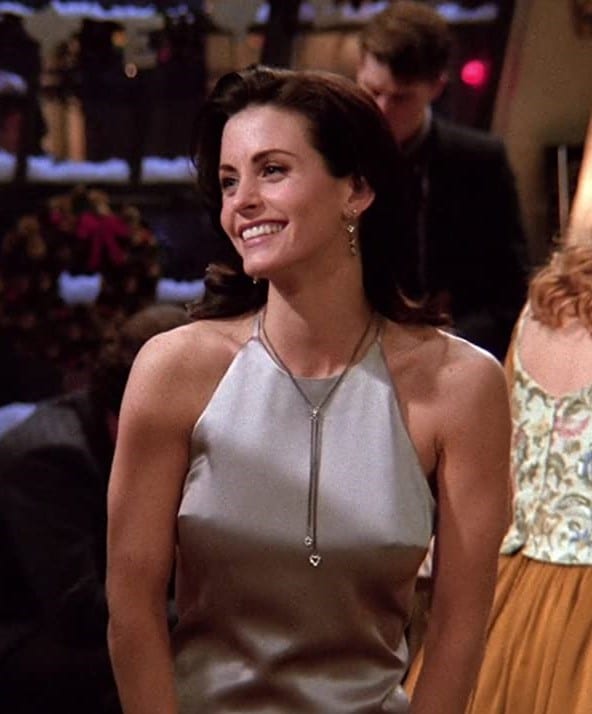 Here's Monica showing off one of the biggest trends of the '90s – Slip dresses. This metallic tone would totally work even in 2021.
Season 2 Episode 9: The One with Phoebe's Dad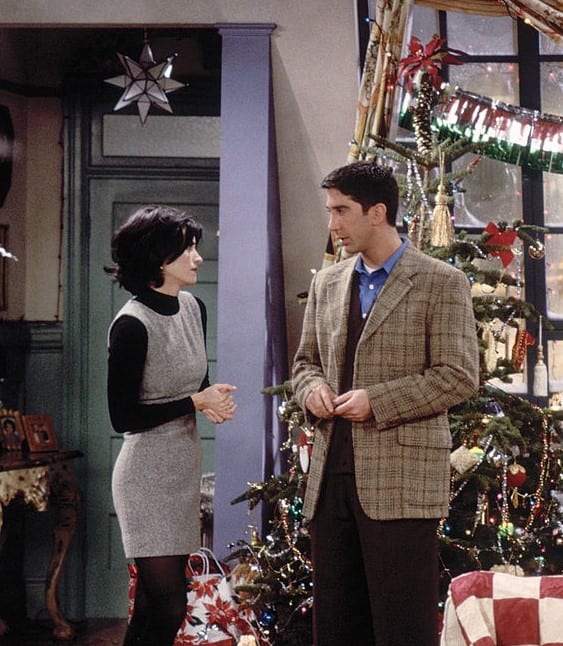 Looks like Monica Geller had quite the thing for gray dresses. This sheath number looks season-appropriate layered over the turtleneck and tights. A chic go-to winter look!
Season 3 Episode 6: The One with the Flashback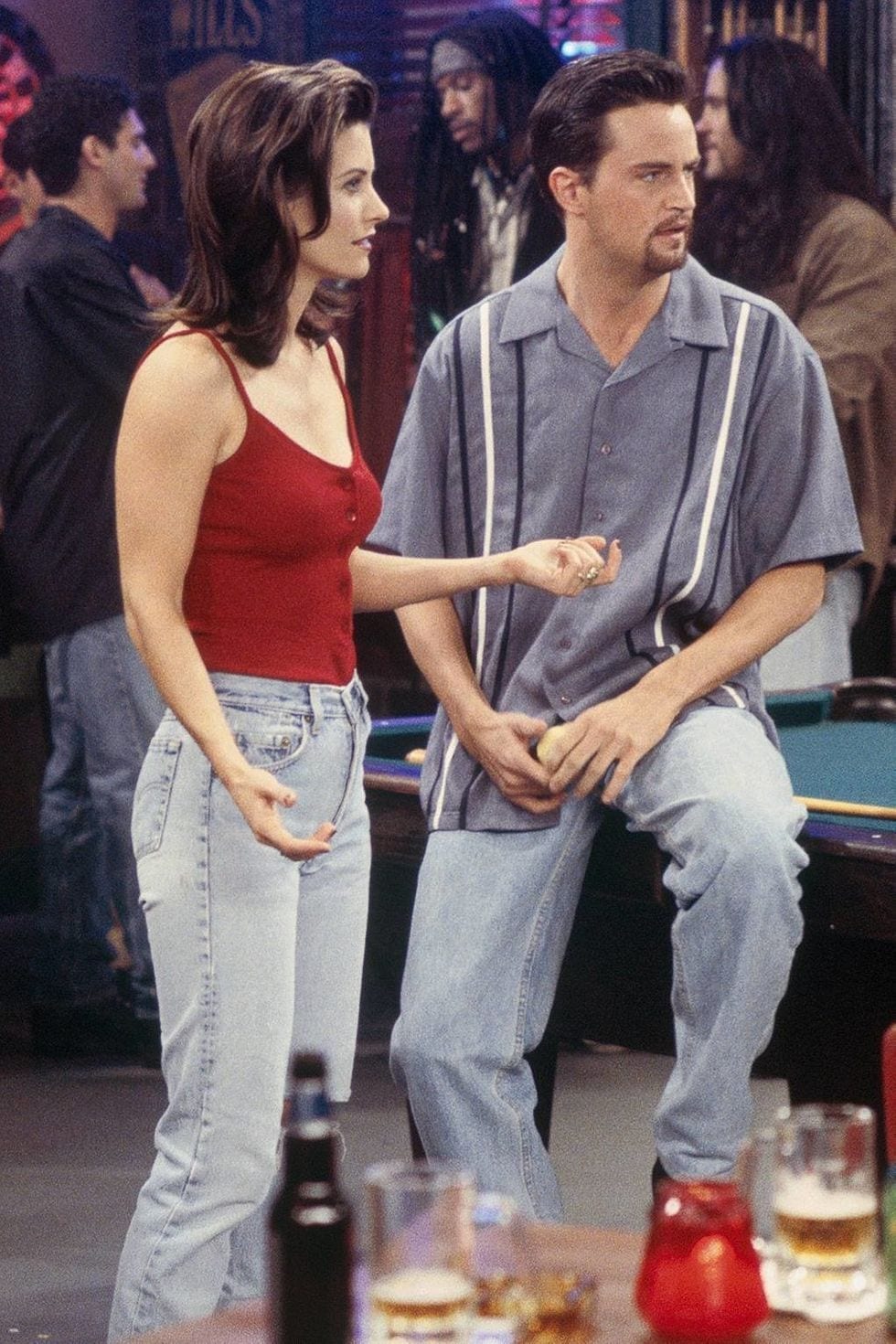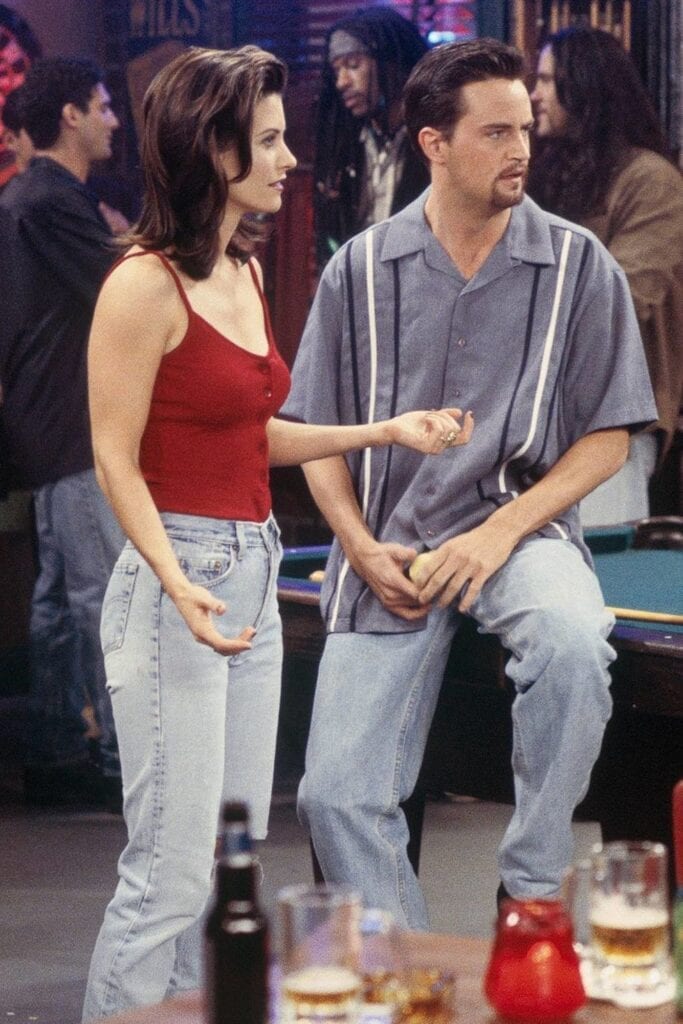 This red tee-blue denim combo is the classic look we never knew about. The way Monica pulls it off so effortlessly just goes on to show how powerful wardrobe basics can be.
Season 4 Episode 24: The One with Ross's Wedding, Part 2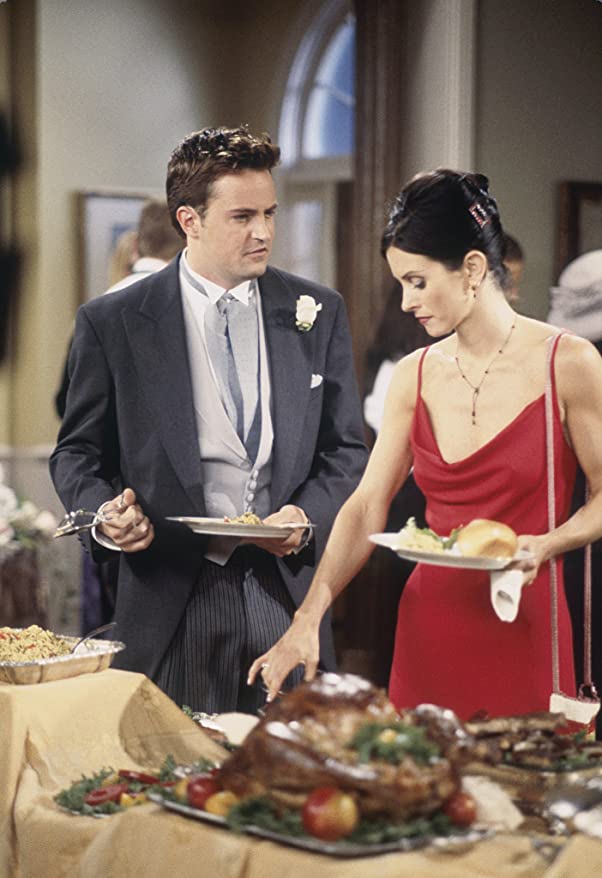 If an LBD (little black dress) is an evening essential, then we would say this LRD (long red dress) is definitely an essential look for your occasion wear wardrobe. Monica keeps it simple with an updo and minimal jewellery.
Season 5 Episode 1: The One After Ross Says Rachel
Two memorable moments from this episode. The first one is "I, take thee Emeelee…"
The second is this printed red dress that Monica wears on their way back to New York.
Season 6 Episode 24: The One with the Proposal Part 1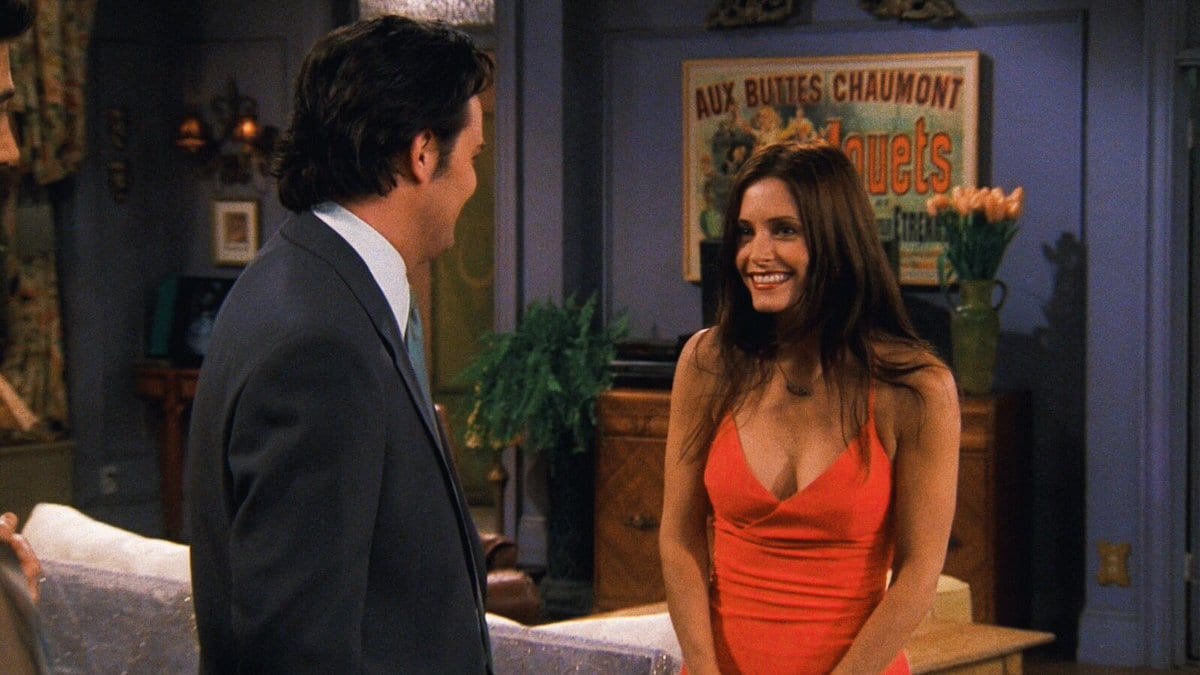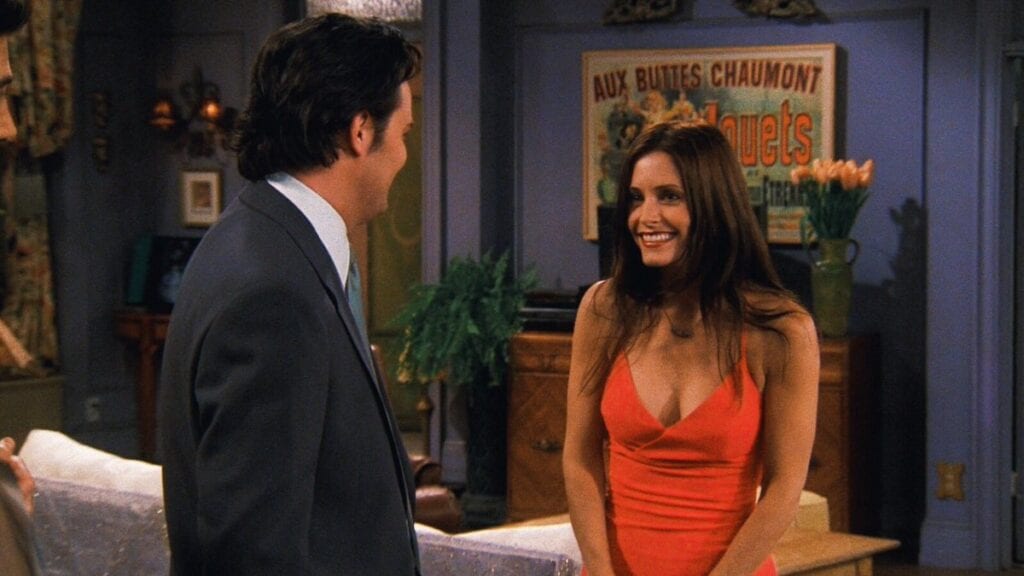 This red dress is another winner. It fits actor Courtney Cox like a dream.
Season 7 Episode 23: The One with Chandler and Monica's Wedding, Pt 1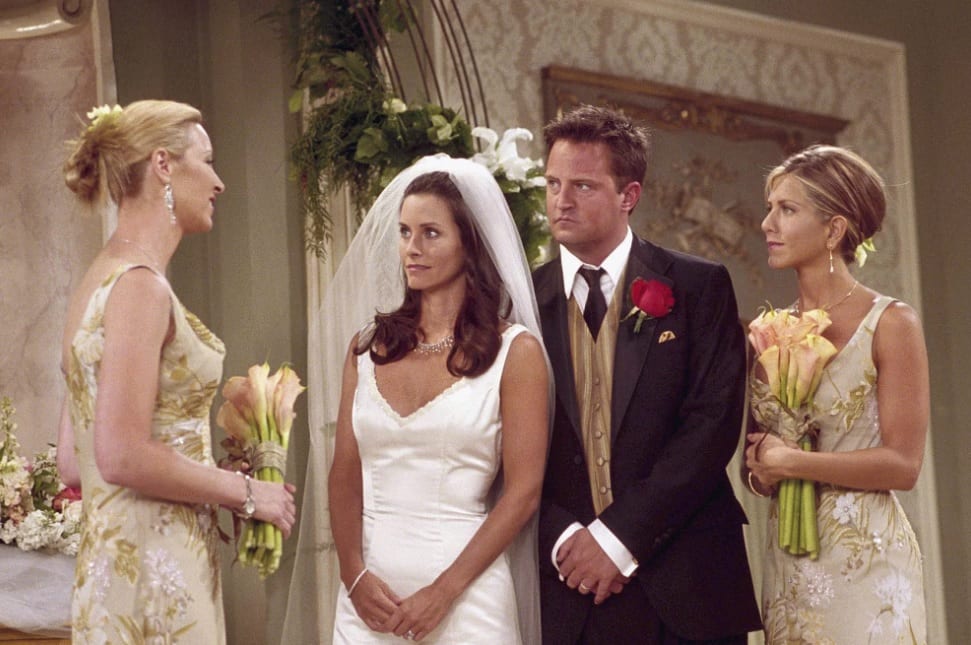 Monica's wedding dress was quite stunning. It resonated with her personal style – elegant and chic.
15 Clothes every Indian girl should have in her wardrobe
Season 8 Episode 6: The One with the Halloween Party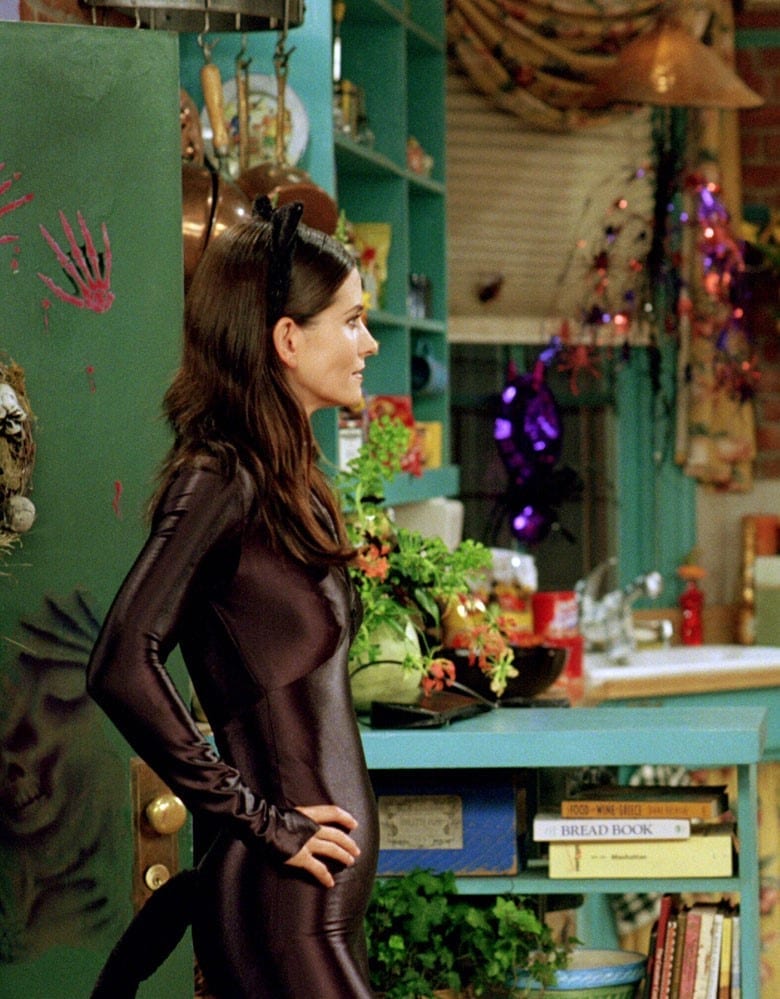 If we were to give the best costume award for this Halloween party, we would give it Monica hands down. See how perfect she looks as Cat-woman!
Season 9 Episode 6: The One with Rachel's Other Sister
Even though this episode is known for some spirited sister banter and one intense china breaking incident, we remember this because of Monica's animal-print dress. Seriously her dress collection just gets better every season!
Season 10 Episode 12: The One with Phoebe's Wedding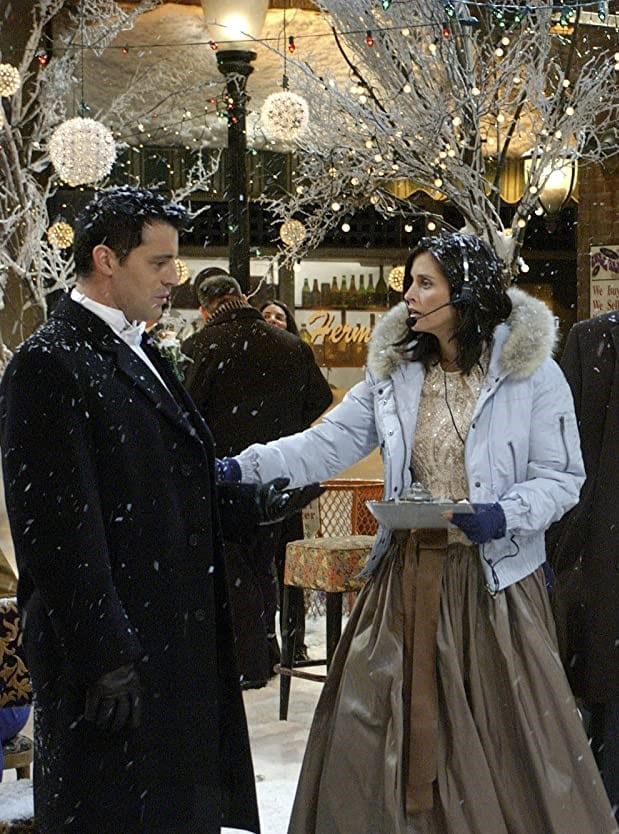 An outfit that proves that layers can work well together if the length is right. Here Monica's jacket hits right below the waist, which seamlessly fits with her bridesmaid's dress.
PHOEBE
Actor Lisa Kudrow's character was a '70s child throughout the show. She was free-spirited and it reflected in her sartorial choices as well. Paisley prints, polka dots, fringes, unexpected textures and silhouettes that you could live in all-day. Sure, she was little unconventional, but aren't we all trying to be like that? The composer and signer of 'Smelly Cat' wore some of the best coats on the show. Even her jewellery pieces were like her – rare and truly special. On days when she was not making her own shoes, she would be serenading her FRIENDS with her unique compositions.
Season 1 Episode 10: The One with the Monkey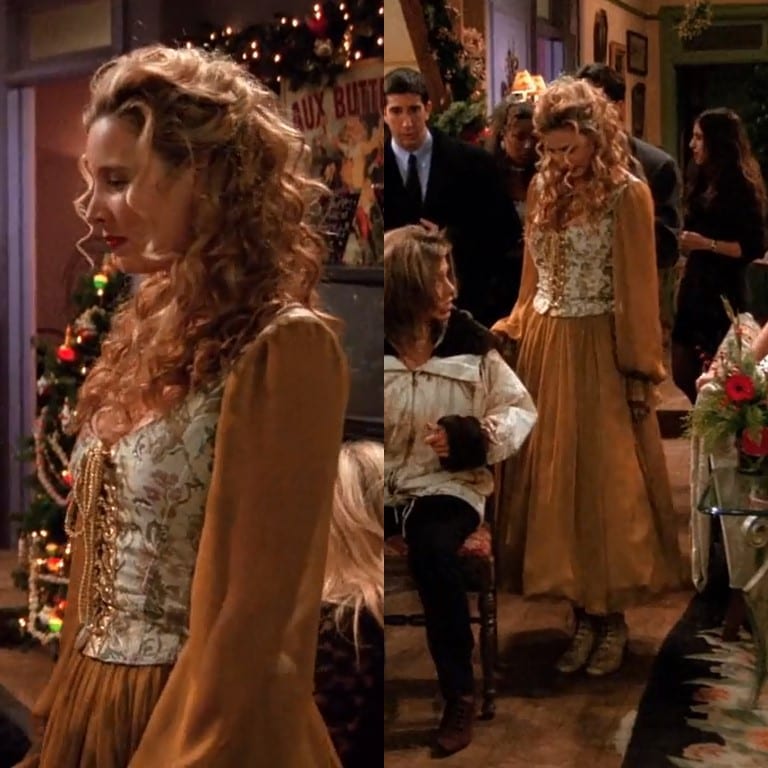 Lisa Kudrow, in the first few episodes as Phoebe, had a big head of beautiful curls that framed her face well. This corset dress is one of our all-time favourite outfits from the first season of FRIENDS. The way she styles it with patterned boots gives it such a mid-century appeal.
Season 2 Episode 14: The One After the Super Bowl, Part 2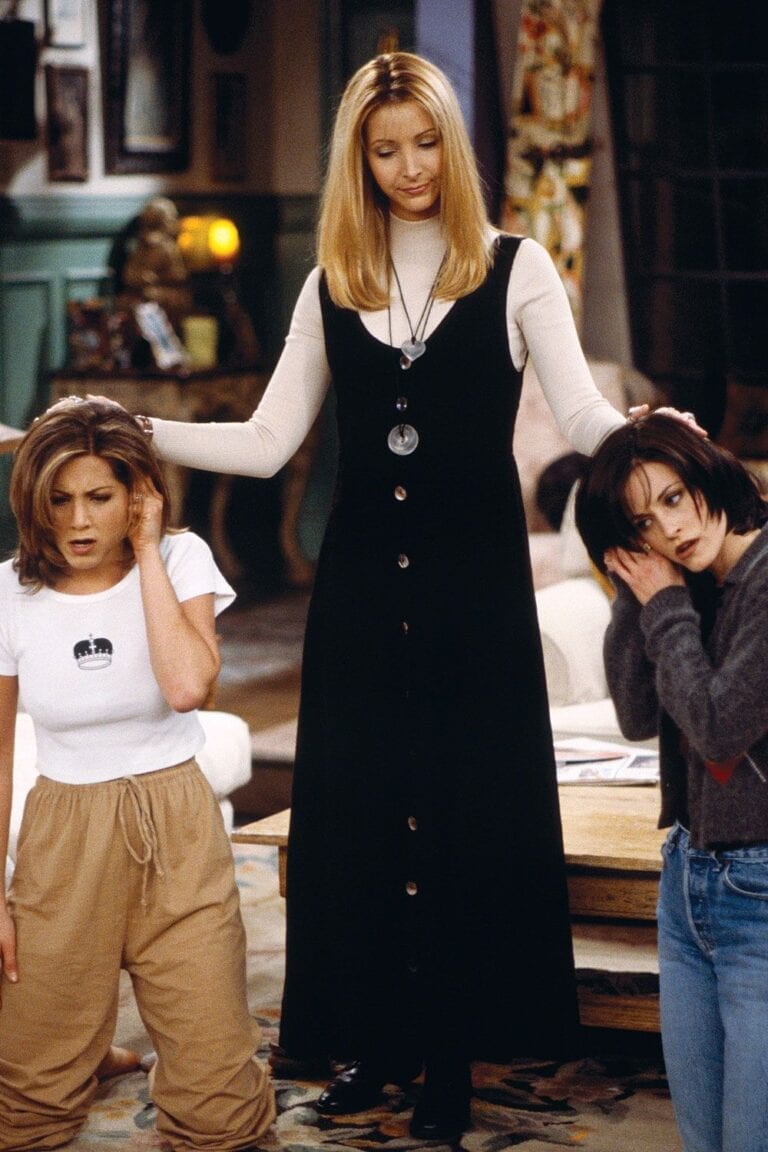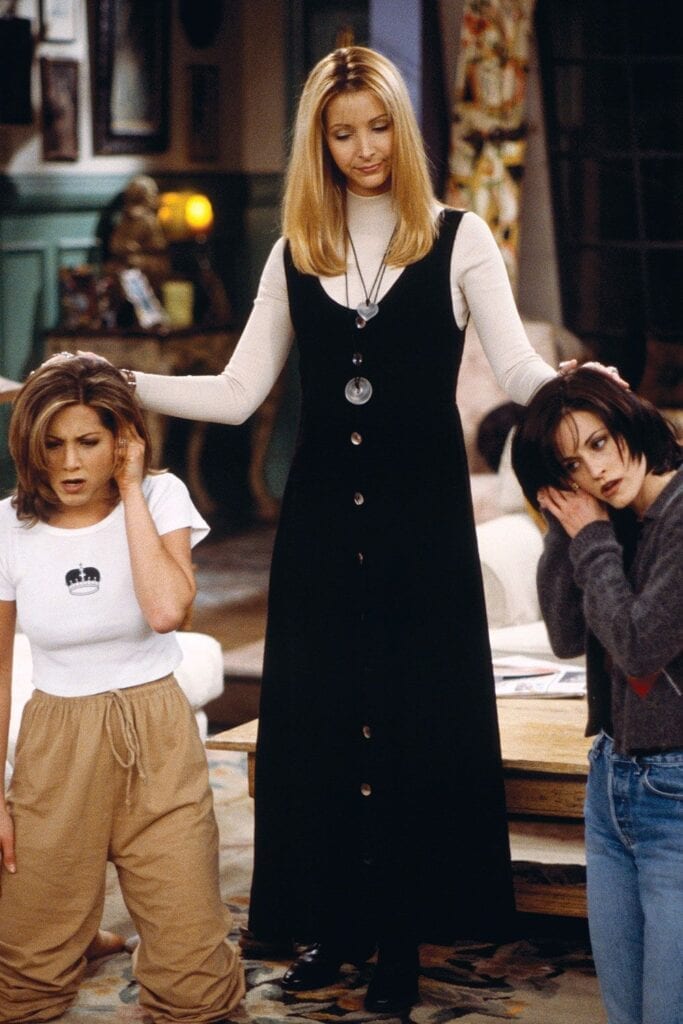 This must have been one of the most basic outfits that Phoebe must have had in her wardrobe. But see how she makes it her own with the disc-shaped neckpiece and the monochrome layering.
Season 3 Episode 2: The One Where No One's Ready
Chandler: What are you supporting? Phoebe: Duh. Christmas.
It feels like Christmas came early and Phoebe is totally for it.
Season 4 Episode 19: The One with All the Haste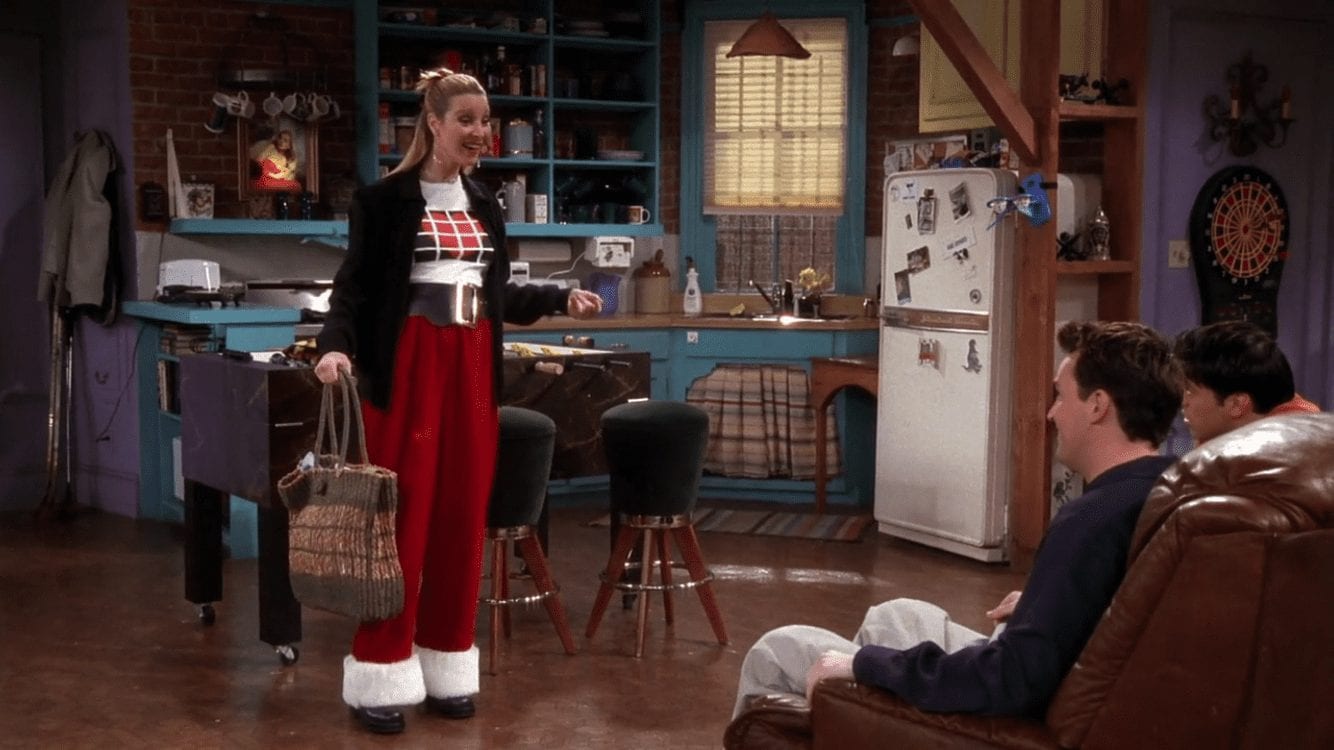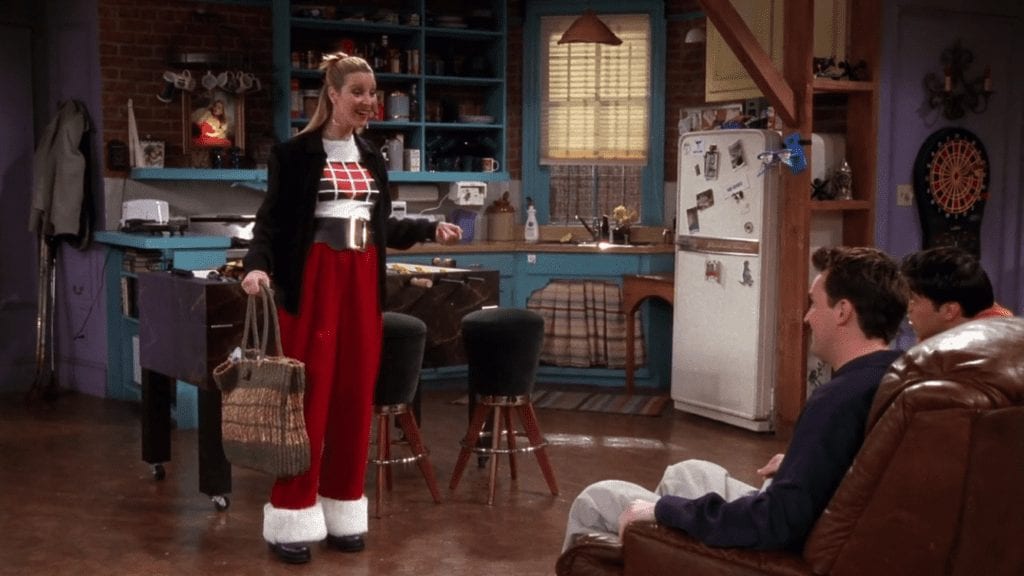 All we know is that Phoebe knew about mindful dressing – re-wearing and restyling those Santa pants after Christmas, only Phoebe can.
Season 5 Episode 14: The One Where Everybody Finds Out
MY EYES! MY EYES! MY EYES! Actor Lisa Kudrow knows how to wear a velvet ensemble and groove in it.
Season 6 Episode 23: The One with the Ring
We all love a good lilac number. This dress paired with a blue cardigan is such a fresh pairing for summer. Also, a shout-out to all the rings that Phoebe wears in the episodes.
Season 7 Episode 20: The One With Rachel's Big Kiss
Actor Lisa Kudrow gives us a lesson on how to wear pink on pink and not end up looking like a giant candy floss.
Season 8 Episode 9: The One with the Rumor
We have always admired Phoebe's coats. This one, in particular, totally works on her – with the large pendant, the Star Wars-hairstyle and the starry earrings.
Season 9 Episode 23: The One in Barbados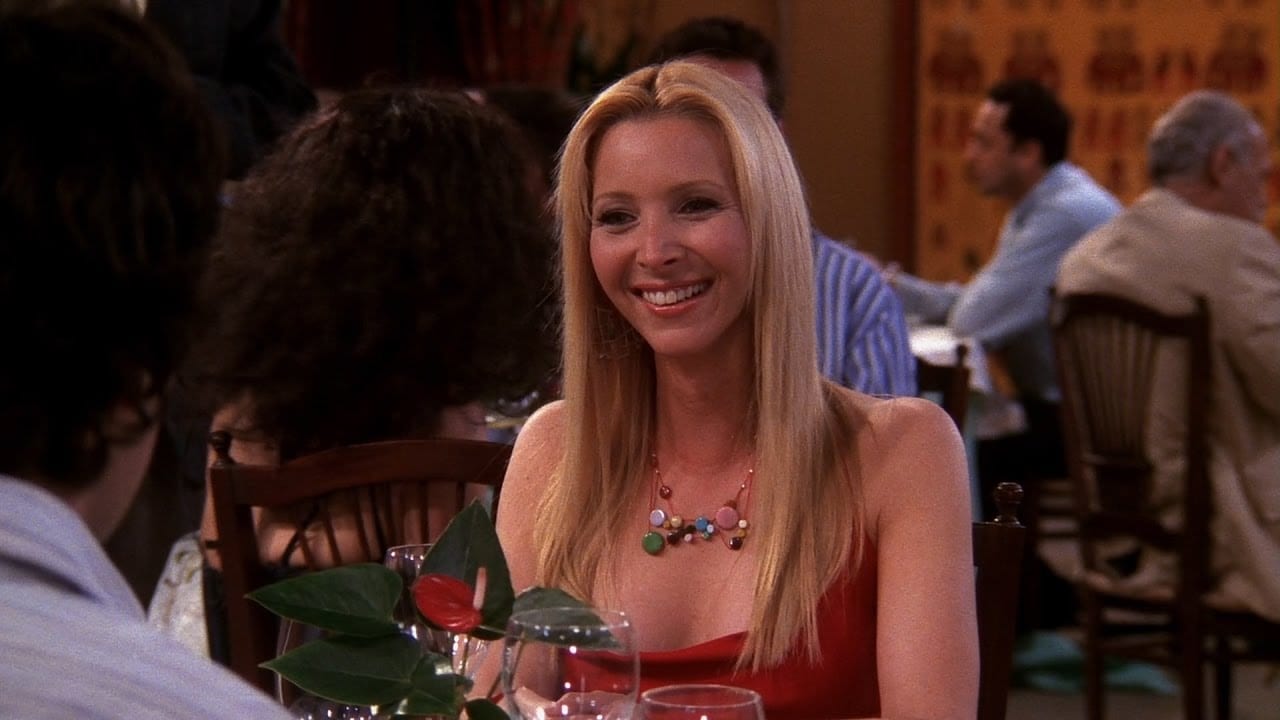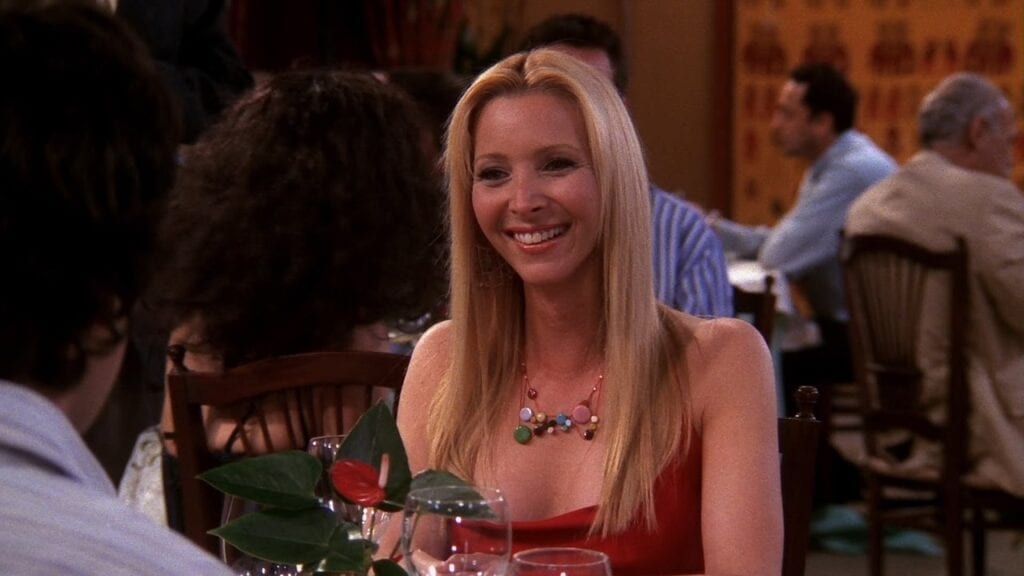 Barbados had some good fashion moments. Apart from Rachel's green floral dress, we also had our eyes on Phoebe's red dress. Even though the dress is too minimal for Phoebe's sartorial taste, we like how she pairs it with one of her eclectic neckpieces.
Season 10 Episode 12: The One with Phoebe's Wedding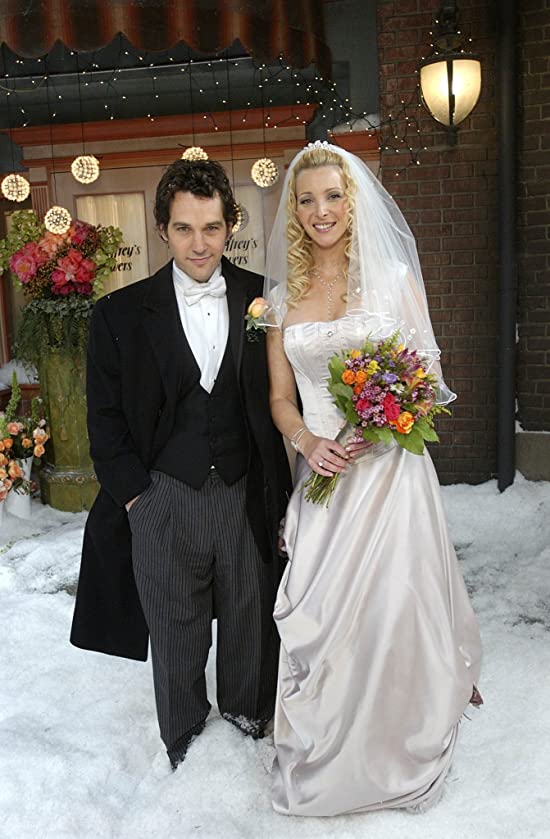 She saved the best for the last. Phoebe's wedding dress and the beautiful snowy ceremony makes us cry even when we see it now.
JOEY
Actor Matt LeBlanc gave us some iconic looks on the show. His character on FRIENDS, Joey Tribbiani (Joseph Francis Tribbiani Jr.) never shied away from experimenting with his look. Whether it was the revolutionary Ichiban – Lipstick for Men or committing to a whole Porsche (Porshe-ah!) look, he has always been open to new sartorial ideas. We are looking forward to see him in FRIENDS Reunion.
Season 3 Episode 2: The One Where No One's Ready
This one is just a clever idea to get back at someone. By wearing all of Chandler's clothes so that he would give up his spot on the chair – GENIUS!
Season 5 Episode 13: The One with Joey's Bag
We love the whole look. The olive-coloured separates styled with the manly man-purse is great outfit idea. We just hope Joey could have committed to this fully.
Season 5 Episode 24: The One in Vegas, Part 1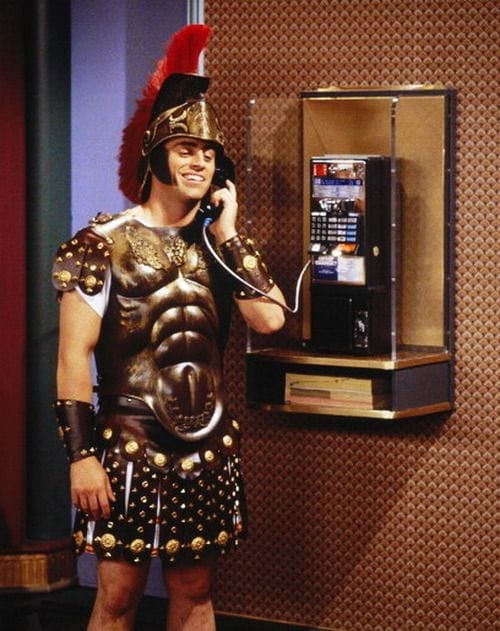 There's a certain art to wearing skirts and Joey knows how to do it well. The whole Gladiator getup in Vegas after his movie's shoot got stalled is one of our favourites from the FRIENDS.
Season 8 Episode 6: The One with the Halloween Party
Joey's acting skills really came to the fore in this episode, where he dressed like Chandler and enacted his famous catchphrases.
Season 8 Episode 9: The One with the Rumor
Joey has always surprised us with his outfit choices. This one was no different. Wearing elastic on waist definitely helped him in his turkey-eating conquest.
CHANDLER
Chandler Bing stuck to the basics just like his on-screen partner, Monica. His entire wardrobe in the show can be condensed into 3 parts: Chandler in vests, Chandler in suits and Chandler in oversized shirts. He had a "look", which made Matthew Perry's character so memorable. The sarcasm would just fit seamlessly with the look. We expect to see the same sarcasm in FRIENDS Reunion.
Season 2 Episode 6: The One with the Baby on the Bus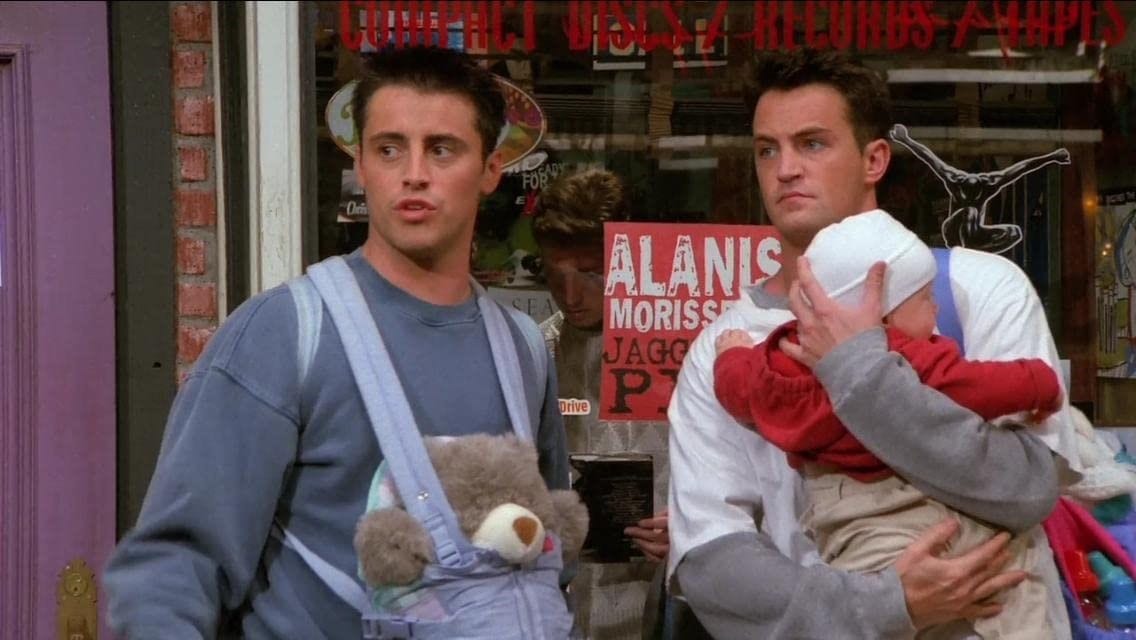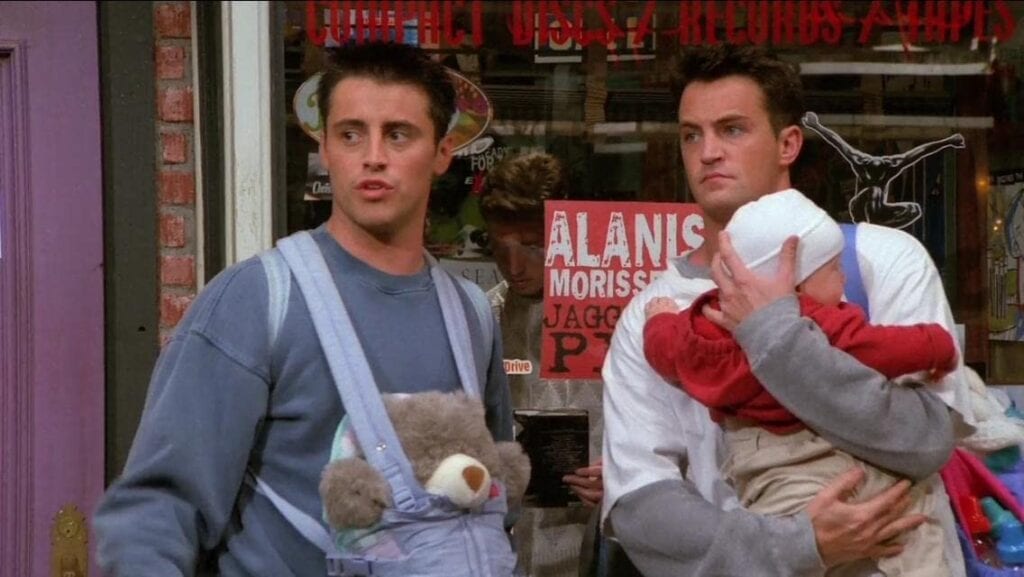 Chandler Muriel Bing's layering game was strong. On days, when he was not wearing a cardigan over a shirt, he would go for this tee-on-tee look. The grey and white colour scheme is a winner.
Season 4 Episode 1: The One with the Jellyfish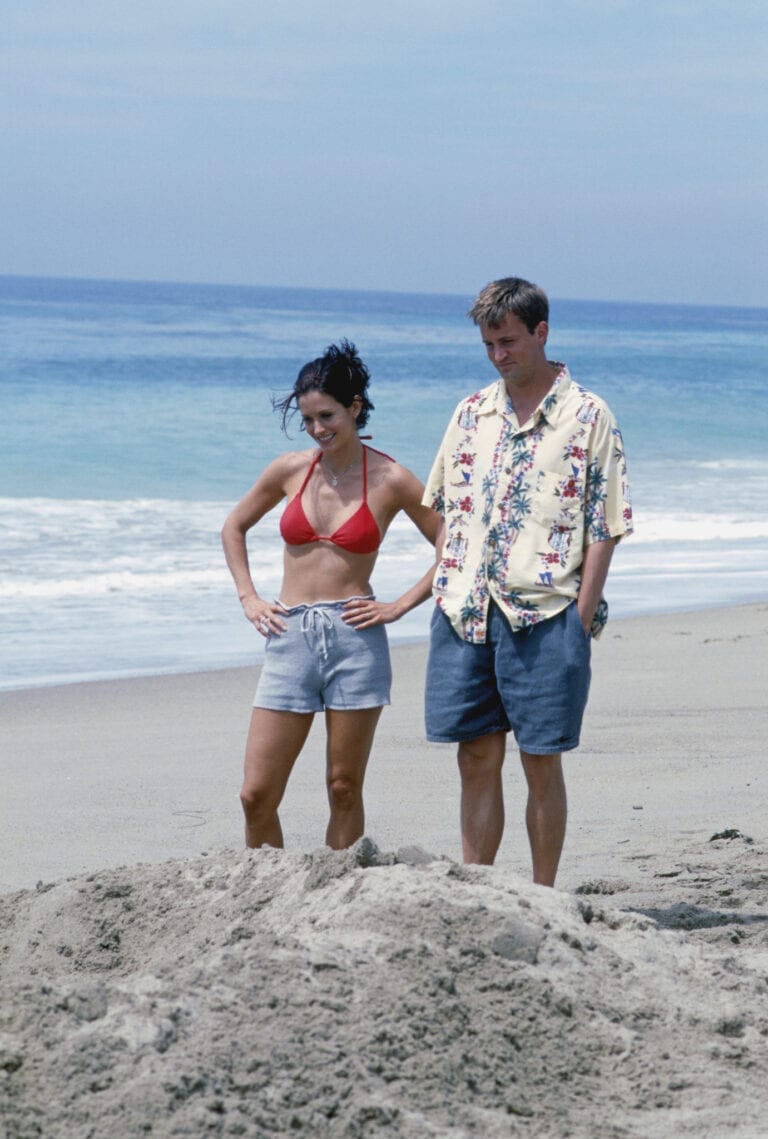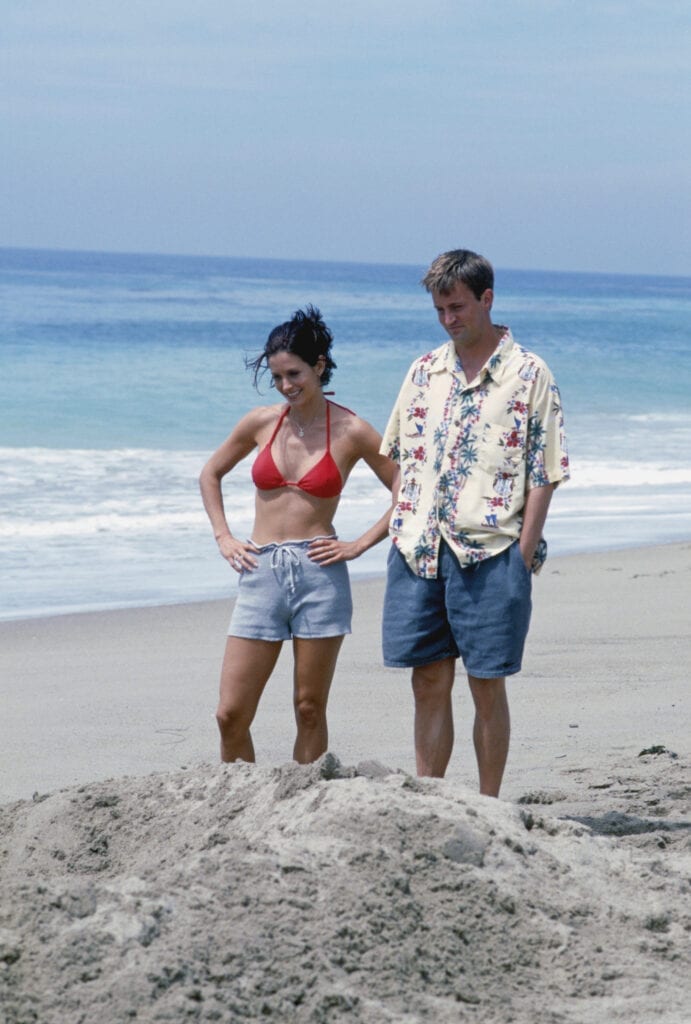 This episode is known for many reasons. It definitely brought Monica and Chandler closer as friends. It also showed a beach-appropriate outfit, as worn by Chandler.
Season 4 Episode 3: The One with the 'Cuffs
Three words: Oh So Sexy!
Season 4 Episode 5: The One with Joey's New Girlfriend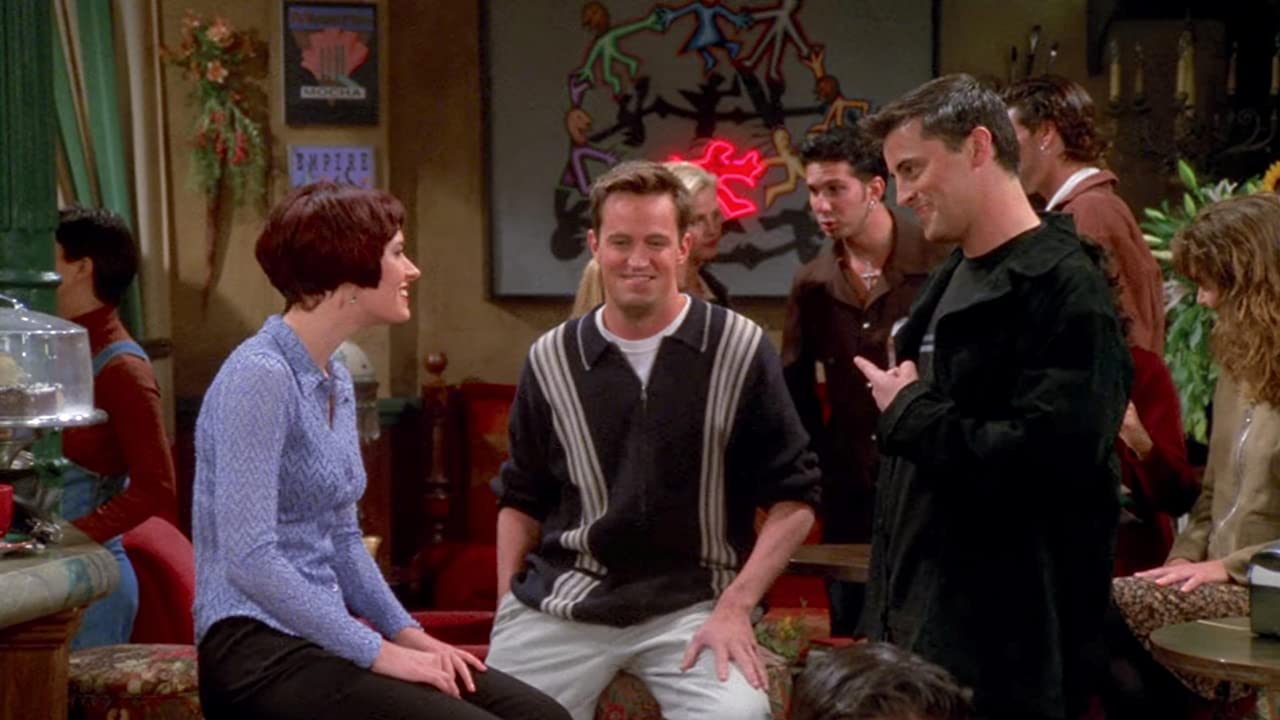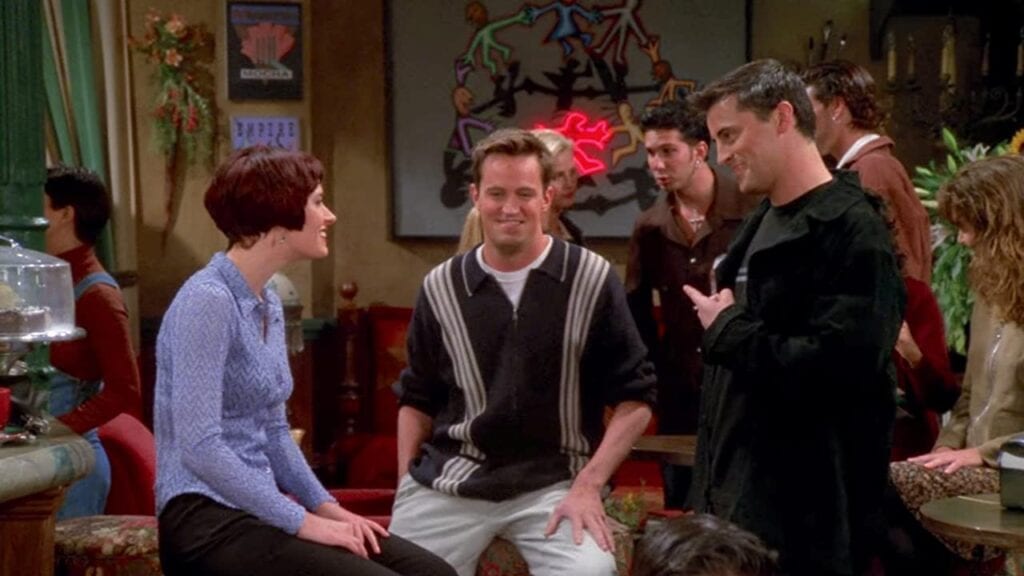 After Monica and Chandler, Kathy's pairing with Chandler was one of the bests on the show. We were disheartened when Kathy and Chandler broke up. This is the first time when they met at the coffeehouse. Chandler looks cool in his signature bowling shirt.
Season 5 Episode 8: The One with All the Thanksgivings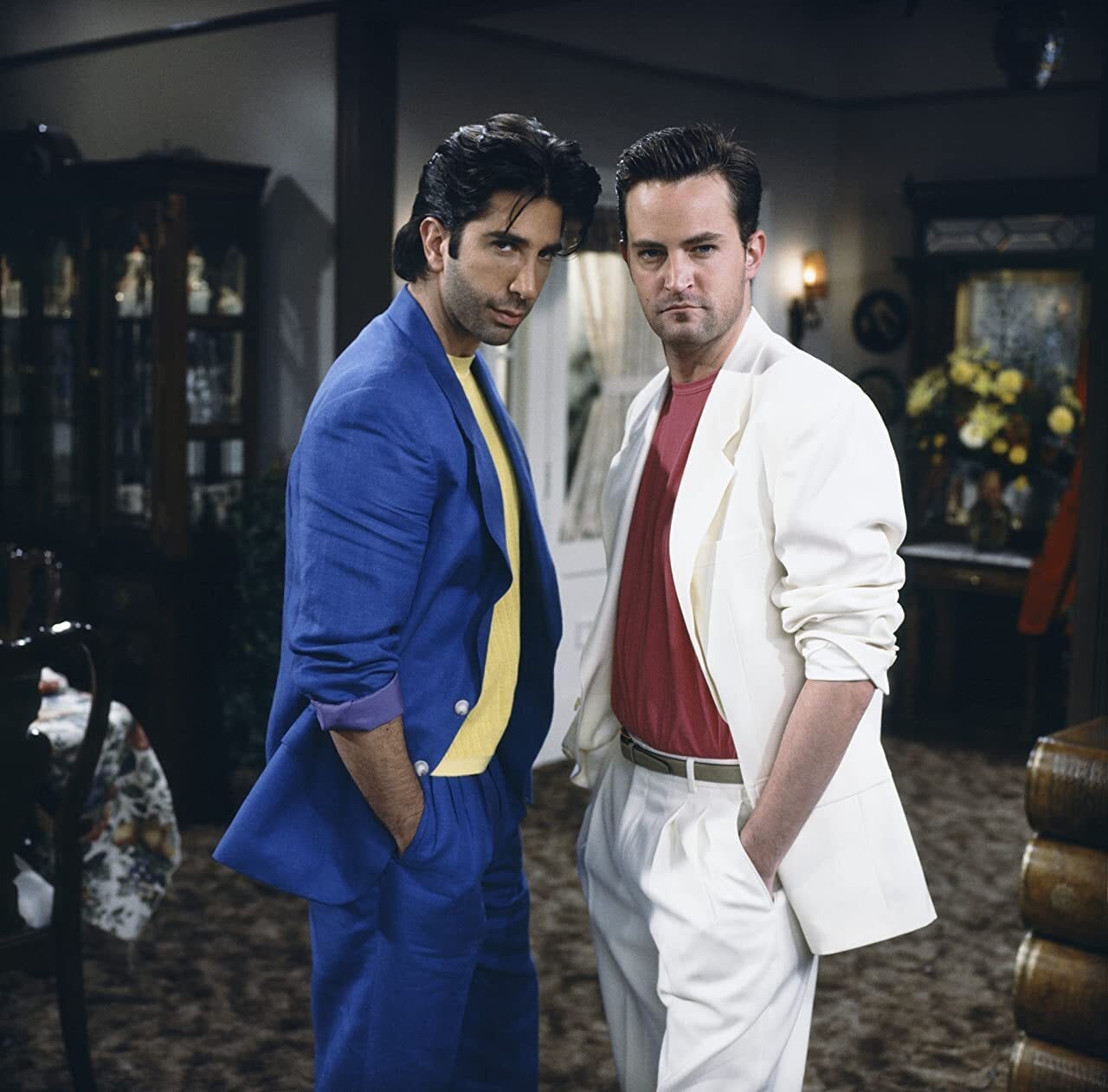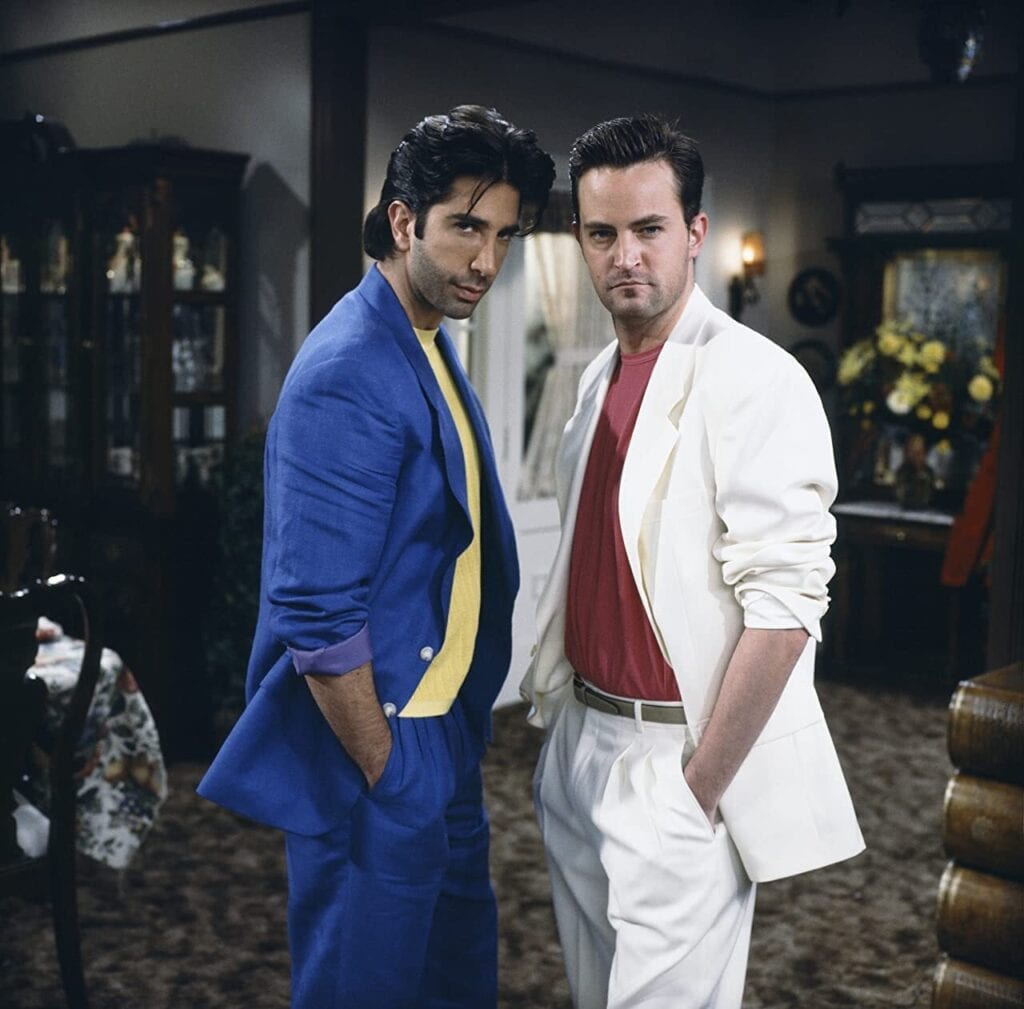 This is a sharp look for Chandler. Even though the whole episode turned out to be nearly fatal for him, the red and white look is so charming. Also, this is the episode where Chandler says 'I Love You' to Monica.
ROSS
Actor David Schwimmer dressed the part. As a Paleontology Professor and the father of Ben, you could see him throughout the series in tweed coats, dad shirts and khaki-coloured pants. The only time her experimented was the Armadillo outfit that he donned to teach his son about Hannukah. His style was completely opposite to that of Rachel's, but in the end they did come together. "He was her Lobster," after all. Will we be able to see him talking about dinosaurs in FRIENDS Reunion?
Season 1 Episode 2: The One with the Sonogram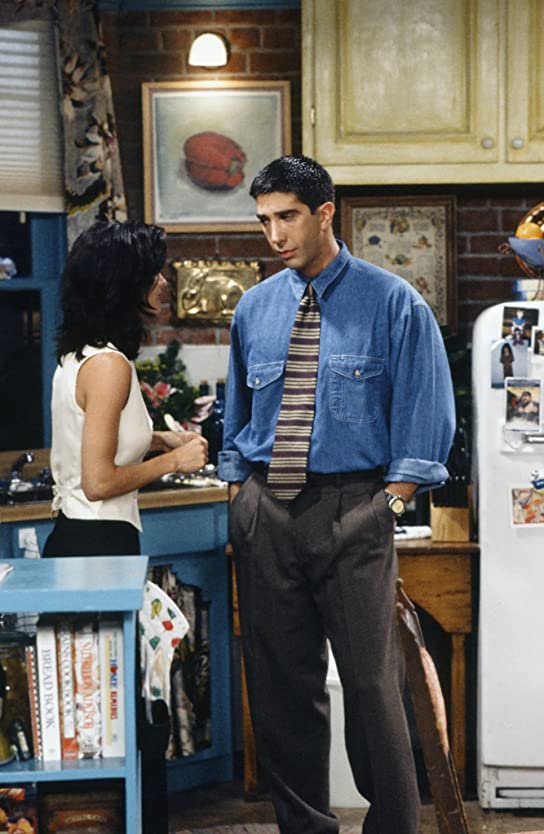 This outfit was cleverly styled and it worked well for Ross. Pairing oversized denim with stripes is kind of a classic combo.
Season 2 Episode 24: The One With Barry And Mindy's Wedding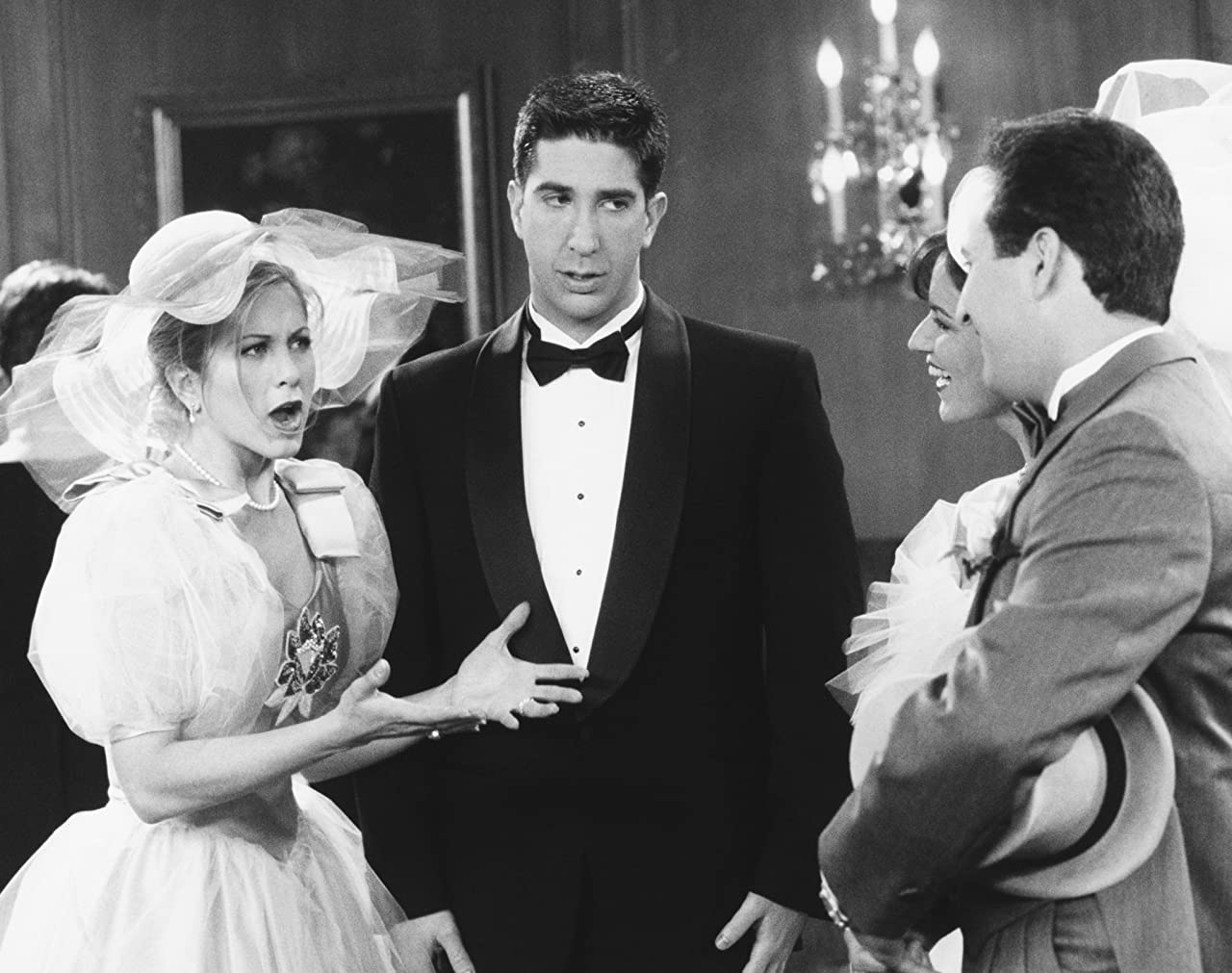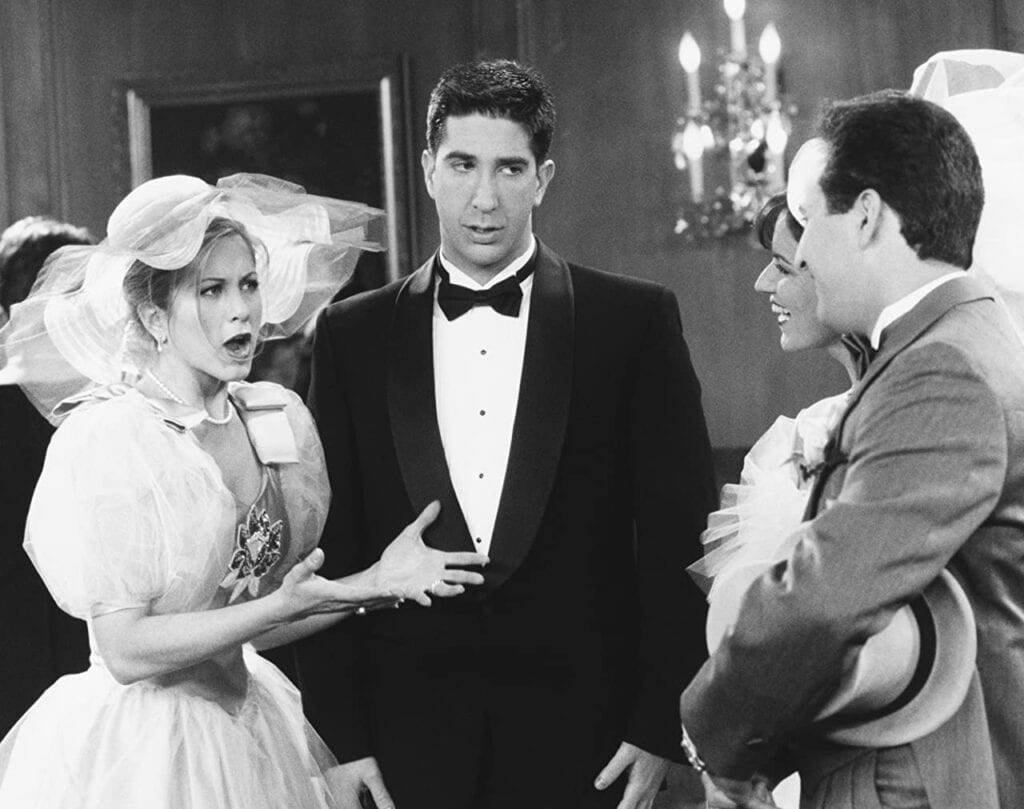 A sharp look for David Schwimmer in FRIENDS. Who knew he was a bow-tie kind of guy as well?
Season 5 Episode 11: The One with All the Resolutions
Even though Ross had to walk back home without his pants on, the leather pants in the beginning looked pretty good on Ross' physique.
Season 5 Episode 24: The One in Vegas, Part 2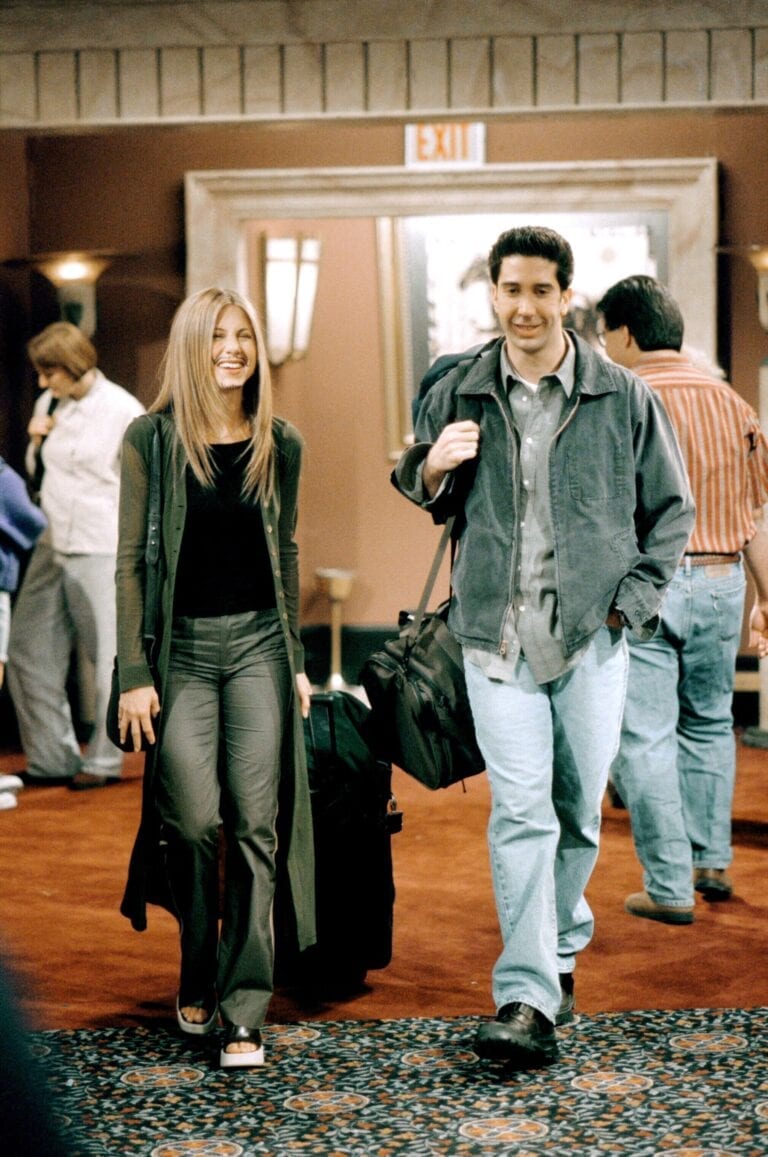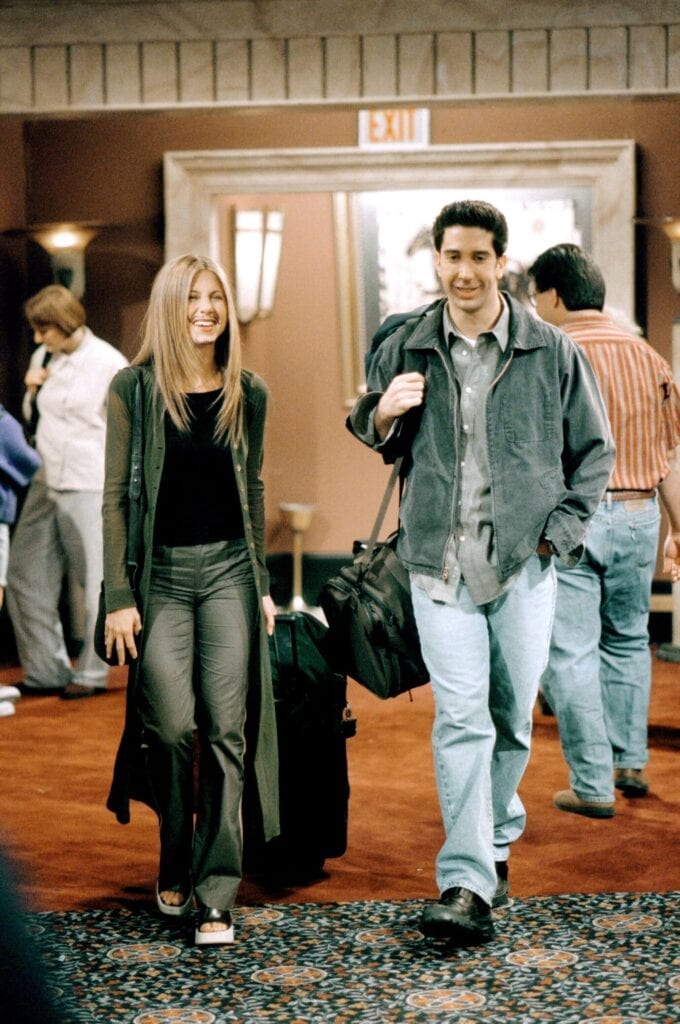 This has to be Ross' best outfits on the show. Smart layers in shades of blue and green is always a win-win.
Season 10 Episode 11: The One Where the Stripper Cries
This looks like a coat from Rachel's wardrobe. Nevertheless, this silhouette is sleek and fits Ross beautifully. Leather should have been his go-to look.
(Images via Pinterest, YouTube, IMDB and Giphy.com)