Estimated reading time: 12 minutes
Mamaearth is a popular brand that needs no introduction. This brand has a wide variety of organic and toxin-free beauty products for adults as well as for babies. Mamaearth products have been used worldwide and have gained a lot of love from their customers. However, mamaearth products have some disadvantages too that you can read in our previous blog, "Top 10 Mamaearth Products Online Honest Review in Detail." Most importantly, we have personally used many of the mamaearth products and shared our experience in the above blog.
We must say that mamaearth is a brand with products for almost every skin type and every age. Some of their popular products are mamaearth onion hair oil, mamaearth onion shampoo, mamaearth vitamin C face serum, mamaearth charcoal bamboo sheet mask, mamaearth coco baby lotion, mamaearth massage oil for babies, mamaearth under eye cream, etc.
The most positive thing is that mamaearth is the brand that understands the customer's need and improves their products according to that and launches new products with the goodness of plants and other organic ingredients.
So, without any further doubt, let's have a look at the Mamaearth products – The latest range that you shouldn't miss.
Tea Tree Spot Gel Face Cream with Tea Tree & Salicylic Acid For Acne & Pimples – 15 g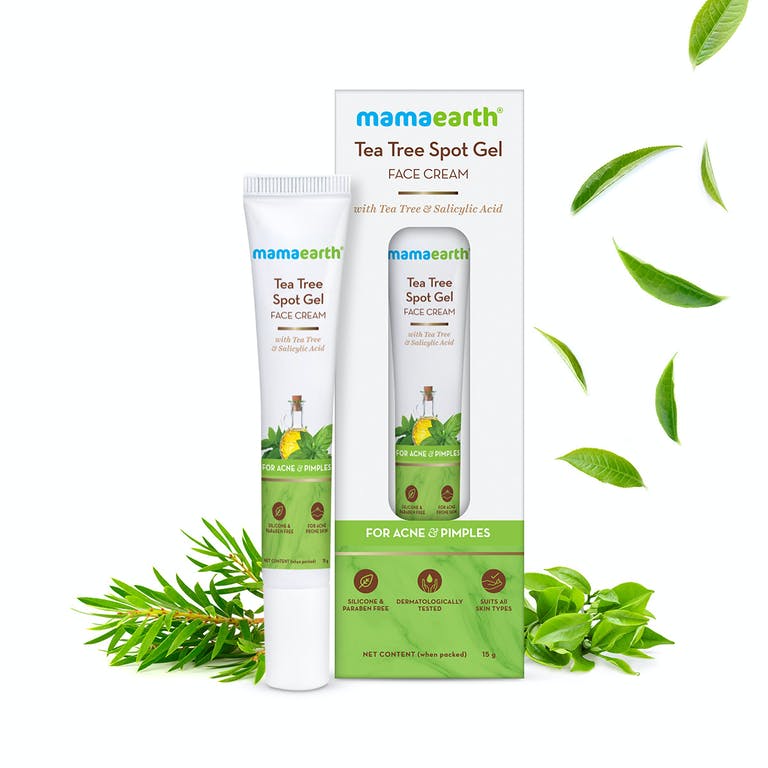 Let's get a little technical here. Salicylic acid is a kind of beta hydroxy acid and it is derived from willow tree bark. Salicylic acid has a high power of penetrating into the skin. It is helpful in opening and cleaning the skin pores.
Tea-tree oil is also familiar to everyone. It has anti-bacterial and anti-inflammatory properties. Certainly, due to these properties, it soothes the skin along with killing the acne-causing bacteria.
Above all, despite having a lot of benefits, there are some disadvantages too. Let's see mamaearth products disadvantages and advantages now.
Pros
Helps in reducing redness and soreness around the acne.
Has anti-bacterial and anti-inflammatory properties.
Chemical-free and dermatologically tested
The goodness of salicylic acid and tea tree oil makes this product unique and very effective.
Cons
Not suitable for excessive acne and pimples.
Little expensive
Tea Tree Oil-Free Face Moisturizer with Tea Tree & Salicylic Acid for Acne & Pimples – 80 ml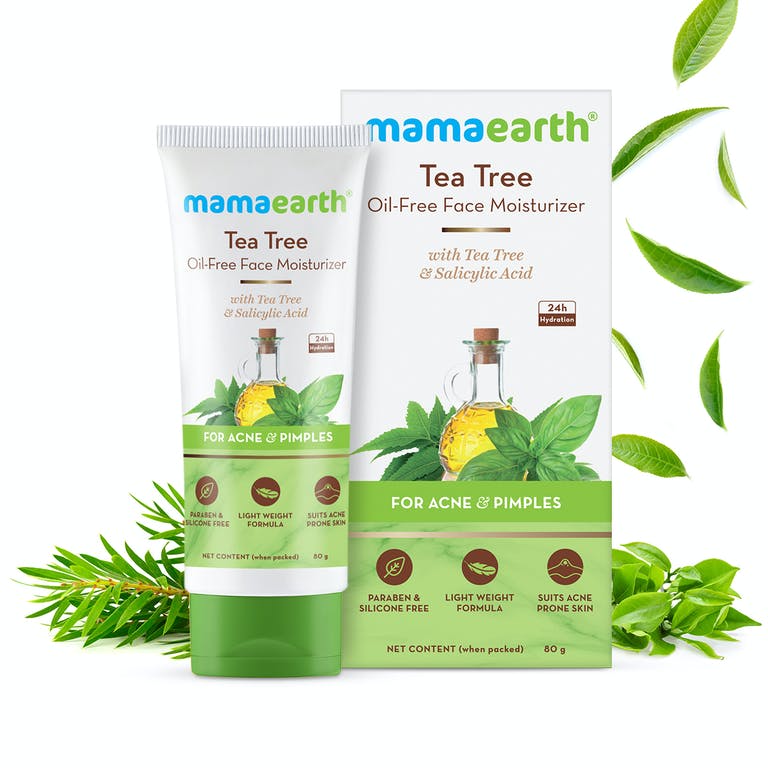 Moisturization is as important for your skin as water for your body. Skin also needs proper hydration and nourishment. Talking about this product by mamaearth, we just want to say that tea-tree and salicylic is a great combination for killing the acne causing bacteria. Salicylic acid penetrates the skin deeply and hydrates the skin. Its non-sticky formulation makes it very efficient for oily and acne prone skin.
Let's see its pros and cons.
Pros
It is non-sticky and hydrates the skin well.
Toxin and paraben free.
Get easily absorbed in the skin.
Cons
Some lab made ingredients are used in this product.
Not suitable for itchy and highly acne prone skin.
Vitamin C Oil-Free Moisturizer For Face with Vitamin C & Gotu Kola for Skin Illumination – 80 ml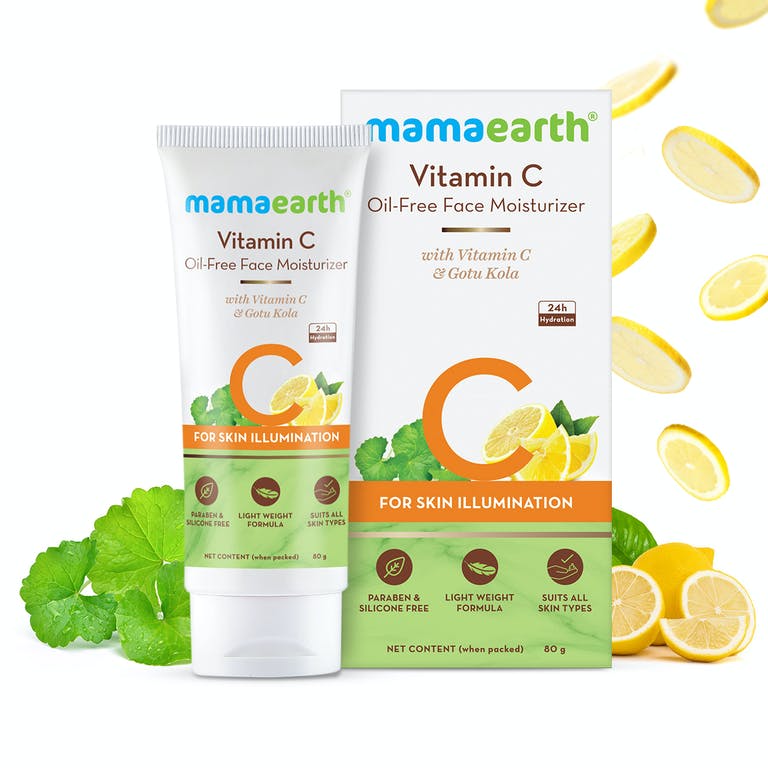 In the context of mamaearth products, we can say that Vitamin C is the most used ingredients in their products. However, this product is something unique because it has Gotu Kola in it.
Gotu kola is an herb from the parsley family. It is rich in anti-microbials and anti-oxidants. Above all, gotu kola is a staple in Chinese and ayurvedic tradition. Bringing vitamin C with gotu kola is indeed a good idea. Vitamin C easily absorbs the excess oil and gives a radiant glow to the skin whereas gotu kola easily penetrates the skin and nourishes it deeply with its anti-inflammatory, anti-microbial properties.
Have a look at its pros and cons.
Pros
Deeply hydrates the skin
Rich with the goodness of Vitamin C, Vitamin E and Gotu kola
Gives a radiant glow to the skin along with the anti-ageing benefits
Cons
A patch test is always recommended as Vitamin C can cause itchiness and redness.
Vitamin C Face Scrub for Glowing Skin, With Vitamin C and Walnut For Skin Illumination – 100 g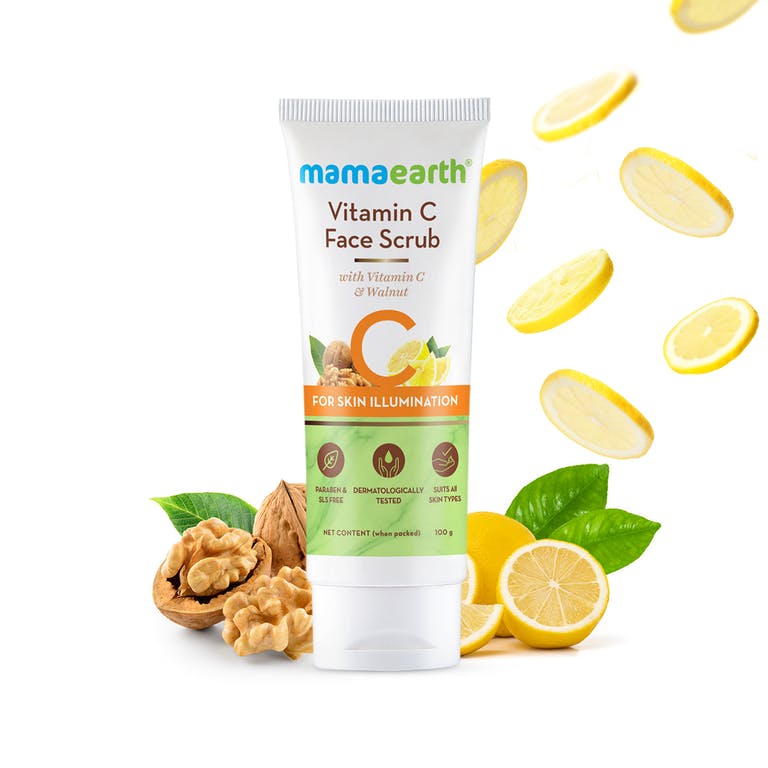 Mamaearth vitamin C face scrub is filled with the goodness of walnut which also known as natural exfoliator for skin. Certainly, walnut is helpful in removing blackheads, whiteheads, and various dead skin cells. Being a natural exfoliator, walnut is a common ingredient in face scrubs which are natural and organic like mamaearth vitamin C face scrub.
Read its pros and cons below.
Pros
It scrubs away the dirt and impurities gently
Vitamin C helps in reducing pigmentation
Goodness of saffron and turmeric adds a cherry on the cake
Toxin & paraben free formulation
Cons
The size of walnut granules is big which sometimes feels harsh
Not suitable for extremely dry skin
Ubtan Ultra-Light Gel Oil-Free Moisturizer with Turmeric & Saffron for Deep Hydration – 200 ml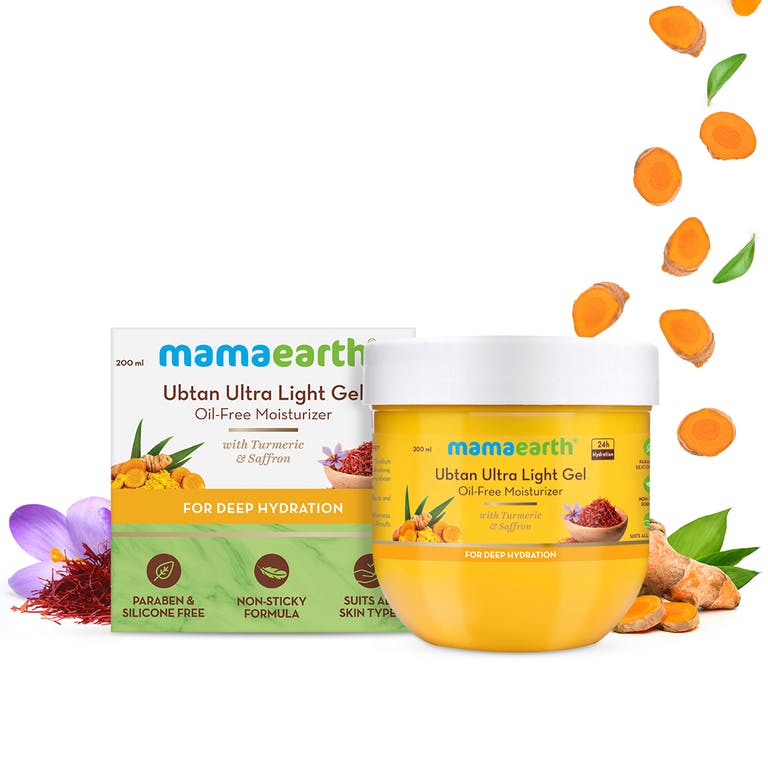 Remember! Whatever may be the season, be it rainy, winter or summer, your skin needs the same hydration and moisturization in all the seasons. This product does the same work in any season.
Ubtan has been traditionally used for skincare since ages. There are various mamaearth products which has ubtan as a major ingredient. Ubtan with turmeric and saffron is indeed a royal combination for a perfect skincare.
Let's see its mamaearth products disadvantages and advantages.
Pros
Turmeric has anti- bacterial and anti-inflammatory properties which is beneficial for skin
Its oil-free formulation makes it easy to handle
It makes the skin soft and smooth by providing the natural hydration and nourishment
Anti-oxidant properties of saffron makes it more useful
Cons
Not useful extreme acne prone skin
Not suitable for sensitive skin
Does not last long for the whole day
Vitamin C Ultra-Light Gel Oil-Free Moisturizer with Vitamin C & Aloe Vera Water for Glowing Hydration – 200 ml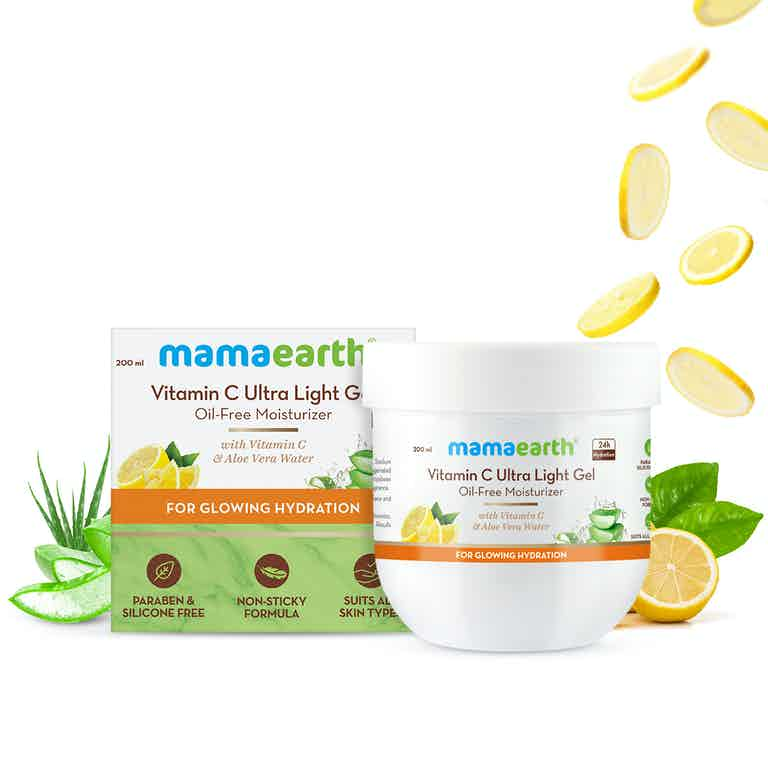 This product by mamaearth is majorly formulated with four components- vitamin C, shea butter, aloe vera water and niacinamide. Let's tell you the benefits of each one by one.
Vitamin C- Regular use of vitamin C helps in getting even tone and reduces pigmentation. Above all, Vitamin C rejuvenates the skin cells and makes it feel fresh.
Shea butter- Shea butter benefits are known to everyone. It provides a deep nourishment to the skin and having anti-inflammatory properties that soothes the skin.
Aloe vera water- Every time we talk about hydration and nourishment of the skin, aloe vera is always in our talks and suggestions. It is the best natural moisturizer for the skin. Most importantly, it suits almost every skin type although exceptions may exist.
Niacinamide- It contains vitamin B3+ which helps reduce pores. It also prevents ageing of the skin.
Pros
Aloe vera and vitamin C is a good combination for the nourishment of the skin
It soothes the skin well
The gel formulation makes it easier to tackle
Apple Cider Vinegar Shampoo with Organic Apple Cider Vinegar & Biotin for Long & Shiny Hair – 250ml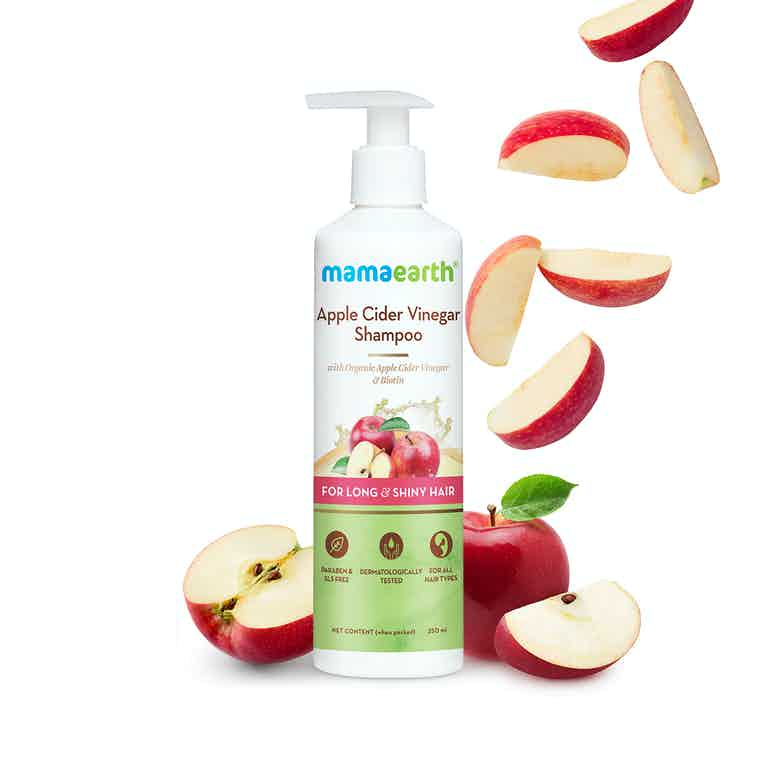 Apple cider vinegar is a kind of natural cleanser. It is commonly used in organic products like mamaearth products. Mamaearth has recently launched this amazing natural shampoo with apple cider vinegar and biotin. Apple cider vinegar works as a natural pH balancer which helps the scalp to retain its natural pH. On the other hand, biotin works as a stimulator for follicle growth and consequently encourages long hair.
Mamaearth products disadvantages and advantages are
Pros
Apple cider vinegar is helpful in cleansing the scalp
This shampoo works good for oily skin too
It makes hair shiny. Aloe vera and vitamin C is a good combination for the nourishment of the skin.
Cons
For extreme hair fall, mamaearth onion shampoo range is better
Apple Cider Vinegar Conditioner with Organic Apple Cider Vinegar & Biotin for Long & Shiny Hair – 250ml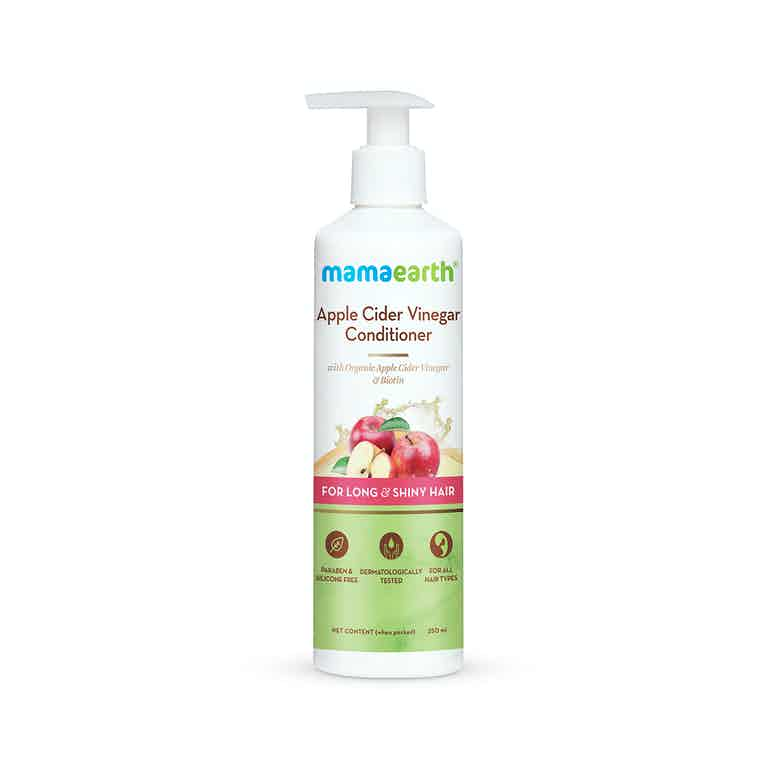 This is one of the amazing products from the mamaearth apple cider vinegar range. This apple cider vinegar conditioner is made with the goodness of apple cider vinegar, biotin, and almond oil. Here almond oil works as a natural conditioner and gives your hair a shine.
It nourishes the scalp and helps the scalp to maintain a healthy natural pH. This conditioner is a cake on the cherry in the context of mamaearth apple cider vinegar shampoo.
Let's see its pros and cons.
Pros
Deeply nourishes the scalp
Easy to apply and easy to handle
Strengthen the hair
Reduces the fizziness of the hair
Cons
Not suitable for oily scalp but you can use this conditioner on the split ends
Skin Illuminate Face Serum for Radiant Skin with Vitamin C & Turmeric – 15g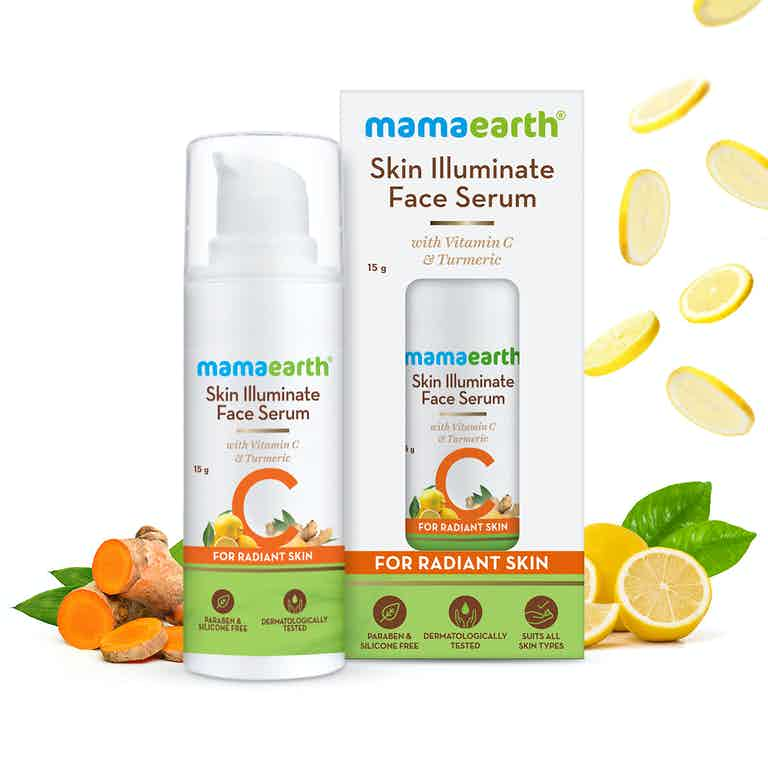 When we talk about mamaearth products, how can we forget Vitamin C. There is a quite wide range available by mamaearth filled with the goodness of Vitamin C. Let's see what does these ingredients do to your skin?
Vitamin C- Vitamin C is the best antioxidant for the skin. It helps the skin to regain its shine and glow. Above all, vitamin C prevents the melanin production which consequently reduces hyperpigmentation, acne spots and dark spots, etc.
Nymphaea alba flower extract- It is also called white water-lily. It is commonly used in medicines and cosmetics. Its work is to regenerate, nourish, and moisturize the skin.
Turmeric- We think there is no need to get a count on qualities of turmeric. Still, we want you to remember that turmeric has anti-bacterial, anti- microbial and anti-inflammatory properties which helps the skin to get free from bacteria and fungus.
Squalane- It works as a detoxifier for the skin. It also helps in boosting collagen production.
Pros
Vitamin C works well in providing the lost glow of your skin
Easy to manage
Does not give oily look to your face
Cons
You need to be patient; it takes time to show the results
Rice Hair Oil with Rice Bran & Coconut Oil For Damage Repair – 150ml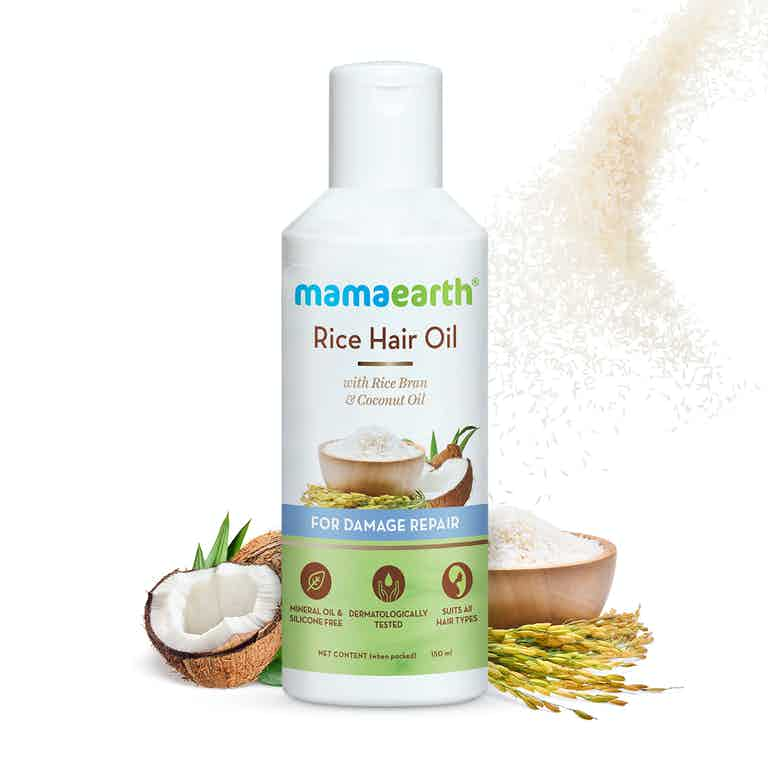 If you have fizzy and brittle hair, then certainly this mamaearth product is for you. Rice hair oil comes with the qualities of four oils, i.e., rice bran oil, coconut oil, castor oil and almond oil. These four oils have their unique qualities for your hair and scalp. Let's see how your hair gets benefitted by these four oils.
Rice bran oil- Mamaearth products contains rice bran oil which acts as a shield against harmful UV rays and other pollution agents. Also, it provides an antioxidant coverage to hair.
Coconut oil- As you know, coconut oil is a perfect moisturizer for skin as well as for hair. It deeply nourishes the hair and keep the moisture intact within the scalp.
Castor oil- There are other castor oil based mamaearth products also like mamaearth cold pressed castor oil. But this product has castor oil infused with other three amazing oils. Castor oil has omega fatty acids which firstly strengthens the hair secondly, promotes new hair growth and finally, reduces dandruff also.
Almond oil- Almond oil keeps the scalp nutrition intact. It provides extra nutrients needs for scalp rejuvenation and regeneration of scalp cells.
Pros
Very effective to reduce fizziness and dullness of the hair
Suitable for dry, super dry and normal scalp type
Promotes new hair growth
Cons
Not suitable for oily scalp and hair
You might feel some weight on your head after applying this oil
It will not be cleansed in one wash alone