Do you want to go makeup-free even without a lip balm? Yes, who want to apply lip balm and lipsticks if they have perfect glossy pink lips naturally. Do you know scrubbing the lips is as important as body scrubbing? Lips also need care and protection against pollution and other external climate factors. We are here to aware you with 6 best lip scrubs in India to help you get rid of dry and chapped lips.
Best lip scrubs works as an exfoliator and helps to remove the dead skin layer from your lips. Exfoliation should be done twice a week as per the skincare experts. Also, after exfoliation your lips need moisture, thus it should be followed by a moisturizing process.
Okay, this was all about the basics of lip exfoliation. Let's come straight to the main topic, i.e. best lip scrubs and what factors you must consider while buying a lip scrub.
Factors to consider while buying best lip scrubs
What your lips want?
Before choosing among best lip scrubs, you must know what kind of care your lips want. If your lips are too dry, means they want extra nourishment and less exfoliation so you should choose a lip scrub that has an oil base in it. Or, if you have normal lips then you should go for a lip balm or lip mask.
Lip type
This is another factor you should consider while choosing the best lip scrubs in India. Lip type again indicates towards the type of nourishment your lip wants. Black or pigmented lips need exfoliation followed by moisturization. On the other hand, chapped lips need more moisturization rather than exfoliation. Most importantly, it is not recommended to use lip scrub when you have extremely dry and chapped lips with small blood cracks. That kind of lips needs to be treated first by moisturization only.
Ingredients Used
Certainly, an ingredient is an important factor while choosing anything for your skincare, haircare or lip care. Here also, we want you to focus on ingredients used in the lip scrubs. For instance, if you have dry lips and you choose a lip scrub without an oil base, then it will make your lips even worse than before. So next time, just be careful with the choice of ingredients you need in your type of lip scrub.
Cost
Sometimes we do agree to spend extra bucks just to get quality products. The beauty companies know this very well. They started to advertise it in a way they will definitely get your attraction. They just change the tag line & you start believing them. Once they got you, make you spend extra bucks so easily on their products.
To conclude it, we just want to convey that do not get attracted by lustrous packaging of the brands. Sometimes, you may get better products from a local brand also. Best lip scrubs don't mean that they should be costly.
Lip issues
Again, we want to say that, first identify your lip issue and decide if you really need a lip scrub?
Try to finalise that what you need as a major component for your lip care, is it a lip scrub? Is it a lip balm? Or is it a lip mask? Then only you will get the right nourishing product for your lips.
6 Best Lip Scrubs
Blood Orange & Rosehip Lip scrub by Juicy Chemistry
Juicy Chemistry is a brand that deals in various natural and amazing skincare products. Most importantly they have a very popular and best lip scrubs in India. As we have mentioned in our previous article Top 11 organic and natural beauty brands that this brand is totally chemical-free and so is this product.
Now, talking about the ingredients used in Blood orange and rosehip lip scrub by juicy chemistry, it comes with the goodness of apricot, blood orange, rosehip and sweet almonds. All these ingredients help in removing the dead skin cells hydrate the lips and prevents the breakdown of lip skin. Most importantly, rosehip helps reverse the pigmentation and prevents the breakdown of the cell membrane of lips caused by the use of harsh lip products. 
According to us, it has gained the place in Top 6 natural and best lip scrubs in India. However, a patch test is always recommended if you are using it for the first time.
Khadi Essentials Luxurious Ayurvedic Rose Petals Dates Lip Lightening Brightening Scrub with Walnuts and Coconut Oil and For Dry Lips, 15gm
Khadi essentials is a well familiar organic brand and these Rose petals dates lip scrub has succeeded in keeping the brand's legacy. Let's talk about the qualities of this lip scrub because of which this is listed by us in the list of best lip scrubs in India.
Rose petals and dates are the symbols of 'Royalty' through the ages. Combined together, these helps in deep cleansing and nourishment of the lips. This scrub has cane sugar granules and walnut grits which helps in exfoliating the dead skin cells and makes the lips clean and smooth.
At last, we must say, you should try this because it conditions and polishes your lips with the royal goodness.
Bliscent is a brand that believes in creating products that are only made using ingredients present in its purest form. They have one of the best lip scrubs we have experienced so far. The Bliscent berry crush lip scrub makes your lips soft. It is enriched with shea butter and jojoba oil which makes it perfect for dry and flaky lips.
Below are the additional features of this lip scrub.
Moisturises dry, flaky and chapped lips
Enriched with shea butter and jojoba
Sloughs off dry, uneven skin
Free from mineral oil, parabens, paraffin and petrochemicals
100% Vegan and cruelty-free product
Chocolate lip scrub by Phenak Natural Skincare
Phenak Natural Skincare is one of the brands on which we can rely. This brand may be not familiar to many but sometimes we forget to look at the simplicity when we are habitual of a show-off.
This brand offers two types of lip scrubs, Chocolate lip scrub and orange lip scrub. Both are among the best lip scrubs in India. We have personally used it and had experienced its magic. It contains all the organic ingredients and chemical-free. Most importantly, swallowing this lip scrub will not be harmful at all. If you swallow it accidentally, then no need to worry. We must say it's a good deal in budget.
Foressence Lychee lip scrub by The Nature's Co.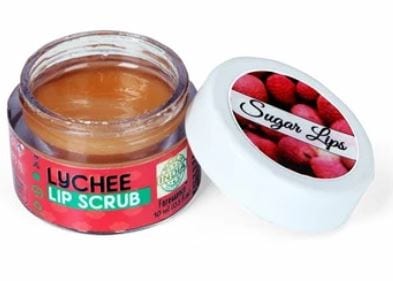 The Nature's Co is trusted by many consumers because of its legacy of being natural and organic. This lip scrub is another piece of nature by this brand. Lychee has the properties to keep your lips moisturized and nourished. On the other hand, brown sugar helps in gently exfoliating the dead skin cells from the lips and makes them smooth.
So, go with the Lychee lip scrub By Nature's Co and get pink and kissable lips.
NicoLips Lightening and Brightening Dark Lips Bella Vita Organic Lip Balm Scrub for Men and Women, 20 g
Nicolips scrub is one of the best lip scrubs in India. As you see in the name it is mentioned lightening and brightening lip scrub, it is very effective on dark lips. Above all, it is the top lip scrub for lip lightening, fading nicotine stains, healing dry lips and lip brightening. Also, the ingredients are all organic with the who-gimp, ISO, HACCP and kosher certifications.
We must say this mild and natural lip balm scrub is a perfect solution for exfoliating dead lip skin. Most importantly, it restores natural lip colour, makes lips supple and soft.
Conclusion
Lips play an important role in making your smile attractive. When you have dry and chapped lips, you can't smile or laugh with confidence. So, lip care is as important as skincare and hair care. The above listed are the Best lip scrubs in India according to us. It may possible that you have different names in your list of best lip scrubs. We would love to know your favourite lip scrub in the comment section below.
Be Bold, Be beautiful
Love