Undoubtedly, kajal has every girl's heart. Also, kajal is something that has a special place in a girl's makeup essentials. Am I right? But before starting to list common kajal mistakes, we would like you to spend a few minutes on our "10 Best Long Lasting Kajal and Kohl pencils in India (2020)"
Well, we all agree that only one stroke of kajal can enhance your look and also, can give you a bold yet subtle look of the day. But, do you know we all are repeating the same common kajal mistakes unknowingly and most importantly, this is stopping us to create magic with our kajal look.
So, girls get your notepad ready, make a note of these common kajal mistakes and try to figure out which common kajal mistakes you are repeating unknowingly.
#Mistake1: Smudging the kajal when you have dark circles
We know smudging is a trend nowadays. Certainly, smokey eye is every girl's favourite makeup look in today's time. But here it could become one of the common kajal mistakes if you have under-eye circles and you are smudging the kajal. Ahhaa! Better to fix it as soon as you get to know about it.
Certainly, smudging will make the under eye dark area darker and in no time, unknowingly you will become a victim of panda eyes.
Tip to avoid the common kajal mistakes:  
Yes, we know Kareena Kapoor Khan is tempting you to try smokey eye look but at the same time, you feel afraid to do so because of the dark circles. Don't worry we have a solution to avoid these common kajal mistakes.
Make sure you apply concealer under your eyes very precisely before heading towards the smudged eye look.
#Mistake2: Applying kajal only on your waterline
It seems very easy to believe that only a stroke of kajal can enhance your makeup look but it could be one of those common kajal mistakes that girls commit unknowingly.
Actually, it should be like that, "A perfect stroke of kajal can enhance your makeup look." Did you get it now? Okay tell us, are you applying kajal only on your waterline? Then yes, you are doing it wrong. Read it down to know how to correct these common kajal mistakes.
Tip to avoid the common kajal mistakes:
Applying kajal only on your waterline isn't enough. Most importantly you should know about 'tightlining.'
What is 'tightlining?'
Tightlining is a technique of applying kajal on your upper lash line or inner rim of the eye with the same pencil you are using for the waterline. This will give you a complete kohl-eyed look. Undoubtedly, it will fill the negative space under your eyelids and also, enhance your beautiful wide-eyed look of the day.
#Mistake3: Using an unsharpened kajal pencil
This is one of the most common kajal mistakes that every girl commits unknowingly. Yes, using a blunt kajal pencil may be the responsible one for ruining your bold kajal look. Above all, a blunt kajal tip will give you uneven lines, making your look worst.
Tip to avoid the common kajal mistakes:
Firstly, to have an even kajal look, your kajal pencil tip should be sharp and should be trimmed from time to time. Secondly, you must take care of the thing that super sharp kajal pencil tip can hurt you so, gently soften the tip of kajal pencil.
Look at this kajal pencil by Plum Natur with Sharpener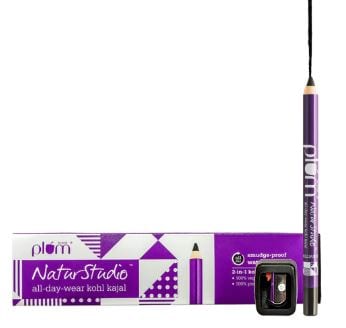 #Mistake4: Experimenting with different kajal brands every time
Well, an experiment is good until it doesn't harm you or society. Similarly, experimenting with different kajal brands every time could be one of the common kajal mistakes that you are committing unknowingly and consequently, it can harm you. However, if you are changing the kajal brands very frequently, it will show its after-effects on your eyes. Above all, your eyes can be damaged or you may feel irritation and discomfort in your eyes.
Tip to avoid the common kajal mistakes:
Always choose a kajal after having a look at the ingredients. So, ingredients should not harm your eyes in any way. If you have less knowledge about the ingredients, there are plenty of natural kajal pencils that have all-natural ingredients with no harmful chemicals at all. Himalaya's herbal kajal is one of the natural kajal that we have already recommended to our readers in our previous article. It is the best suitable kajal for sensitive and watery eyes.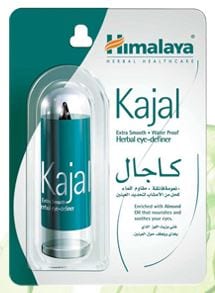 #Mistake5: Not applying the kajal correctly
 Firstly, we must agree that every girl is a pro in applying kajal since their teenage. We are no one to say a girl that she doesn't know how to apply kajal. That's why we are writing this mistake in last because chances of this to happen are less.
But still, you should make sure that the way you are applying a kajal is correct or not.
Here mainly two points you have to keep in your mind while applying kajal. Firstly, the direction of applying kajal in your eye could be wrong and could become one of the common kajal mistakes. Secondly, applying kajal in a single stroke with stretching your eyelid is a big NO-NO!
Tip to avoid the common kajal mistakes:
Certainly, when you are applying kajal in your eyes, you should take care of the direction in which you are applying it. Starting from the inner corner of your eye, move toward the outer corner of the eye. Yeahh! You got it right now.
At last, do not apply kajal in a single stroke, it can give you an uneven kajal look. Instead of a single stroke, simply make short strokes and fill the space without stretching your eyelids.
We hope you are now ready to create magic through your bold and beautiful kohl-eyed look. Keep these common kajal mistakes in your mind and never ever repeat these. If you still feel some confusion, tell us in the comment section below or read our related articles on kajal. We are always happy to be with you.
Be bold, be beautiful.
Love