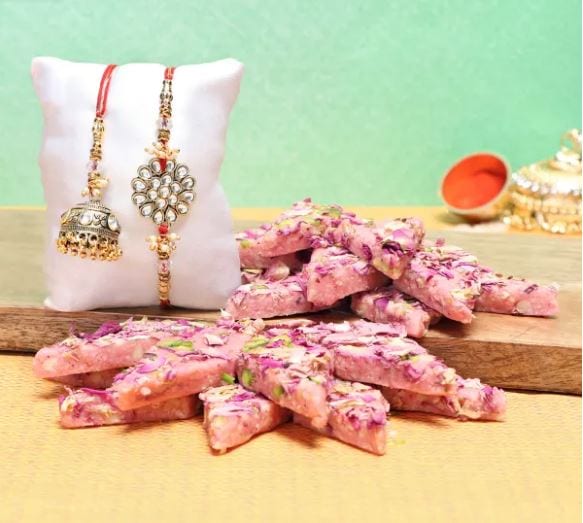 Gifts for Raksha Bandhan 2020
Are you all set to send a rakhi to your brother? Sending a Rakhi alone is looking so awkward?
A gift is the best way to express your love and care towards a person. Why can't we start it with this Raksha Bandhan? I am super excited.
Send a bundle of joy to your brother with these 'Exclusive and Ultimate Rakhi gifts'
But read this first.
Raksha Bandhan is a popular festival to celebrate, nurture and strengthen the bond of love between a brother and a sister. Every year on this day, sisters used to tie a Rakhi on the wrist of their brother which symbolises their trust and love for each other. And in return, brother promises to protect her from each and every evil eye.
Above all, are you still in confusion of choosing a Rakhi design for your brother?
Look at this, "Top 10 Rakhi design that your brother will love"
We all are aware that coronavirus pandemic has left no one unaffected. This year all the occasions and festivals are going in a different way. Another festival that is going to be affected is 'Raksha Bandhan.' As this is a festival to celebrate the love and bonding between brother and sister. Also, there are facts that we all have to consider as well as accept. Most of the sister and brothers are far apart from each other due to the present circumstances and are not able to meet each other for Raksha Bandhan.
Yeahh! Thank god to modern technology that we can express our love and nurture our bonding with video calls and can send gifts to each other. You know, I am also like you, who can't go to tie Rakhi this year. But I am all set to bring a smile on my brother's face by sending him one of the exclusive and ultimate Rakhi gifts this year.
Want to see the list of exclusive and ultimate Rakhi gifts shortlisted for this Raksha Bandhan 2020?
Personalised Gifts
Personalised Pen with Pearl Rakhi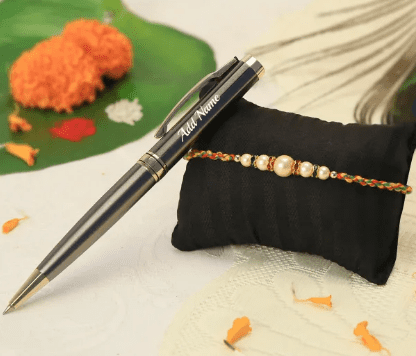 Make this Raksha Bandhan 2020 special with this personalised pen, having your brother name written on it. It will look perfect when he clips this pen into her pocket and definitely, he is going to remember you every time he will use this pen. Also, this includes a pearl rakhi which is in trend this year. Shop for it on IGP
Personalised Mugs with Bhaiya Bhabi Rakhi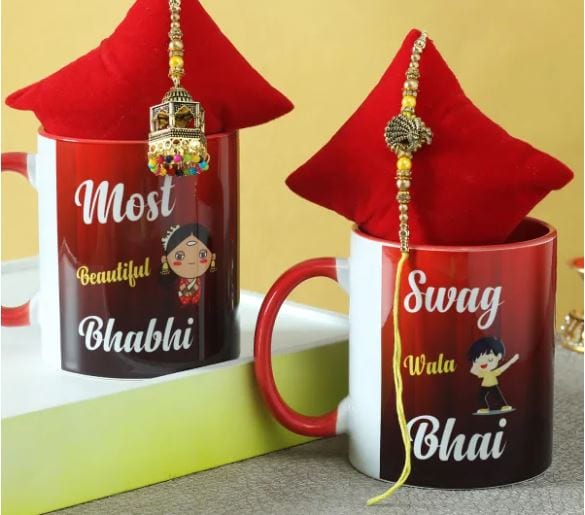 You know one fact, beautiful bhabi and stylish bhai is always an ultimate combination. Make their bonding and your bonding with them more special with this Rakhi gift. This gift has it all, a bhaiya bhabi twinning rakhi set, personalised set of two mugs with pictures of them and a set of roli-chawal. Shop for it on IGP
Yes, that's it! What else to ask for this Rakhi?
Personalized Cool Bro Caricature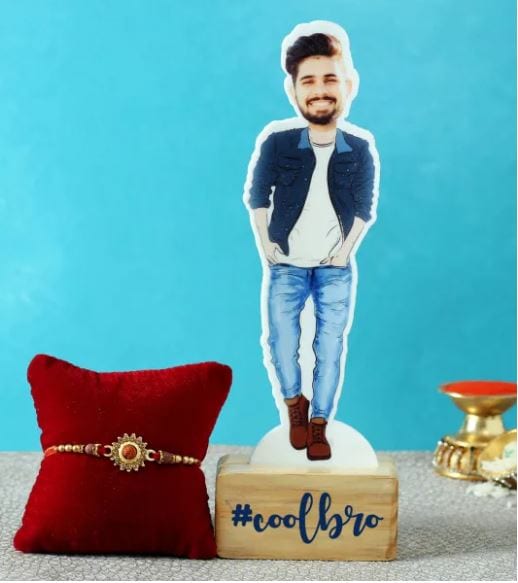 My brother is a cool type, hip-hop guy and basically a fun-loving person. This cool-bro caricature is exactly going well with his image. This Raksha Bandhan I am going to gift this caricature who will accompany him in laughing on his bad jokes. It has a small wooden photo stand which can be used for various other photos apart from this caricature. Shop for it on IGP
Isn't it cool?
Apart from jokes, this is a really cool option to gift him. Also, it has a rudraksha Rakhi which is considered as a symbol of positivity and protection.
Personalized Passport Cover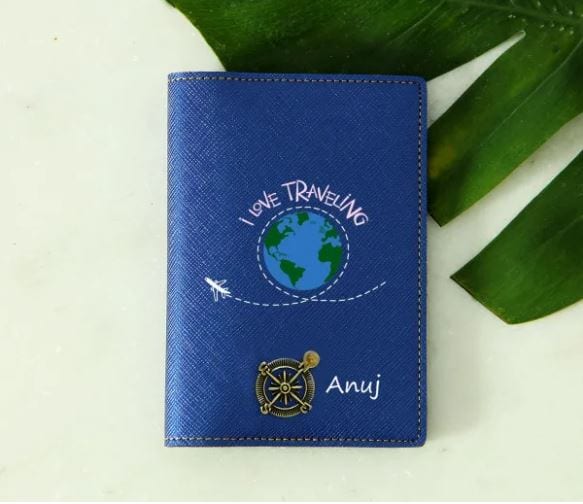 Is your brother, a travel bird? Why not give him a personalized passport cover with his name written on it? Make his travelling more modern and stylish and add this amazing gift in his collection. Shop for it on IGP
Matching T-Shirt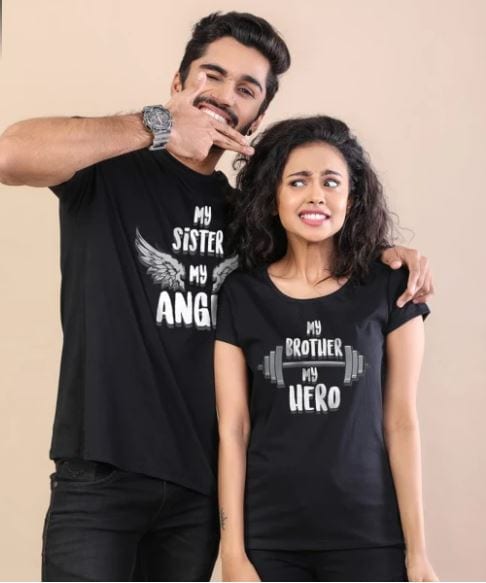 If you are thinking of twinning with your brother this rakhi and want to show your rocking Raksha Bandhan photo to everyone and strengthen your brother-sister bond with this Rakhi gift. This gift is for you. Shop for it on IGP
Gift Hampers
Bhaiya Bhabhi Rakhi Set with Rose Kaju Katli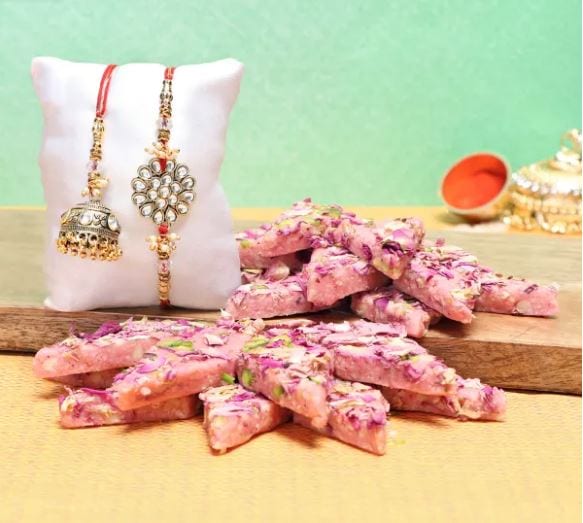 Gift hampers are the best to send as a gift to someone because it has all the important components needed for the festival. And you know, what is unique in this gift hamper? A duo Kundan Rakhi for your bhaiya and bhabi and a mouth-watering rose Kaju katli, everyone's favourite. I must say this is a complete 'Royal Package.' Shop for it on IGP
Almond and Silver Plated Roli Chawal Container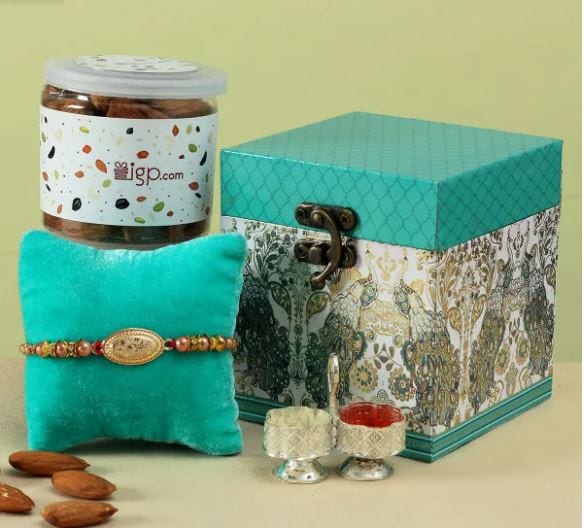 Wait. Have you noticed the beauty of the Rakhi and the gift box?
This metallic meena work Rakhi in peach color is just beautiful. Most importantly, this hamper has almomds, if your brother is not fond of sweets, dry fruits are the best and healthy option too. Also, all comes in an elegantly packed peacock design gift box. Shop for it on IGP
Peacock Rakhi with Fancy Puja Thali & Salted Cashews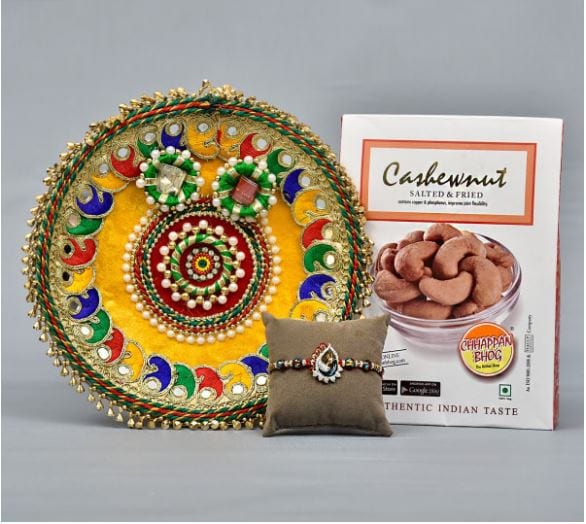 Tie this AD studded peacock Rakhi embellished with glossy beads and stone on your brother's wrist this year. This Rakhi hamper includes tasty roasted cashew nuts, multicolour stone Rakhi, and thread work puja thali for this lovely occasion. Shop for it on IGP
Mug with Krishna Rakhi and Chocolates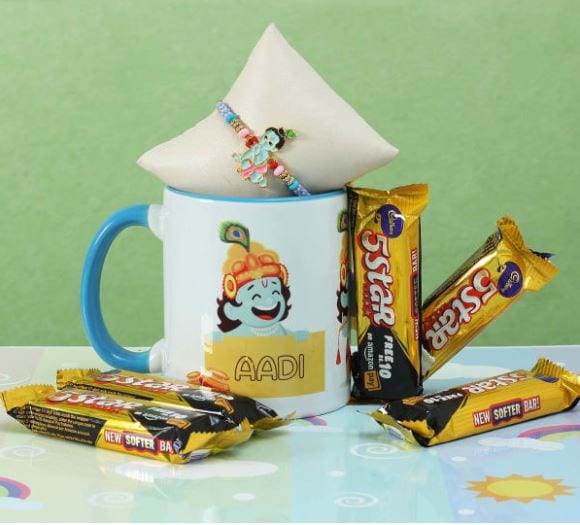 Well, this is something creative for your golu-molu sweet little pie brother. This rakhi hamper includes Bal Krishna Rakhi, a personalised mug with his name and smiling Krishna photo on it. And off course, kids' favourite chocolates. This hamper is just perfect for bringing a smile on your younger brother's face. Shop for it on IGP
Beaded work Rakhis with Flavored Chocolate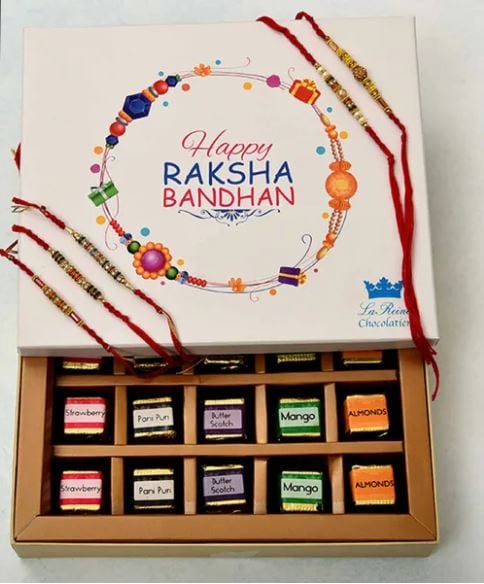 I must say, this hamper is going to be a jumbo pack for your brothers. This rakhi hamper has 5 rakhis with meenakari stones & colourful beads work and 20 assorted chocolates. If you are going to send five rakhis to your 5 brothers then why to make it so complex by sending single or pack of two rakhis in two different shipments. Send all the 5 rakhis together in a single order and make it easy. Shop for it on IGP
Grooming Gifts
Essential Grooming Men's Kit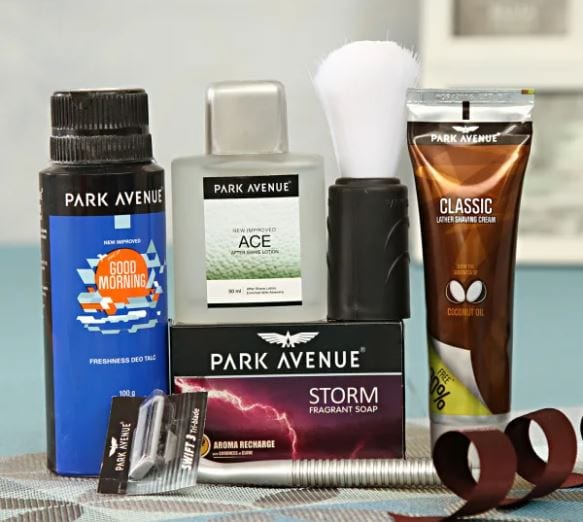 You know your dapper brother, right? He is fond of grooming. So, what else is the perfect gift for him? Do not think much send this essential grooming men's kit and bring a smile on his face.
This kit includes all the Park Avenue essential products like shaving cream, shaving brush, a tri-blade razor, an aftershave, etc. I like this as a rakhi gift for my brother, what do you think? Shop for it on IGP
Tag-Him Perfume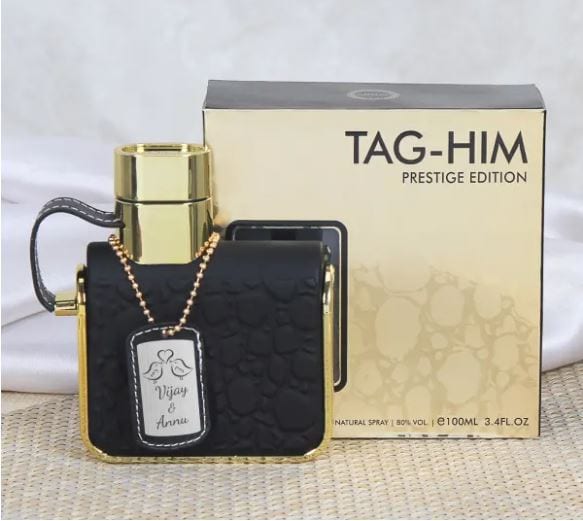 Royalty has a fragrance but not every fragrance is royal. But I am pretty sure that this personalised perfume for him has an eternal connection with the royalty. Gift this amazing Tag-Him Personalised Perfume for men to your brother this Rakhi. Shop for it on IGP
Exquisite Hamper of Men's Accessories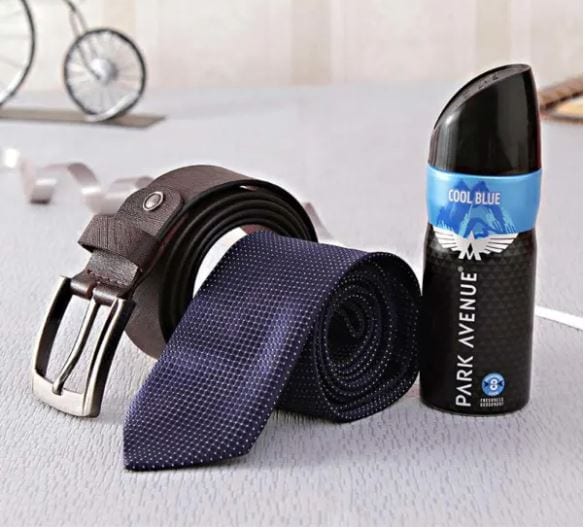 Does he believe in maintaining a class? These elegant accessories perfectly match his classy tastes and preferences. This grooming hamper has a formal black belt, Park Avenue Deo and a set of assorted ties. Shop for it on IGP
Axe Deo-Parker Pen Combo Hamper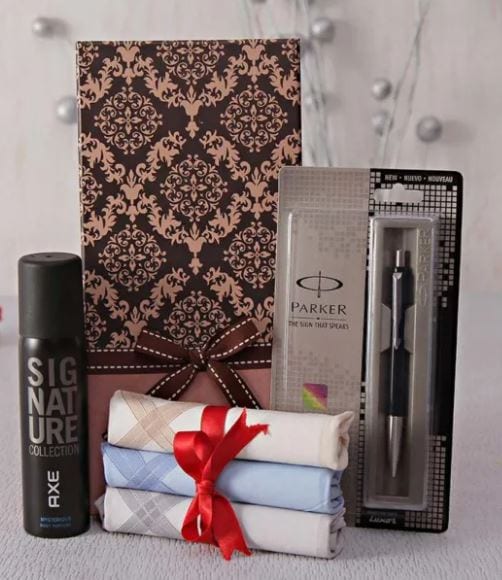 Rakhi gift must be unique and this is the one which is unique as well as very useful. This Rakhi gift includes Axe Signature Body Perfume, Ivory handkerchiefs and a Parker ball-pen. Simple yet unique. Shop for it on IGP
Trimmer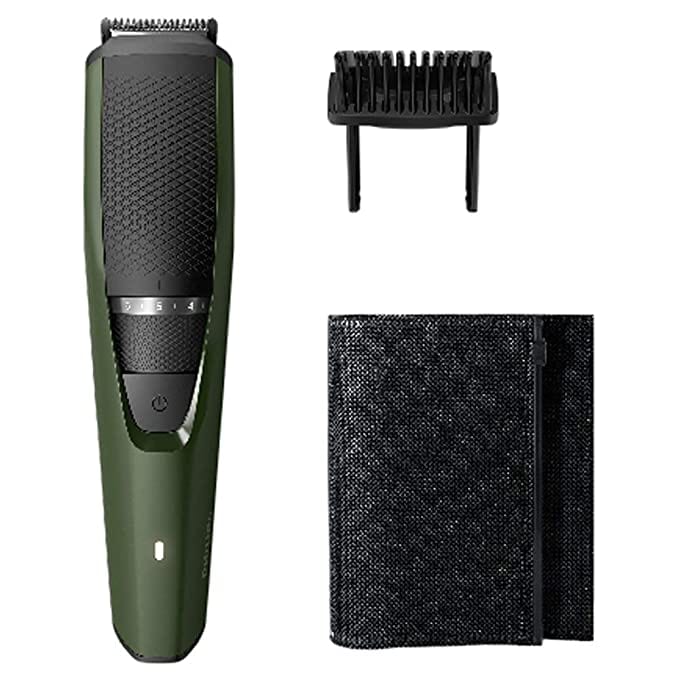 Certainly, trimmers are the best companions for boys. This will be the right grooming solution for your brother. Undoubtedly, Philips is a trusted and well-known brand; you can go for it as a Rakhi gift for your brother. Shop for it on Amazon
General Gifts
Assorted Gift Box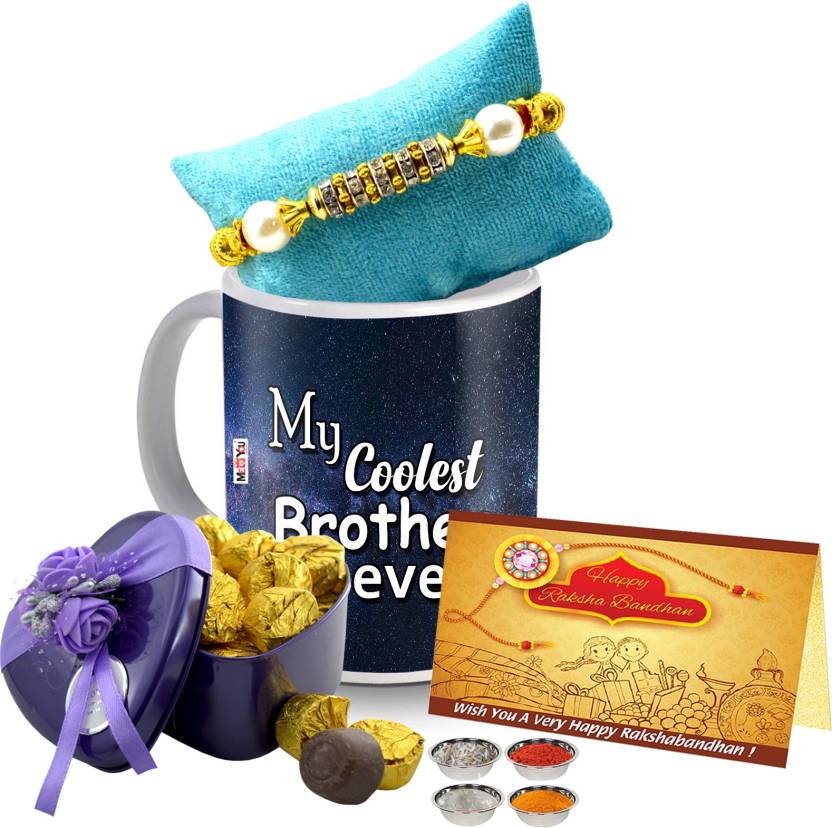 Still can't decide what to gift your brother? Then we have an assorted gift box for you. It will cover all types of item, Cool brother caption written on a mug, heart shape box filled with chocolates, a beautiful Rakhi and kumkum for tikka. Shop for it on Flipkart
'Swag Wala Bhaia' Cushion with Pearl Rakhi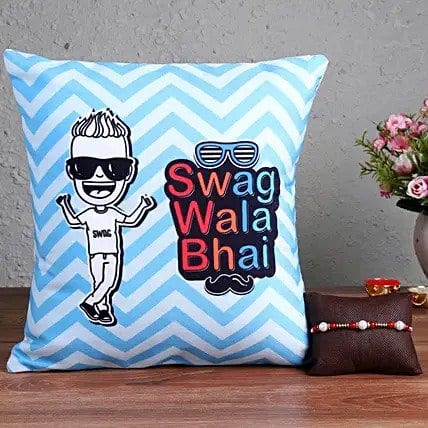 What's better than a soft and comfortable cushion? With caption printed, matching your brother's swag. It comes with a white pearl rakhi which will suit your brother's wrist perfectly. Shop for it on Ferns N Petals
Leather Gift hamper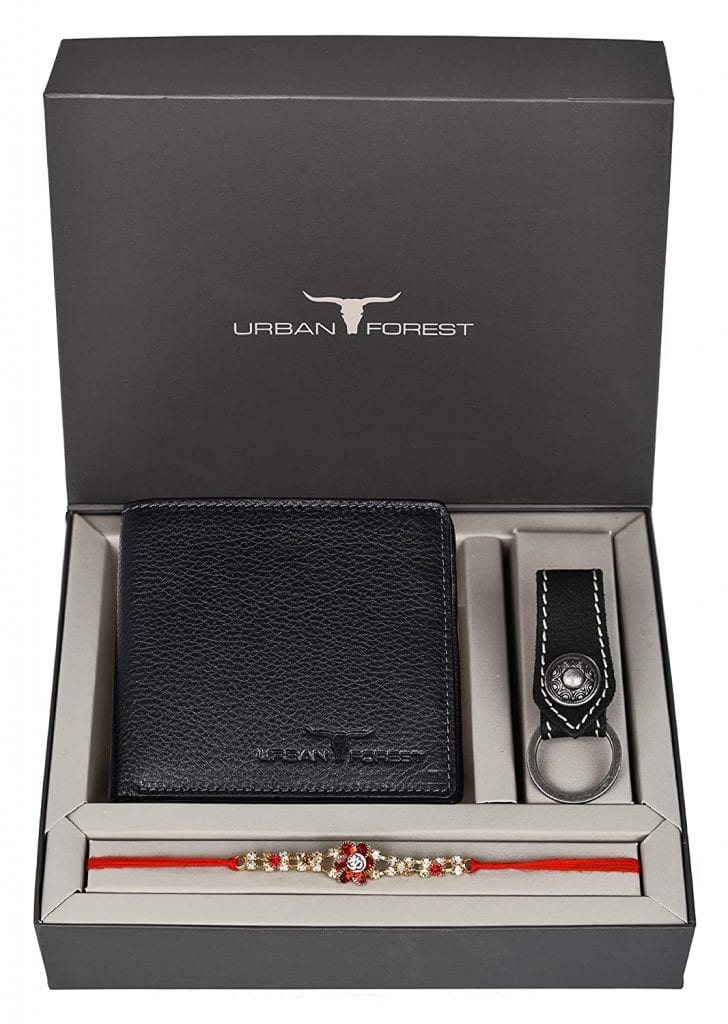 Despite having lots of options to gift. Sometimes it becomes seriously tiring to chose a Rakhi gift for your brother. Because I understand, the gift has to be perfect. Giving a wallet as a gift considers being a good sign. And what better occasion then Raksha Bandhan. Gift him this Urban forest Rakhi gift hamper, consist of leather wallet, a keyring and a devotional rakhi. Shop for it on Amazon
Money Plants & Dry Fruits combo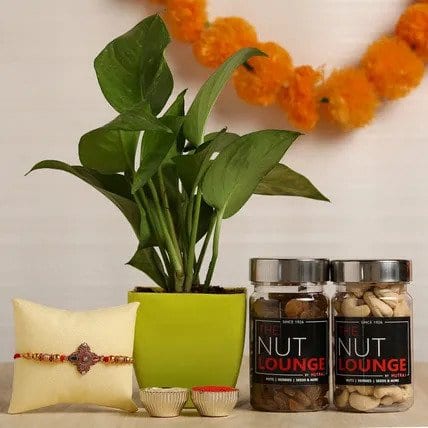 Give a life to plant on this auspicious day. Gift a plant and nurture it like you and brother have nurtured the love between both of you. Money plants are known to bring health, wealth and prosperity to the home. It comes with two boxes of dry fruits and a designer rakhi. Shop for it on Ferns N Petals
Fitness Band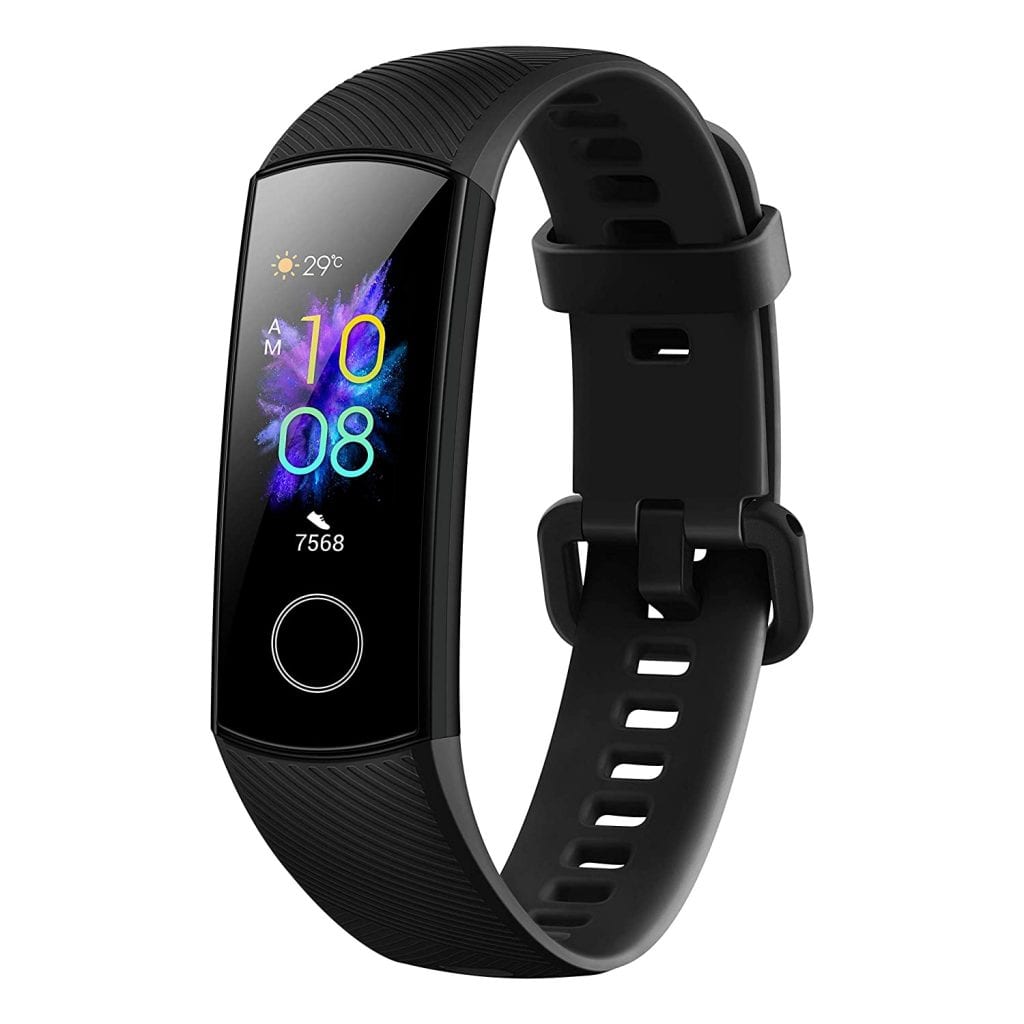 If you are reading this, I am assuming you still haven't found a perfect gift for your brother. So, now I'll advise you to go with the basics. No man can stay away from electronics. Gift him a fitness band which is waterproof and comes with touchscreen, music control and has a battery life of 14 days. Shop for it on Amazon
Final Words
Either your gift is small or big, expensive or cheap, unique or simple, your bond with your brother is never going to change. Gifts are just the tokens of love and care; it doesn't matter how expensive they are. What I personally believe is that gift should be filled with love and care not with the money.
So, with these words, I just want to conclude that I have included a variety of products which you can give your brother as a Rakhi gift. Some are customizable and some are general. I don't know your brother's choice but definitely I can assure you that this list is going to help you a lot.
At last, I hope now you have selected a Rakhi gift for your brother. So, really, want to know what the gift is?
Tell me in the comment section below. Waiting for your response.
Happy Raksha Bandhan.