Lipsticks to die for
Are you looking for the best lipstick brand? The solution is here. Find here the most popular and cost-efficient lipsticks brands that will not make a hole in your pocket but will make you look fabulous throughout the day or at a party.
Wearing a lipstick means to trust that brand completely. So, one must be careful about choosing and using lipsticks. That's why each person has a unique style and character. One has to choose the shades, keeping many things in mind such as type of lip skin (dry or normal), face skin shade and most important is a trustworthy brand. It should be noted that all brands are not suitable for everyone. So, for this reason, we have done our research for presenting the Best Lipsticks Brands for you in this article.
For women, lipsticks are the superheroes without capes. Be it a date night, party or a casual outing, just a perfect lipstick stroke will give you a confident look. You will not need heavy makeup then. This article is definitely an ultimate buying guide for the perfect lipstick. We are providing, three selected lipsticks from each of the above brands. These are the best ones for me as they suit my skin and lip shade. I have been using these lipsticks for a while and now, they are the ones that I will be buying always.
LAKMÉ
LAKMÉ 9 TO 5 PRIMER + MATTE LIP COLOR
Well, I am using this lipstick currently. It is a good choice to go for. It provides me a bold and confident look whenever I go to parties, with my husband. I have a fair skin complexion, so this color suits me very well with a dark-colored sleek dress. I must say it's a bang-for-the-buck. It is not fully matte but it will give you the same look like a matte lipstick. It is suitable for dry lip skin.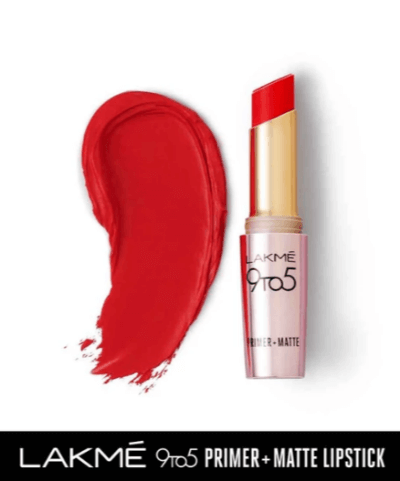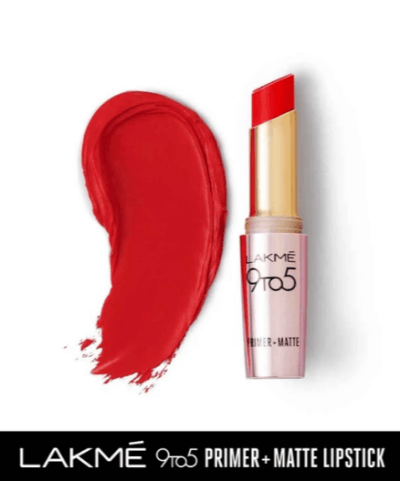 Net quantity: 3.6 g
This Lakme 9 to 5 Primer + Matte Lip Colors comes with a built-in primer for a flawless matte base. It is available in around 30 shades and lasts up to 12 hours.
LAKMÉ 9TO5 WEIGHTLESS MOUSSE LIP AND CHEEK COLOR
Well, this is basically mousse lip color which gives you a perfect dusky look. It's smooth and needs no efforts to apply. It has a cushion applicator that makes it so smooth that it will make you smile every time you apply. The main thing that I personally love is, how this product can be used not just on the lips, but on the cheeks, as well.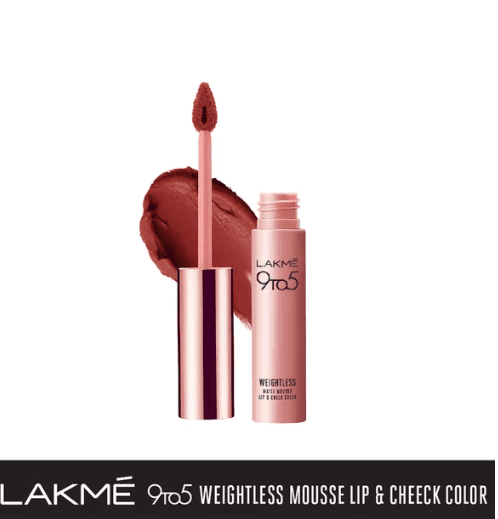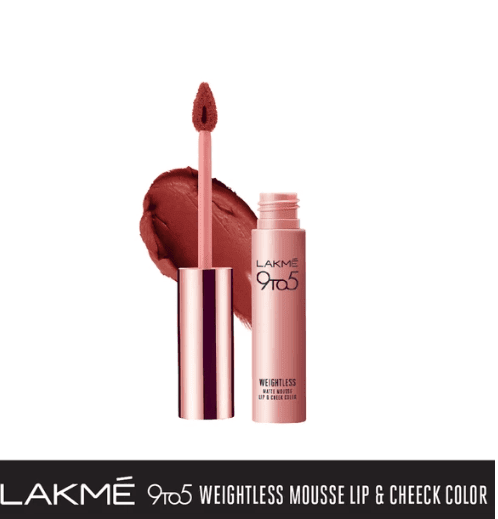 Net quantity: 9 g
This is Lakme's first-ever lip color in a mousse texture. It is available in 10 intense and vibrant shades. They have the ability to last longer in comparison to other lip colors. It is an instant everyday favorite for the modern Indian woman of today.
LAKMÉ ABSOLUTE MATTE ULTIMATE LIP COLOR WITH ARGAN OIL
I am using this lipstick also. It's smudges free and long-lasting. Not perfectly matte but gives your lips perfect nourishment. It's a good choice but a little bit expensive. If you are ready to spend a little more, then go for it!!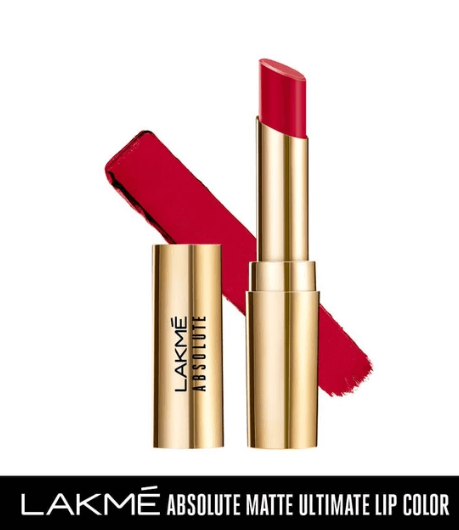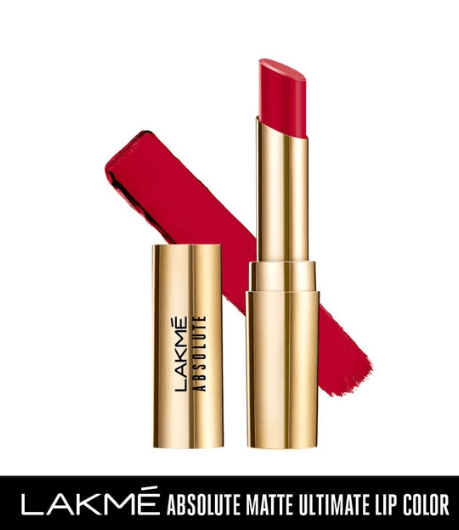 Net quantity: 3.4 g
This lightweight formula is enriched with luxe argan oil that nourishes the lips and keeps it away from drying. It has a soft velvety matte texture that comfortably sits on the lips and provides a bold look.
L'Oréal Paris
Infallible Rouge Magique
This is something I needed when I had to go for a colleague's birthday party and I didn't have the time to go to the saloon for a party makeover. I just applied this shade with some basic makeup at home. And seriously, it gave me a look that made my friends compliment me. This is a little bit expensive but it looks perfect.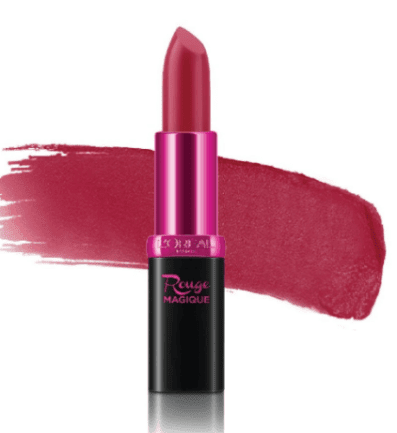 Net quantity: 2.5 g
It's a new generation of matte lipsticks with intense color pigments. This gives a unique look. This is suitable for parties and festivals. It is nourished with Jojoba, Canina oil and Hydrating Honey.
Color Riche Matte Addiction- Retro Red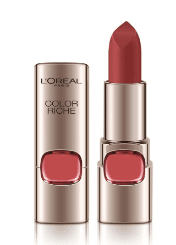 Net quantity: 3.7 g
This is the boldest and most moisturizing matte lipstick. It is enriched with oils for hydration. It will give you absolutely confident look at parties or other special celebrations. Also, it is long-lasting and different from other lipsticks.
Color Riche Matte Addiction- Moka Chic
This is the sexiest shade, ever chosen by me. This is perfect for a dinner date with your love. This is smudge-free, long-lasting and waterproof. And particularly, this shade Moka Chic is my favorite. It is value for money.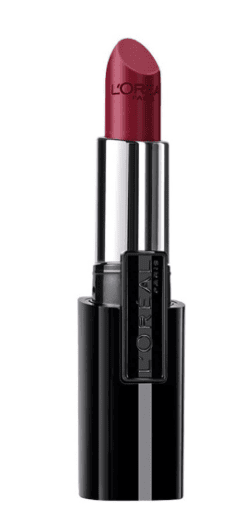 Net quantity: 3.7 g
It is packed with pure pigments for vivid color and enriched with oils for hydration and comfort. This shade is quite dark but it will suit better on fair skin shade and with light makeup. Dark shade with heavy make-up may not look classy.
Maybelline
Color Show Bright Mattes Lipsticks
Maybelline was a brand, hard to trust in front of Lakme, Loreal Paris and others. This lip color was my first lipstick of this brand. This shade is awesome and gave me a new experience of comfort to my lips. Maybelline has earned my trust. Now, I am in love with this brand. It is a budget-friendly choice.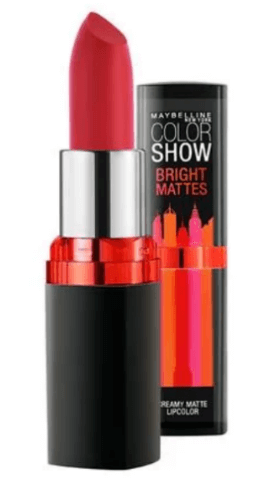 Net quantity: 3.9 g
These Color Show Bright Matte Lipsticks are available in 6 gorgeous shades. This gives you a creamy matte finish and it is non-drying and comfortable on lips. This suits all skin tones.
SUPERSTAY MATTE INK X ASHLEY LONGSHORE
"Ashley Longshore" the name that drives me crazy. This is the latest lip color by Maybelline. It is long-lasting and matte. Available in various shades, you can choose occasionally, among them.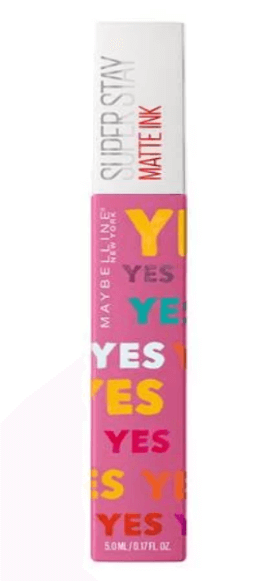 Ink your lips for up to 16 hours with the new Maybelline X Ashley Longshore limited-edition collection. The collectible range includes 4 Super-Stay Matte Ink Liquid Lipstick shades packaged in a custom, quirky packaging. It is having an intensely pigmented formula. It is long-lasting and doesn't dry out lips.
COLOR SHOW INTENSE CRAYON
Well, this is something related to the nourishment of the lips. It has honey extract to give full nourishment to the lips. It can be a healthy and bold choice for your lips. Don't worry about the dark lips "Color Show Intense Lip Crayon" is here.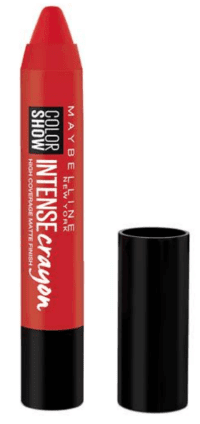 Net quantity: 1.2 g
A unique formula that provides high coverage pigment to cover dark, uneven lips. SPF 17 and honey protect from darkening and dryness. It is enriched with an ultra-care hydrating formula. This lip color does not fade in extreme heat and humidity.
Colorbar
SINFUL MATTE LIP COLOR
Well, Colorbar is a leading brand in the market of cosmetics with its wide range of cruelty-free and vegetarian range of trendy make-up and color cosmetics. This is one of the selected lipsticks of this brand. This is a little bit expensive and you have to spend some extra bucks in comparison to other lipsticks.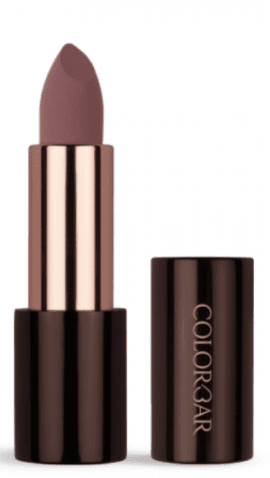 This is a creamy, lightweight matte formulation in 24 unique shades. It is long-lasting and smudge-proof. Every stroke gives you a powerful blast of long-lasting color and a luxurious matte finish. This contains no parabens and no artificial fragrances.
MATTE ME AS I AM
As I feel, crayons are easy to handle and they are trendy also. This "Matte Me As I Am" has uniqueness in texture. Easy to apply and lightweight.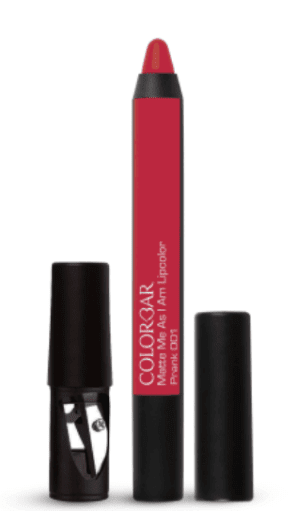 Matte Me As I Am, has an extremely unique creamy texture that delivers a soft matte finish. It is smudge-proof and lasts up to 6 hours. It is formulated without parabens and minerals-oils. A single stroke is all you need for luscious creaminess. Matte Me Up!
NUDE IT LIP COLOR
For this, I must say these shades are "The Kings of the Nudes shades". It is available in different nude shades. It is a Vegan that makes it unique. Also, it is reasonably priced.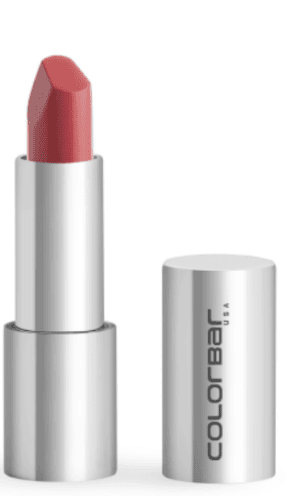 Get sensual matte lips with Nude' It Vegan Matte Lipstick comes in eight shades of nude. It is enriched with Vitamin E, jojoba oil and shea butter to nourish and moisturize lips. It is dermatologically tested.
Chambor
Powder Matte – Rubis Rouge #157
Chambor is a brand that stands for quality first. This lip color provides my lips a high impact color pay off. In simple words, it is the sexiest lip color shade, I have ever used. It's a budget-friendly option.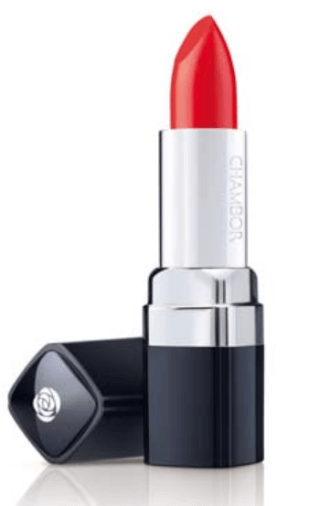 Net quantity: 4.5 g
Powder Matte Lipsticks have a non-drying triple action formula. This unique powder matte lipstick provides high impact payoff. Available in almost 18 shades.
Extreme Matte Long Wear Lip color – Hottie Pink #13
It's a product that is free from kinds of paraffin and mineral oils. But you have to pay some extra bucks to get this fabulous product by Chambor. But overall, it's worth for single penny.

Net quantity: 2.8 g
Extremely soft & creamy texture gives a velvety matte finish. Hydrating lightweight formula with rich pigments does not dry out lips. Super long wear and waterproof.
Moisture Plus #341
It is similar to the first one i.e. powder matte. It has almost the same qualities similar to that of lip color. You can choose from a variety of shades.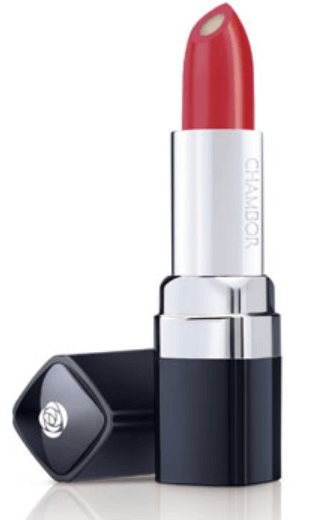 Net quantity: 4.5 g
An innovative dual-action formula with a nourishing core to hydrate lips and prevent dryness. It gives a smooth radiant finish.
Elle 18
Elle 18 Color Pop Matte Lip Color – Berry Dance
You can say it, "my teenage love". Elle 18 is the brand; I am using since my college days. It's a trustworthy brand. It gives your lips a smooth look. You can choose different shades according to your choice. I have used it in my college parties like fresher's party, festival celebrations, etc. and I have received a lot of compliments without doing a heavy makeover.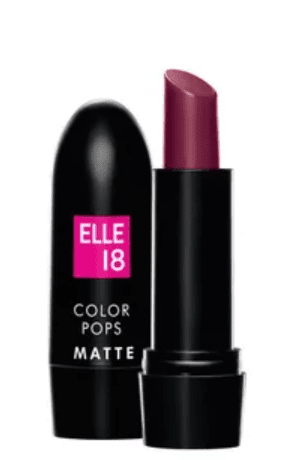 Net quantity: 4.2 g
The Brand-new Range of Matte Lipsticks from Elle 18 is here. Apply a bold stroke and get the perfect look. It has bold Matte Texture which provides it with a long-lasting feature. So, have a look at the wide variety of Elle 18 colour pop matte lip colour and pick the colour of your pout.
Elle 18 Go Matte Lip Crayons
Well, for these lip crayons, you can say it an advance technology in this field. Lipsticks are old, now trending is this crayon. Easy to handle and trendy. It will give you the same look as a lipstick could give but crayons are easier to apply on lips. Helpful for new lovers of lipsticks.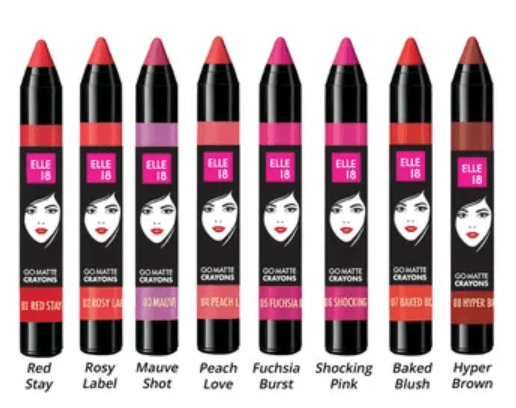 Net quantity: 2g
The newest trend in lipsticks is here- the latest Elle 18 Go Matte Lip Crayons. It is designed for a smooth, soft texture and matte finish. It contains a rich mixture of olive and jojoba oil which helps in the nourishment of your lips. It is available in 8 exciting shades.
Elle 18 Color Pops Silk Lipstick – P23
This shade I am purchasing repeatedly. Just one stroke of this lipstick and you are ready for a sudden get together. Its creamy texture gives comfort for the lips. No need to apply Vaseline or other petroleum products before applying this lipstick.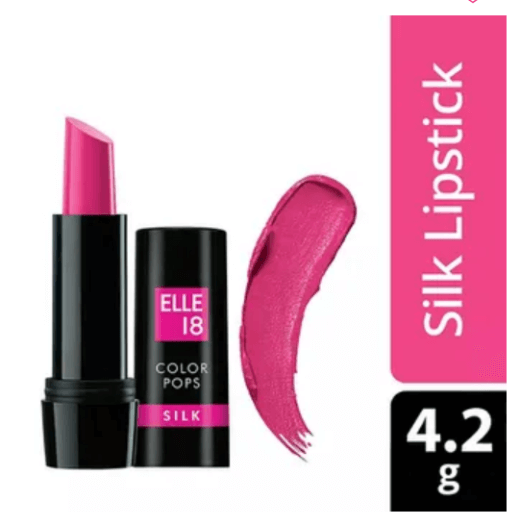 Net quantity: 4.2 g
Its unique formula provides the lipstick to glide effortlessly on the lips and keeps them supple and smooth. It does not bleed or spread around the lip contour. I am using this shade personally, believe me, it's the best choice I have ever made in case of lipsticks.
In this article, we have provided a variety of best lipsticks with their unique features. You can choose any shade according to your face complexion and type of lip skin (normal or dry). Hope by this above-discussed information, you will get the best for your lips.
Frequently Asked Questions:
1. What kind of lipstick is suitable for dry lips?
If you are searching for a lipstick for dry lips, then you should choose a lipstick which is having nourishment factor. Like on some of the lipsticks it is mentioned that it contains argan oil or any essential oil for the nourishment of the lips. If you want a matte look then apply vaseline or a transparent lip balm before applying the matte lip shade on your lips.
2. Which is the long-lasting lipstick in India?
There is a lot of confusion while selecting a lipstick on the basis of long-lasting power because there are so many brands available with lots of promises. But there are brands that has earned user's trust. The brands like LAKMÉ, L'Oréal Paris and Chambor has the quality lip shades that will stay for long on your lips.
3. What is the best type of lipstick that will not leave any stain on glass or clothes?
 If you are going for a romantic date and will expect to kiss, or drink wine from a glass, you will want the lip shade that will not stain. So, in this case, we would recommend to go for matte lip shades. You can find your best matte lipstick brand from the above list.
4. Which lipstick is better- matte or shiny?
Well, it totally depends on your choice and your lip type. Some people like a matte look and some like the shiny one. I personally love both the types, according to the different occasions. Also, for dry lips, you can go for semi-matte lipsticks.
5. What is better- Crayons or traditional lipstick?
Both traditional lipstick and crayons have their own benefits. But I would say crayons are trendier and easier to handle. They can be applied very easily on lips. Talking about the traditional lipsticks, they are better in case of staying for long with you on your lips.
Our Recommendation:
Conclusion:
Lipsticks can be a superhero for every girl but this is possible only when you choose a right brand and a perfect shade for you. In this article, we have provided a list of best lipsticks with their unique features. You can choose your superhero brands on the basis of your face complexion, type of lip skin (normal or dry) and long-lasting power of the lipstick. We hope that reading this post, will help you to get the best for your lips.

If you have any queries regarding the any lipstick brand or any lipstick type, then comment below, we will be happy to answer.